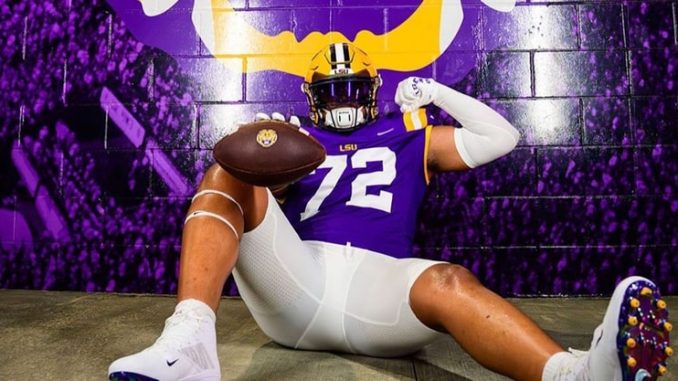 LSU's recruiting efforts in the Class of 2024 needed an offensive line to pave the way for more success.
After a pair of setbacks that resulted in two decommitments, the Tigers got back on track Friday with their 18th pledge in the class from four-star offensive tackle Ethan Calloway of Lake Norman High in Mooresville, North Carolina.
The 6-foot-7, 310-pound Calloway gives LSU its second commitment from an offensive lineman and first since last November in its current class, which is ranked seventh nationally by Rivals.com and eighth by 247Sports and 11th by On3. He joins three-star inside lineman Khayree Lee of John Ehret as pledges on the Tigers interior line.  
Calloway made his decision public during a news conference at his high school. He placed a purple LSU hat atop his head and displayed a white LSU shirt after unzipping a gray jacket.
There's always ebb and flow during the course of a recruiting season and LSU experienced that last week when defensive backs Zion Ferguson of Gainesville, Georgia and Maurice Williams Jr. changed their commitments to North Carolina and Houston, respectively.
In getting a commitment from Calloway, LSU regained some momentum on the recruiting trail and continued to build its offensive line of the future.
Calloway received a scholarship offer from the Tigers last October and continued to develop a relationship with lead recruiter Brad Davis, LSU's offensive line coach. Calloway narrowed down his finalist in April to LSU, Auburn, Florida, Florida State, Georgia, North Carolina, Penn State and Tennessee.
He subsequently took unofficial visits to Tennessee, Florida State and Auburn and official visits earlier this month to Florida, Georgia, Penn State and finally to LSU on June 23.
Both On3 and 247 rank Calloway as the nation's No. 17 offensive tackle and among the top 210 players in the country. He's ranked as the No. 5 prospect in North Carolina according to services.
Lake Norman has been a playoff team the past two season, reaching the second in 2021 against Cuthbertson. They were 7-4 in '22 behind an offense that featured Calloway helping pave the way for 363.9 total yards per game, including 261.2 yards on the ground and 6.0 yards per carry.