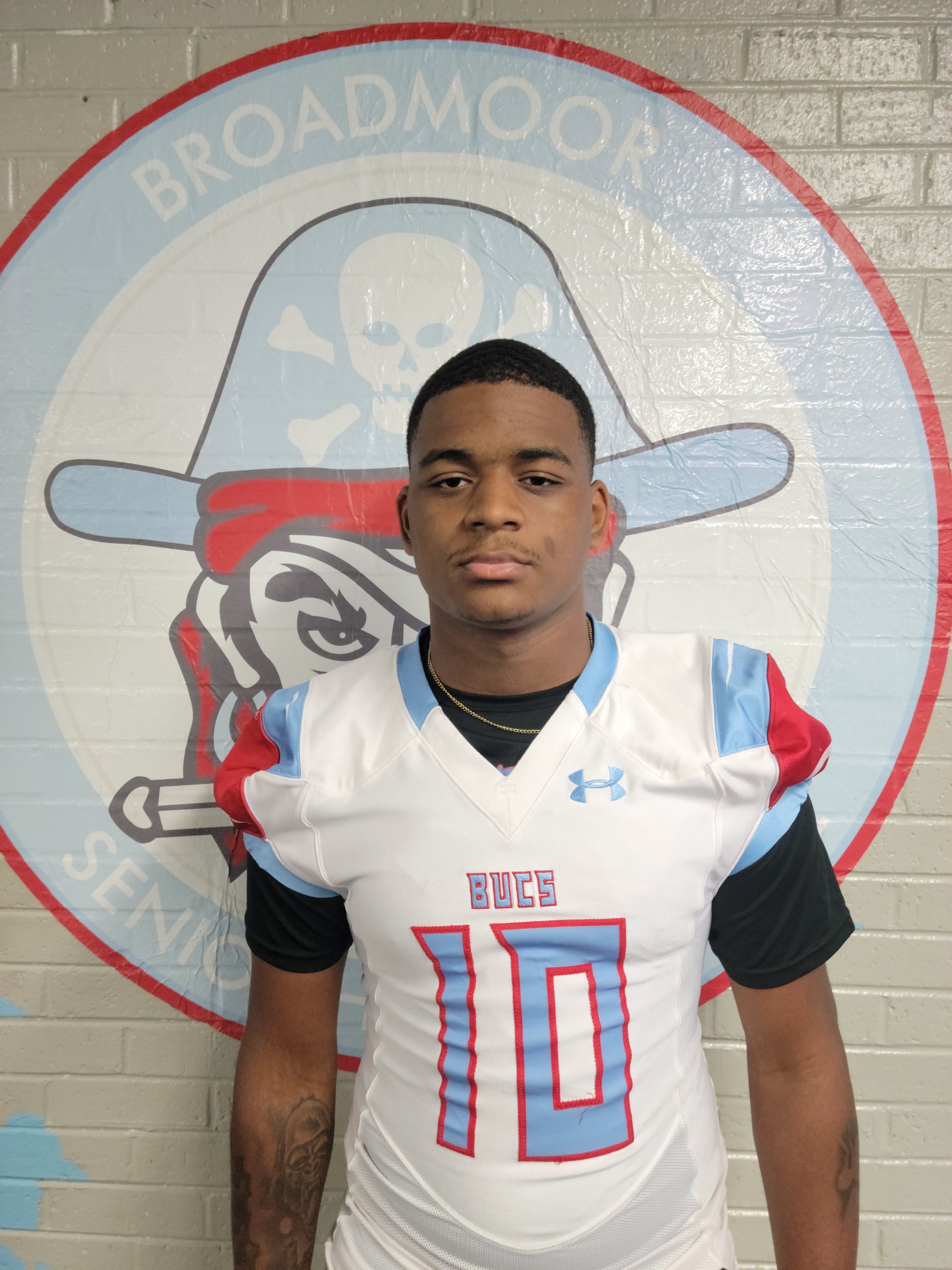 There was a four-point loss in the first week of the season, suggesting Broadmoor was primed to end the streak.
Thanks to the play of junior middle linebacker Mark Terrio, the Buccaneers extinguished a 26-game losing streak – one that dated to the 2019 season.
Broadmoor took a 8-0 lead in the first quarter and Terrio capped a standout performance with a 24-yard interception return for a touchdown with 24 seconds left in a 14-0 victory over arch-rival Tara.
"It's definitely big for our confidence," said Broadmoor first-year football coach Yasin Sarah said. "It's big for the school and shows everybody that we are moving in the right direction."
Terrio led Broadmoor with 10 tackles and added two sacks and was selected the Tiger Rag Magazine Shining Star of the Week.
"Mark moved to Mike the past couple of weeks and he's starting to learn that position," Sarah said. "It's less about coverage and more about filling and plugging up the hole, and just being there as the run stopper."
Broadmoor maintained a one-score advantage, courtesy of Tydarion Stephens' 10-yard run, and a defense that yielded 97 total yards and forced seven turnovers.
The Buccaneers provided two key interceptions in the fourth quarter, the first by Kenneth Hawkins after Tara had first-and-goal at the 8. The other came from Terrio to put the game away and helped the Buccaneers celebrate once again.
"I challenged the defense to score some points," Sarah said. "We've got a young team with only five seniors. Mark stepped up, like a lot of our players, because he's one of our more experience guys. This win shows the kid the improvement."
OFFENSE
D'WANYE WINFIELD, Lutcher (Accounted for 338 yards, 3 TDs; 193 rushing, 145 passing), ELI HOLSTEIN, Zachary (Completed 15 of 22 passes, 216 yards, 4 TDs), LEWIS WARD, Episcopal (Completed 14 of 19 passes, 185 yards, 2 TDs), BARRY REMO, Catholic-BR (Rushed 28 times, 181 yards, 2 TDs), KAMERON THOMAS, Zachary (Rushed 23 times, 179 yards), ABRAM JOHNSTON, Parkview Baptist (Completed 9 of 14 passes, 143 yards, TD), WARREN YOUNG JR., Walker (Accounted for 124 yards, 2 TDs; 105 receiving, 19 passing), JOSHUA MORRISE, St. Amant (Rushed 19 times, 121 yards), RILEY SMALL, University (27 carries, 115 yards), DAVID OLINDE, Episcopal (Rushed 5 times, 110 yards, 2 TDs), LANDON FREY, Catholic-PC (Rushed 3 times, 109 yards, 2 TDs)
DEFENSE
MICAH JOHNSON, Parkview Baptist (13 tackles, interception-TD), WESLEY MARIEN, Parkview Baptist (11 tackles, fumble recovery), WYATT TYNES, Live Oak (11 tackles), DELVIN WHITAKER, West Feliciana (10 tackles, 4 TFLs), ETHAN OTT, Episcopal (10 tackles, 2 sacks), KYLIN JACKSON, Zachary (9 tackles, blocked kick), KAMERON PETERSON, Zachary (9 tackles), ETHAN VEAL, Zachary (8 tackles), NAIM MOREHOUSE, Broadmoor (8 tackles, forced fumble, TFL), CALEB ORDOGNE, Parkview Baptist (7 tackles, TFL), TANNER STEPHENS, Catholic-PC (7 tackles), STETSON BELL, Zachary (7 tackles), BYRON STEWART, Parkview Baptist (7 tackles), ELI BROWN, Parkview Baptist (6 tackles, sack), PARKER JEWELL, Catholic-PC (6 tackles), DAVID VOORHIES, Live Oak (6 tackles), JACOB COWART, Live Oak (6 tackles), HAROLD LAWSON, Catholic-BR (5 tackles), BLAIR ROSSEAU, Catholic-BR (5 tackles), JAKE RIZZO, Dunham (2 sacks, 3 TFLs).
SPECIAL TEAMS
BRADLEY WRIGHT, Catholic-BR (3 punts, 43.0-yard average)