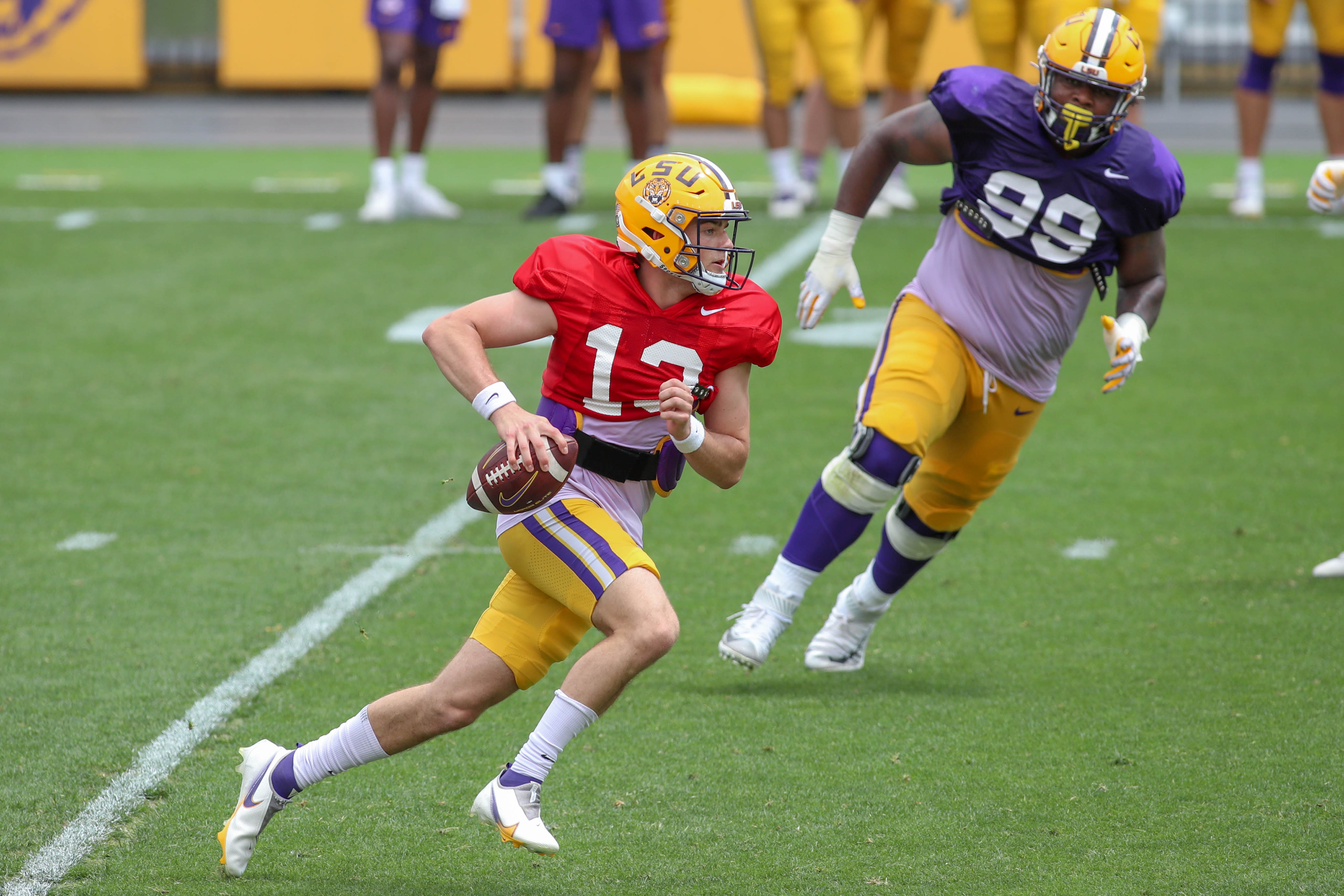 Several months have passed and 15 pounds have been added, changing the outlook of LSU defensive lineman Jaquelin Roy for the 2022 season.
Instead of facing the transition from defensive tackle to nose guard at his previous weight of 300 pounds, the sturdier built Roy goes into his third year in the program with more than just additional weight on his 6-foot-4 frame, but the kind of self-confidence and experience that could lend itself to a breakthrough season.
"It feels good," said Roy, a member of the 2022 Preseason Outland Trophy Watch List. "Walking around at practice, I know what I'm doing. Coach (Brian Kelly) isn't on to me too much like they were the first two years. I'm used of everything. I'm trying to help the younger ones out, trying to get them right for when they step into my shoes one day."
Roy is part of a defensive line that's regarded amongst the best in the Southeastern Conference.
Experience is the key that gives the Tigers the makings of one of the schools more effective defensive lines with the return of preseason All-SEC first team selection junior BJ Ojulari and senior Ali Gaye at defensive ends.
Roy returns after playing in 22 career games, including one start, and sophomore Maason Smith started in four of nine games in 2021, having played both tackle and end. He's also taken 763 snaps during his career with 496 of those last season.
"We're veterans and have been here together," Roy said. "It just feels good. I'm ready to see it."
Junior middle linebacker Mike Jones Jr. can't wait to see what Roy brings to the defense this season.
"Freakish talent. Huge size," Jones said. "Since I've been here, I've been able to see him grow up and mature. He's a guy that on any snap of the game, you can go and trust him. When it gets to third down, sometimes it gets harder for big guys who pass rush well and I can count on him getting a good rush. He's an all-around great player, an all-around good guy and I've really seen him grow up and mature and really lock up on the mental side of the game. I know that's going to take him to another level."
Roy acknowledged first-year defensive coordinator Matt House's move to scheme featuring a three-man front provided some apprehensive moments. It was a position he played briefly when the Tigers went to three-man looks, but at 300 pounds was comfortable playing tackle – of three-technique – and dealing more with more one-on-one blocks at a position former LSU head coach Ed Orgeron had recruited him and worked extensively with him.
"It just took a lot," Roy said. "Coach O expected me to know everything coming out of high school. It was hard being a freshman, him being on me every day. My mind wasn't mentally ready for that. Now since I'm here, I'm ready. It feels good."
Roy said it was commonplace to find Orgeron, a former defensive line coach, at drills for the defensive tackles and positional meetings for the unit. He realized it was part of a concerted effort to help ramp up his play and get the former four-star prospect from University High to the playing field.
"He was tough. He wanted me to play from Day 1," Roy said of Orgeron, who was fired and replaced by Brian Kelly. "It was serious. He came into the meetings and talked sometimes."
Oregon's persistence was never over the top or forced Roy to consider playing anywhere else.
"No," he if her ever considered transferring. "This is always home."
With 30 tackles, including six behind of the line of scrimmage for minus-18 yards, Roy was the team's second leading returning tackler behind Ojulari's 55 total stops. He played in all 13 of the team's games a year ago with a season-high four stops on four occasions, recovered two fumbles and had 1 ½ sacks.
The move to House's three-man front, designed to help free up LSU's linebackers, is one Roy believe has its merits. He's the nation's No. 9 returning defensive tackle by Pro Football Focus, which charted 31 pressures and 21 quarterback hurries for him in 2021.
With the additional 15 pounds, Roy thinks he'll have an advantage because of his speed and quickness off the line of scrimmage against more plodding centers. It's an area first-year defensive line coach Jamar Cain has worked with him on and tried to make him more effective whether he's facing single or double-team blocks.
"Staying low, low pads and showing me how to strike blockers faster," Roy said of Cain's influence. "Don't cock my hands backs, just go straight from the ball to the man. I like nose. I've put on some more weight. I can play over the center, and I don't know too many centers that will be able to block me one on one.
"I'm over the center, I can make a play faster, be a bigger disturbance," Roy added. "Sometimes he may snap the ball high over the quarterback's head, a bad snap or a false start. It's just maturing, knowing what I've got to do."