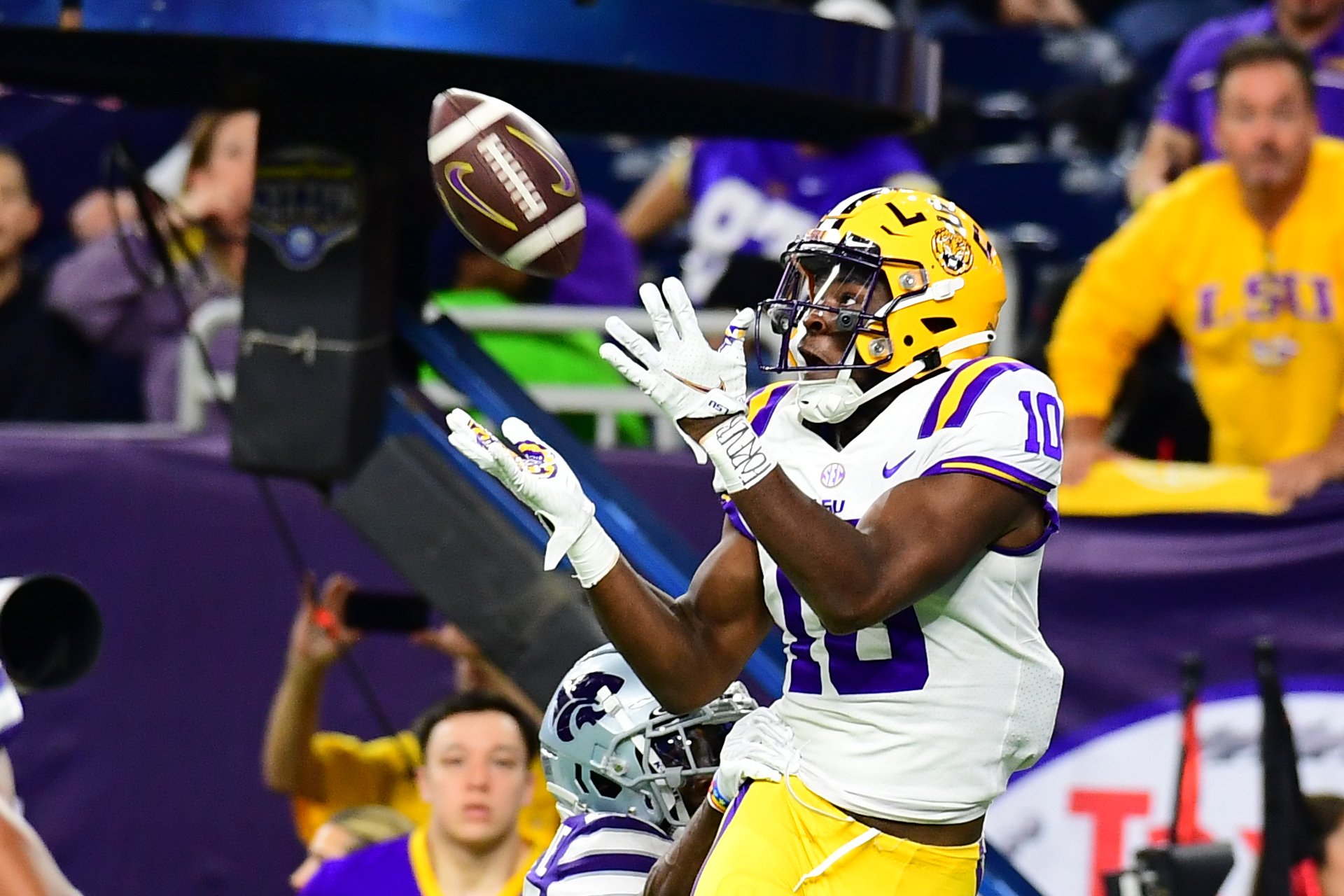 Editor's note: This is the fourth in a series of stories on the 2022 LSU football team. Today: The wide receivers.
Regardless of who becomes LSU's starting quarterback, he won't lack for targets
to throw to. Experienced, game-breaking receivers come in a variety of sizes to choose from.

One thing for certain. The wide receiver position is easily one of the more plentiful on LSU's team with junior Kayshon Boutte considered one of the nation's best despite having his 2021 season halted by an ankle injury.

"We have an extremely talented group," LSU wide receivers coach Cortez Hankton said. "We're
going to have some depth and some room for growth."

Boutte, a member of the All-SEC preseason first team and Biletnikoff Award Watchlist, was
leading the nation in touchdown receptions with nine when he suffered a leg injury in the second
half of the Kentucky game. He wound up with 38 catches for a team-high 509 yards, an average
of 13.4 yards per catch and has caught 83 passes for 1,244 yards and 14 TDs during his career.

In Boutte's absence, LSU had several receivers who flourished and return with increased expectations.

Jaray Jenkins, who ranked second on the team with 34 catches for 502 yards (14.8 per catch) and six touchdowns in 2021, decided to return for a fifth season and will be among the team's leaders. He was one of the heroes in the Tigers' 27-24 upset win over No. 14-ranked Texas A&M in the regular-season finale, making the game-winning TD on a 28-yard grab with 20 seconds left to play.

The Tigers also have back a trio of sophomores who experienced
varying degrees of success a year ago and are expected to be able to contribute more this season.

Jack Bech split time between wide receiver and tight end and produced a team-high 43 receptions for 489 yards (11.4 yards per catch) and three touchdowns.

Malik Nabers overcame an early injury to show flashes of excellence and was tied for fifth
on the team with 28 catches for 417 yards (14.9 per catch) and four touchdowns. Brian Thomas Jr. is the team's biggest threat at 6-foot-4, on the outside and had 28 catches in 12 games for 359 yards (12.8 per catch) and two TDs.

LSU also added a proven weapon through the transfer portal with Kyren Lacy of Louisiana. The junior caught 50 passes for 668 yards and 10 TDs in two seasons
Tight end remains an area LSU will look to stockpile talent and build the kind of depth first-year head coach Brian Kelly is looking for in the future.

Six-foot-seven junior Kole Taylor has started in five of 19 games during his career and was productive during the team's spring game with four catches. He caught six passes for 68 yards
and a TD last season and has 12 receptions for 104 yards with a TD during his career.
Former walk-on Jack Mashburn started in four of 12 games a year ago, and even at 235 pounds, proved to be an adept blocker. Graduate student Nick Storz, a former LSU pitcher, returned to the team after medically retiring from football. The 6-7, 247-pounder is credited with one start and playing in 10 games in the 2020 season, mostly on special teams. The Tigers also added signee Mason Taylor, the son of NFL Hall of Famer Jason Taylor of the Miami Dolphins.