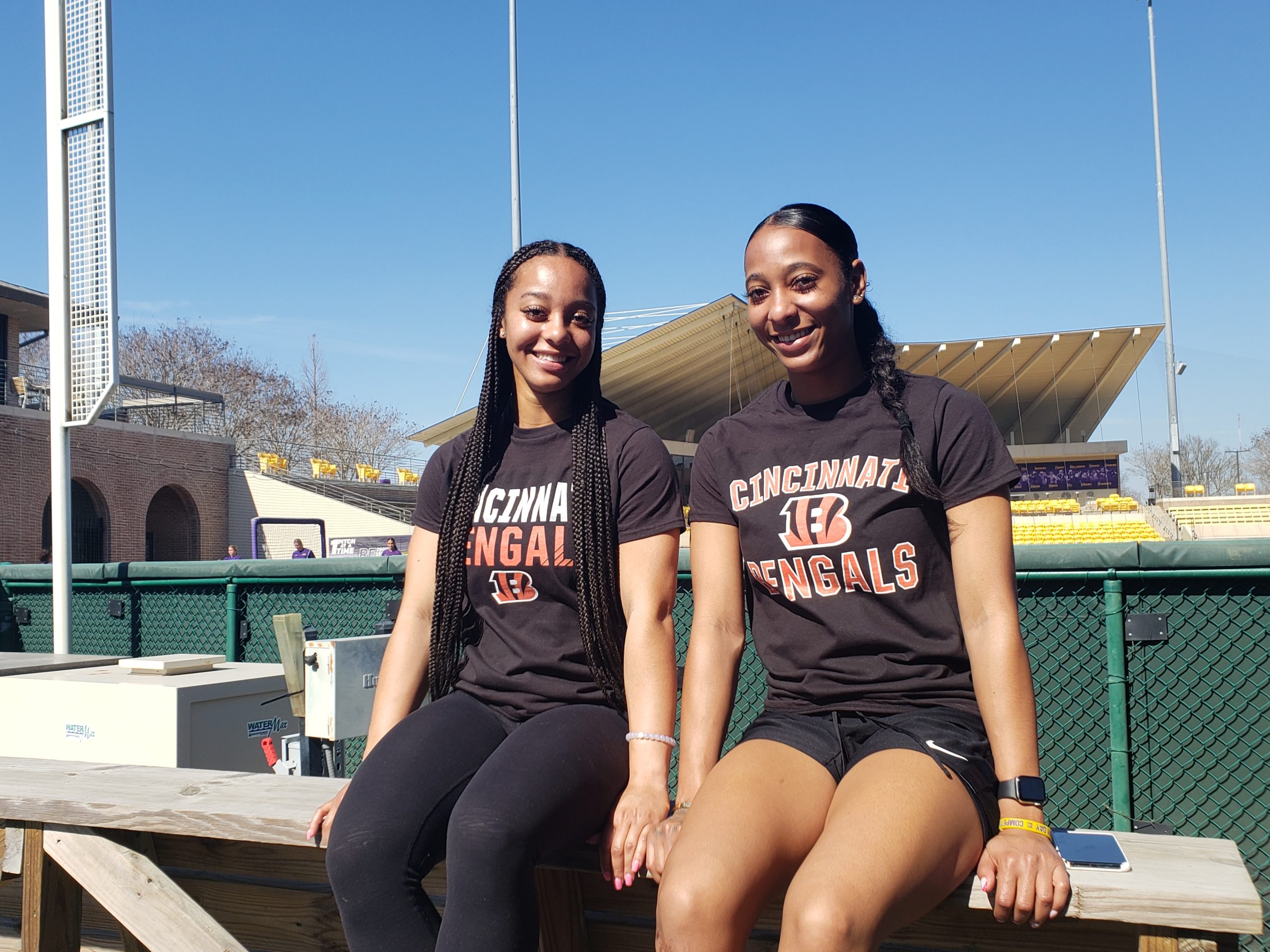 Even 14 years after their father's eight-year stay in Cincinnati with the Bengals ended Karrington and Kennedi Houshmandzadeh still reflect favorably on their childhood in the Queen City.
The sister, who were born and reside in Cerritos, Calif., are fond of the scenic falls they spent living and attending school in Cincinnati and with all the trappings that came with being the daughters of famed wide receiver TJ Houshmandzadeh who rose to Pro Bowl Status during his time with the Bengals.
Winter was especially a memorable time for the two sisters (Karrington's two years older) to frolic in the snow, creating 'snow angels' in their backyard and enjoying the comforts of a traditional Midwest neighborhood.
"It's the small things I remember us doing together," said Kennedi, a sophomore second baseman at LSU. "I remember seeing deer running around."
With Karrington and Kennedi set to embark on their fourth and second seasons, respectively, in the LSU softball program, they're also mindful of the joy going on their childhood city where Cincinnati, which never won a playoff game during their father's career, is on the cusp of a first NFL World Championship when the Bengals face the Los Angeles Rams in Super Bowl LVI at 5:30 p.m. Sunday.
"It's really cool," said Karrington, a redshirt junior who is contention to play in left field this season. "My dad is super excited. He loves the Bengals organization. There were some ups and downs, like some of the organizations he played for. The Bengals are his team. It's been cool to see them be successful and be successful behind so many LSU players."
Karrington got a front-row seat to see some of the future key figures in this year's Cincinnati improbable run to the Super Bowl. In her first semester in Baton Rouge, she witnessed the exploits of the 2019 national championship Tigers that were led by quarterback Joe Burrow and wide receiver Ja'Marr Chase – now key cogs in the Bengals' offense.
"I watched all of LSU's games and could tell Cincinnati was going to be a good hands," Kennedi said. "Even after the first year when he got hurt, I knew Joe was going to bounce back. I watched football all the time with my dad. There were flaws at other position groups, but Joe Burrow was going to be OK at the end of the day."
TJ Houshmandzadeh has parlayed an 11-year professional career, where he caught 627 passes for 7,237 yards and 44 touchdowns with Cincinnati, Seattle, Baltimore and Oakland, into a broadcast medium that's included Fox Sports Radio, football analyst on Fox Sports 1 and a spot on the "About The Game" Podcast.
Before the football season began, Houshmandzadeh selected the Rams to reach the Super Bowl.
"For his benefit he needs the Rams to win," said Kennedi, "but his heart is with the Bengals."
That's reasonable, considering the love-affair the city enjoyed with Houshmandzadeh from the time he arrived as an unheralded seventh-round draft choice from Oregon State in 2001 until his departure in '08 as a free agent signing in Seattle.
The Bengals, with quarterback Carson Palmer considered a centerpiece, steadily improved and with a growing receiving tandem in Chad "Ochocinco" Johnson and Houshmandzadeh. The Bengals recorded consecutive 8-8 seasons in 2003-04 before reaching a highwater mark a year later with a 11-5 record that included a 31-17 loss to the Pittsburgh Steelers in the AFC wild card game.
"I just remember that they loved my dad," Karrington said of Bengals fans. "They loved Chad and they loved Carson. They were the big three. Anytime we went out to dinner people wanted pictures and my dad was always super nice about it."
For Kennedi, the experience of arriving at Paul Brown Stadium on a Sunday and watching her dad play, remains vivid.
"The games were cool," she said. "We posed for pictures and ate the food in the suites. The fan support was crazy. The fans were so great. They thought everyone was a superstar. That's what I remember the most, the fans were crazy."
They were especially wild about their father during the height of his career in Cincinnati – 2006-08 – when Houshmandzadeh caught 294 passes for 3,128 yards and 25 TDs. He earned a berth to the Pro Bowl in '07 with a career-high 112 catches (also tied for league-high honors) for 1,143 yards and 12 TDs.
One year later, after a 92-catch, 904-yard season, Houshmandzadeh signed with Seattle, ending his time in Cincinnati and for his daughters it represented the conclusion of a magical time in their childhoods where they lived and attended school each fall before returning home to California each spring to live and attend school.
"That was kind of an adjustment, but we got used to it," Kennedi said of dividing time between Cincinnati and Cerritos for eight years. "We loved Cincinnati. We liked bouncing back and forth."
With their father going onto play another three years in the NFL, the Houshmandzadeh girls lived full time in southern California where they eventually embarked on their own softball careers and developed an affinity for the L.A. Rams.
However, the city of Cincinnati never strayed too far from their minds where the Bengals were at the forefront when they rallied Jan. 2 to beat the Kansas City Chiefs, 34-31, during the regular season.
"I thought the Bengals are really good now," Kennedi said.
The same organization that's treated their father with great reverence has only captured the attention of Houshmandzadeh girls, but the entire football world by reaching the third Super Bowl in franchise history, the first in 32 years. The two sisters said their father will be on hand Sunday in an official media capacity, while they both plan to pridefully watch, decked out in Bengals' gear, rooting on a franchise that's meant so much to their entire family.
"Hopefully," Kennedi said, "the Bengals can pull it out."