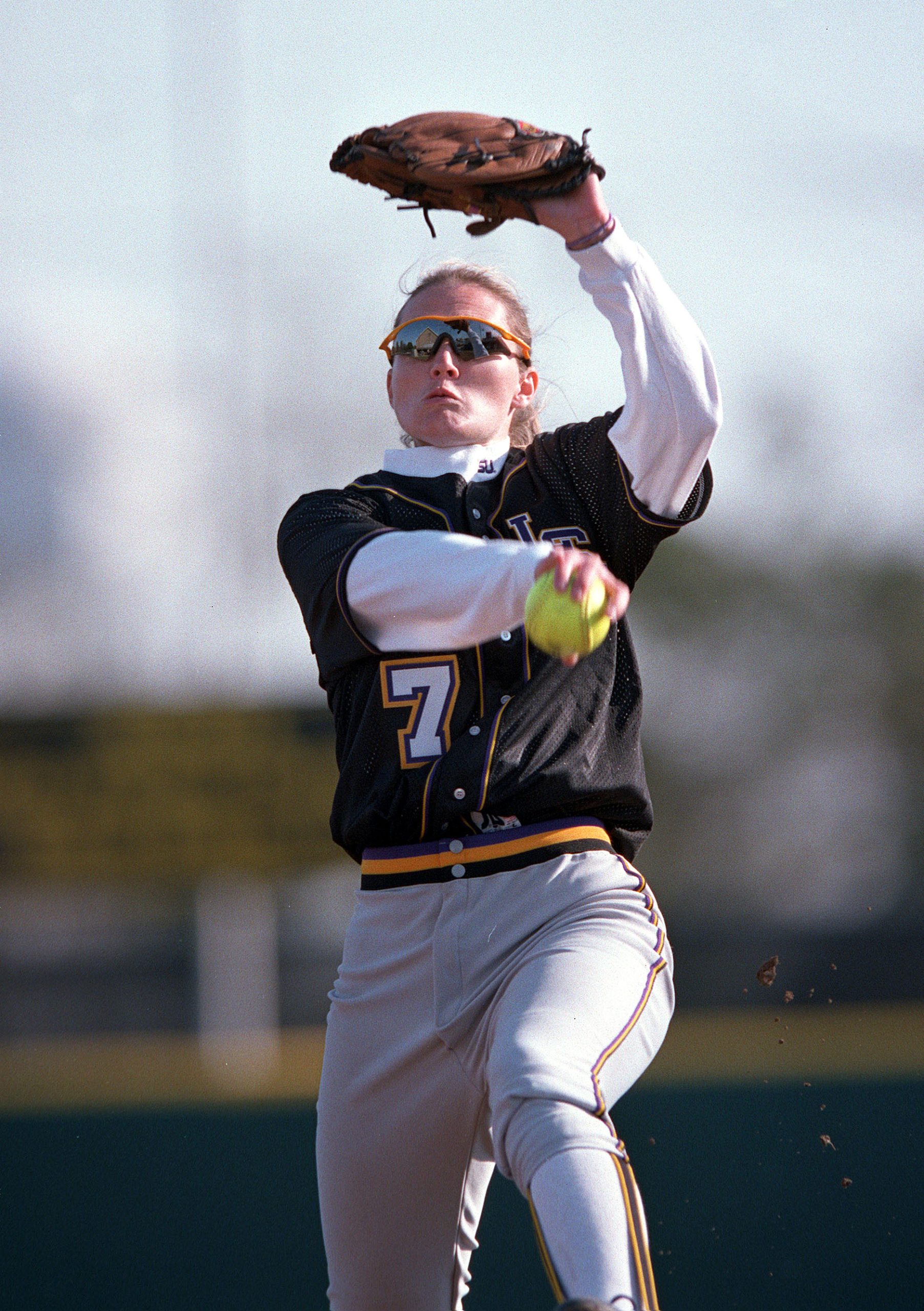 (Editor's Note: This is the third in a series of stories on former LSU athletes that are part of the Class of 2022 being inducted into the Louisiana Sports Hall of Fame in Natchitoches on June 25th).
By TEDDY ALLEN
Written for the LSWA
Baylor softball coach Glenn Moore is by the baggage claim in Dallas, not an unusual place for a coach in the South to be, but he finds himself in an unusual spot.
He's been asked to name a moment that stands out for him in the standout career of pitcher Britni Sneed Newman, voted by fans of LSU's Tiger Rag Magazine as the program's best-ever player and now one of the newest members of the Louisiana Sports Hall of Fame.
Moore recruited her relentlessly — "Wrote her every other day, if not every day," he said — signed her, and coached her the first two seasons of her storied LSU career, one littered with more awards and titles and hardware than you can shake a softball bat at.
Her entire career seemed to be One Big Moment. No way you can pencil in a single point in time, since her whole career was a repeat of one thing: winning.
"Tough to think of just one because she didn't lose," said Moore, who has had Newman by his side now for 19 seasons as Baylor's highly successful pitching coach, and more recently as associate head coach. "She always won. There was so much confidence around her when she pitched. She was just so dominant. To say that you can't think of a specific time when you thought 'I don't know if I've ever seen her better' says a lot."
"She dominated the SEC when she was playing," said Yvette Girouard, Newman's coach at LSU during the righthander's final two seasons and her boss the next year, when Britni was a graduate assistant for the TIgers before moving west to join Moore's staff at Baylor. "With somebody like that on the mound, you always felt you had a chance to win it all."
Twenty years later, that impact has carried her to the 2022 Louisiana Sports Hall of Fame Induction Celebration June 23-25 in Natchitoches, and has earned her a permanent place among the state's sports greats. For information about the LSHOF Induction festivities, visit LaSportsHall.com or call 318-238-4255.
"I think I haven't grasped fully the magnitude of it yet," Newman said of her LSHOF induction. "It's an incredible honor. I'm humbled. So incredibly grateful and thankful. But like anything in life, you don't get where you are by yourself. My family, my coaches, my teammates, they all just propelled me to a level where I was able to perform at my best, because they gave their best."
To put it in a glove shell, Newman put LSU softball on the map, pitched the program to its first Women's College World Series, vaulted the program to the perpetual WCWS contender it has become. She came to a program only three years old, a program that had been dropped 15 years earlier.
She came to town, and LSU softball has been impossible to ignore since.
"I don't know if I ever realized the magnitude of my talent," she said, laughing at the thought that she was really that good, that the team around her had helped her be that good. "I came to understand I had a gift and got a lot of confidence from my teammates and my coaches who helped me and pushed me each game."
To list her many awards and all her deserved and earned recognition, it might take the invention of two more alphabets and another set of numbers. Consider, if you can take a deep breath, all of this from her 1999-2002 career:
* Two-time first-team All-American;
* Four-time first-team All-SEC pitcher;
* First LSU softball player to be chosen for the school's athletic Hall of Fame in 2009;
* Two-time finalist for USA Softball Player of the Year;
* SEC Player of the Year in 2001;
* SEC Pitcher of the Year in 2002 and SEC Tournament MVP in 2001 and 2002.
Giving you a chance to catch your breath here…
* Produced a career record of 120-25 with a microscopic 0.89 ERA;
* Helped pace LSU to a 230-45 record during that time, including at least 56 wins in each of her four seasons (59 in 1999 and 2002);
* Recorded single-season marks of 23-5 (1.13), 27-7 (1.14), 36-6 (0.66) and 34-7 (0.75);
* Had 1,370 career strikeouts in 976.1 innings (think about all those batters walking back to the dugout);
* Allowed only 489 hits and 184 walks.
There's more. A LOT more …
* Set an SEC single-season record with 410 strikeouts in 2001 and broke her own mark with 478 the next season;
* Held SEC records with 120 wins, 0.89 ERA, 55 shutouts, .147 opponents' batting average and 9.8 strikeouts per seven innings when she finished her career;
* Ten career no-hitters (six as a senior in 2002) and combined with teammate Sarah Meadors for three more, including a perfect game against Tennessee in 2001;
* Helped the Tigers to a third-place finish in their first Women's College World Series appearance in 2001, highlighted by her striking out a then-SEC record 19 batters in a 13-inning, 2-1 win over Oklahoma.
It all began with those hope-you'll-consider letters from Moore to Newman, a star pitcher raised in Houston who earned prep All-America honors at Cypress-Fairbanks High, and who held a lifelong dream of going to Texas A&M.
Except the Aggies said they didn't need a pitcher.
Error.
"Yvette was crushed," Moore said, "until I left. Then she was pretty happy."
"I recruited her heavily," said Girouard, who was then coaching at UL Lafayette, 50 miles to the west of LSU. "I was devastated when she went to LSU. I knew I was going to lose to her at least twice a year."
But after A&M didn't invite her, Newman decided she wanted to be a Tiger.
"It was her opportunity to make her mark, to do something no one else had done," Moore said.
A pitcher perfect decision.
"She came in with high credentials, and what a competitor," said Nick Bucholtz, her strength and conditioning coach at LSU. "One thing that set her apart was the mental toughness she had. So mature as a freshman; you could tell immediately she was special."
Bucholtz put the newbies through what he called "Oklahoma Citys," named after the home of the Women's College World Series, a "grueling workout. A lot of the girls couldn't make it through. She did. She was very mature, even as a freshman. Very athletic coming in at 6-2, but she got so much stronger. It was unbelievable, the gains she made. It just added the legend of Britni, even that first year.
"I think leaders are born into leadership; she was born into that role, God gave her a gift and she stood out to all those around her, even as a freshman. She was mentally tough and spiritually strong. It was an honor just to be around her. She made my job a lot easier."
On gamedays, she'd listen to a couple of songs to get her focused. One was "Reach" by Gloria Estefan.
"Some dreams
Live on in time forever
Those dreams
You want with all your heart
And I'll do whatever it takes
Follow through with the promise I made
Put it all on the line
What I hoped for at last would be mine…"
"Something about that song got my mind right," Newman said.
She'd put on her uniform the same way. Every time. Catcher Jennifer Schuelke would braid her hair. "If you look good, you feel good, right?" she said.
And when she got the start in the circle, she'd warm up the exact same way, every time.
But it wasn't superstition that got her those 23 wins and six shutouts as a freshman. Or 27 wins and 22 complete games and eight shutouts as a sophomore. Or 36 wins — including a 21-0 SEC record ("She didn't lose") with a school-record 0.66 ERA and consecutive scoreless innings streaks of 51 and 41.2 innings as a junior, or a school-record 22 shutouts in 34 victories, including six complete-game no-hitters as a senior.
Instead of superstition, it was her mix of talent and her two secret weapons that made her so fierce in the circle. One, she developed a change-up before her junior season.
"She worked and worked and worked and worked," said Girouard, inducted in 2015 in the Louisiana Sports Hall of Fame and coach of the Hall's only other college softball player (former UL standout Kyla Hall Holas). "She had the tightest spin on her curve ball that I've ever coached; I can still hear the seams whistling. Dominating. Then when she got the change, it put her in another stratosphere."
"She could beat people with her third-best pitch," Moore said.
But she had one last thing …
"What a competitor," Bucholtz said.
"One of the most fierce competitors I've ever been around," Girouard said. "To be such a kind soul off the field … She separated life and softball."
Moore said. "She was the complete internal mix with a ton of talent."
"Coach Moore used to joke with me and say that once I put on my cleats, horns came out of my head," Newman said, laughing at the thought. "Not longhorns, but devil horns.
"Getting married, having children … those are milestone moments," she said. "But I have a special connection with the game of softball. Something about it lights my fire when I'm on the field.
"My memories of LSU," she said, "I will cherish those forever."