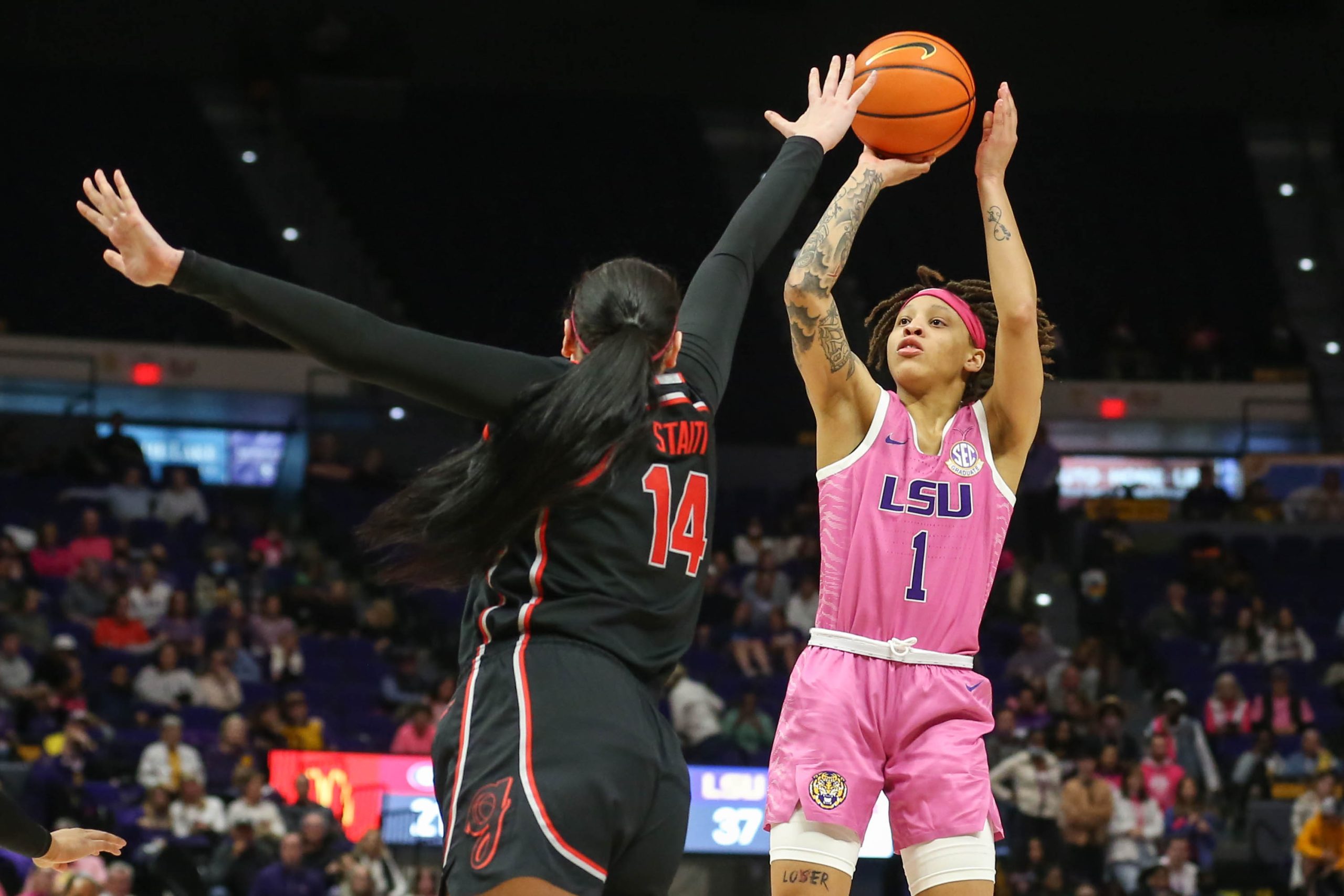 With LSU's offense only generating one field goal in the final six-plus minutes of Thursday's game the Tigers were able to hold off hard-charging Georgia from the free throw line.
The No. 14 Tigers scored their last eight points from the foul line, six of which came from Alexis Morris, to help sew up a 73-67 Southeastern Conference victory over No. 17 Georgia at the Pete Maravich Assembly Center.
LSU (20-4, 8-3 in SEC) achieved its first 20-win season in 14 years, parlaying its big performance of 27 of 34 from the free throw line (79.4%) that included 21 of the team's 36 second-half points coming from the foul stripe.
"We gutted it out again," LSU first-year coach Kim Mulkey said. "We made free throws. We got to the foul line a lot."
Guard play was another staple for LSU to able to make a season sweep of Georgia (17-6, 6-5) with Morris (26), Khayla Pointer (21) and Jailyn Cherry (18) combining for 65 of the team's 73 points.
The Tigers, who outrebounded the Bulldogs 47-29), shot 38.9% (21 of 54) and played a great majority of the game without third-leading scorer Faustine Aifuwa because of foul difficulty. She was limited to one point and five rebounds in 19 minutes of play.
LSU, which remained in a tie for third with Florida in the SEC standings, seemingly had a good handle on the game with a 48-28 lead at the 5:47 mark of the third quarter. The Tigers capped a 7-0 run on four straight free throws, two of which included a pair of technical shots, from Morris and a 3-pointer from Pointer.
Georgia outscored LSU 17-8 the remainder of the way to get within 11 points (56-45) and on the strength of five 3-pointers over a seven-minute stretch that bridged the third and fourth quarters. They tied the game at 62-62 on Jenna Staiti's lay-in with 2:25 to play.
Cherry's step-back 17-footer with 1:22 showing, after an offensive rebound from Aifuwa, was the Tigers first field goal in more than five minutes and what turned out to be their last of the game.
Georgia got as close as 69-67 on a 3-pointer from Tineya Hylton with 9.1 seconds left, but LSU was able to inbound the ball to Morris who was fouled and made two free throws, something she repeated with 2.2 second to go to account for the final score.
"It's an ugly victory," Mulkey said. "You're up 20. I've been involved where you've been up a lot and you come back, and you lose. We won. Our bench did a good job in the first half. I didn't think they helped us in the second half."
LSU's defense clamped down on Georgia's two top scorers in Staiti and guard Que Morrison who were averaging close to 30 points. They wound with 17 points, but it was the bench play with Reigan Richardson's career-high 17 and Hylton, who had only played in a one game and hadn't a scored point this season, added nine to spur on the Bulldogs' effort.
"Georgia's bench almost basically beat our starters," Mulkey said. "We had their starters pretty much contained a guarded. You don't ever expect Georgia to make that many 3s. They're last in the league. Opportunity for players to play and it almost basically beat us."
LSU never trailed in the game, following the early lead of Morris' 10 points to a 23-11 lead after the first quarter. The Tigers shooting tapered off in the second quarter, allowing the Bulldogs to climb back to within 31-21 when they finished the last 10.6 seconds of the half to gain a 37-21 halftime advantage.
Cherry scored her 10th point of the half on a 17-footer jumper where on the shot Newby, who screening on the play, was fouled as the ball went through the net and added a free throw that made it 34-21.
Cherry then came up with the offensive rebound after Newby's miss on the second attempt and found Morris who delivered 3-pointer from the edge of the midcourt logo – her third trifecta of the half – for a 16-point cushion at the break.
"They just got hot from the 3 and cut the lead," Mulkey said. "But we survived."