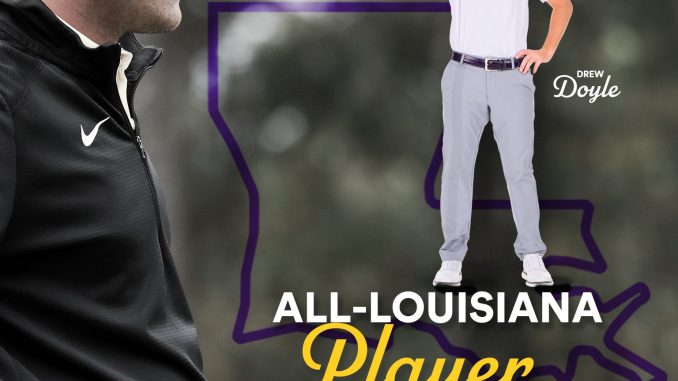 LSU junior golfer Drew Doyle was named the All-Louisiana Player of the Year on the 2023 men's college golf team.
The Tigers had three golfers on the first team with Garrett Barber and Luke Haskew joining Doyle.
Doyle, from Louisville, Kentucky, is earning her second special honor while at LSU, earning state Freshman of the Year in 2021.
Doyle topped LSU with a 71.11 stroke average and helped the Tigers reach the NCAA Regionals. In 36 rounds, he posted par or better rounds 22 times. He posted three top-five finishes during the year.
Doyle improved his stroke average for his 36 rounds, more than one full shot from a year ago and after 84 career rounds is averaging 71.85 for his career.
Barber finished his graduate student season with a 71.39 average with 18 rounds of par or under, while Haskew averaged 72.53 in 32 rounds.
The complete All-Louisiana College Men's Golf Team:
MEN'S PLAYER OF THE YEAR: Drew Doyle, LSU
MEN'S FRESHMAN OF THE YEAR: Malan Potgieter, UL-Lafayette
MEN'S NEWCOMER OF THE YEAR: Thomas Henson, Louisiana Tech
MEN'S COACH OF THE YEAR: Theo Sliman, UL-Lafayette
MEN'S FIRST TEAM
Drew Doyle, LSU
Garrett Barber, LSU
Charlie Forster, Southeastern Louisiana
Luke Haskew, LSU
Malan Potgieter, UL-Lafayette
MEN'S SECOND TEAM
Melan Dhaubhadel, ULM
Ryan Fulton, New Orleans
Eli Ortego, UL-Lafayette
James Swash, Louisiana Tech
Otto Van Buynder, ULM