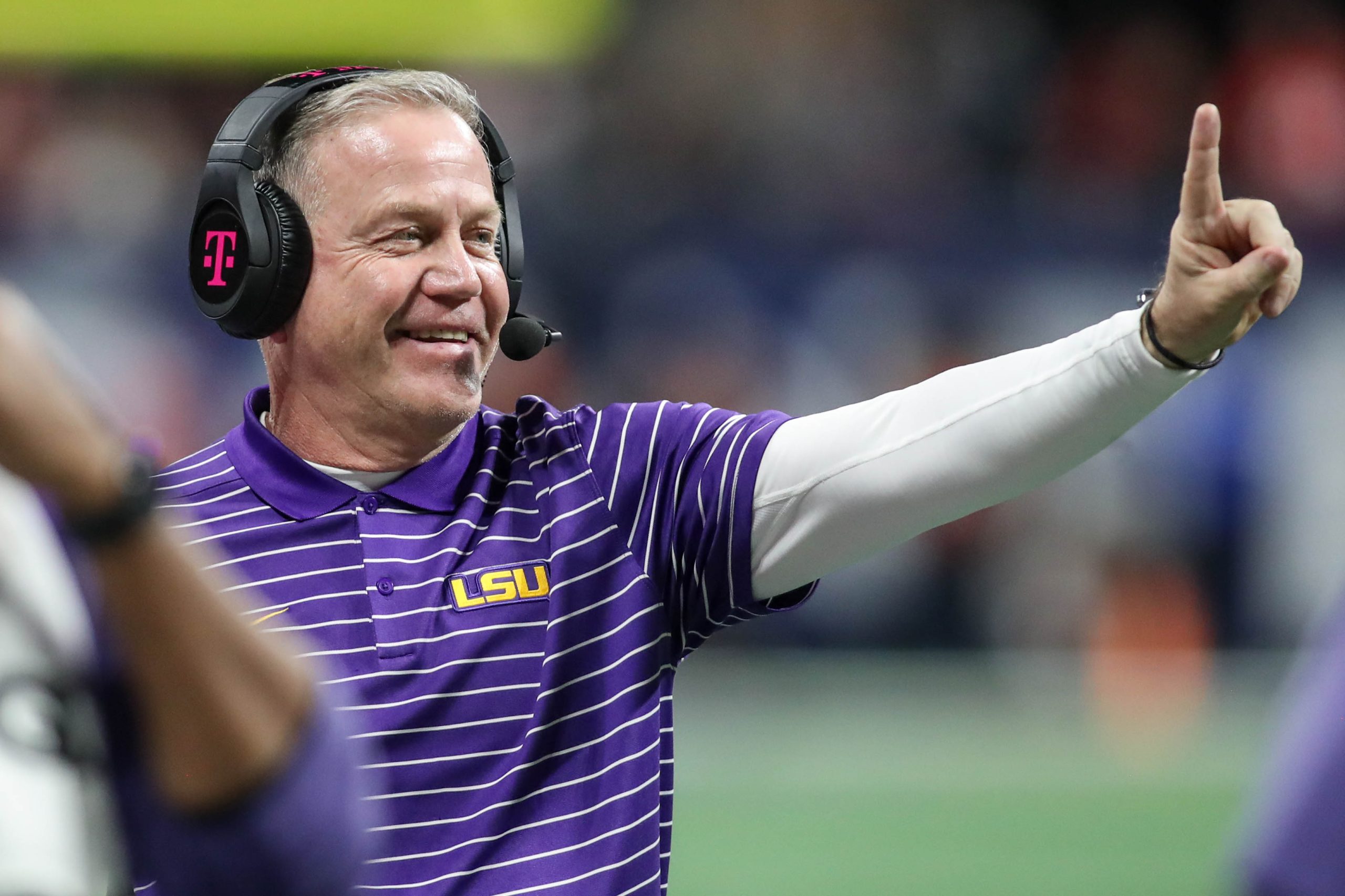 One of the LSU's biggest needs going into the 2023 season was in the secondary and more specifically the cornerback position.
The Tigers lost a pair of starters in fifth-year senior Jarrick Bernard-Converse and junior Mekhi Garner opted to enter the NFL Draft, leaving the team extremely thin at such a vital spot on the field.
Second-yead coach Brian Kelly was aggressive in the NCAA transfer portal and signed four players at the position, but none more scrutinized than Texas A&M transfer Denver Harris.
Harris was one of the nation's top safeties, garnering five-star acclaim from Rivals.com and four-star mention from 247Sports and ESPN, when the nation's fifth-ranked cornerback signed with Texas A&M over LSU, Texas and Auburn.
The 6-foot, 183-pound Harris, an Under Armour All-America selection and nation's No. 25 overall player, played in a total of five games in 2022 for the Aggies during his true freshman season. He had 14 total tackles with three pass breakups but was twice suspended from the team.
Harris was first suspended before Texas A&M's game with Miami because of a curfew violation and then was suspended for the final six games of the season following a locker room incident.
Harris entered the transfer portal on Dec. 6 and signed several weeks later with LSU which also signed JK Johnson of Ohio State, Zy Alexander of Southeastern Louisiana and Duce Chestnut of Syracuse.
Kelly believed that he and defensive coordinator Matt House vetted Harris during the recruiting process before ultimately signing the talented corner, who has three years of eligibility.
"Obviously, we did a lot of research," Kelly said after Tuesday's spring practice. "This was not a decision that we just said, 'here's a great player'. He had the fit. We felt like we did our due diligence in terms of his background. There's an affiliation with LSU here with the family. He had a lot of people speak on his behalf.
"He had a number of interviews with (Matt) Coach House and myself, and we felt with the culture we have put together here, that he would make it here because the culture is really strong," Kelly said. "And it's proven to be that he's done well early on and he has no choice. He has to make it. So, here's a guy that has been given a second chance and we feel like because of the circumstances, the culture is strong. He knows that this is really his last chance at an SEC opportunity. That it was worth the risk and so far, so good."
Here's what else Kelly had to say:
What's the focus on Jayden Daniels' development this spring?
"When Jaden made the decision to come back, I think there's a number of things that are on the table for discussion and you start with the physical development. How we can put together a plan for his strength and conditioning? Part of this is we had to recruit him back so, we had to give him a comprehensive plan as to what we were going to do in the weight room. How we were going to continue to develop him technically as a quarterback, all of those pieces, and then utilizing the resources that we have here. We have VR (technology) to train year round, having receivers here for him. It was really just having a comprehensive, year-round training program for him right here. And then providing him the opportunity to do other things as well. He went out on the West Coast and trained with other elite quarterbacks, providing him the contacts to do that. So, I think more than anything else, it was just really continuing the development of a quarterback that's in that stage and when we were able to meet, and he saw that we had a comprehensive plan, I think it helped him make his decision."
State of team's strength and conditioning?
"Oh, yeah, it's quite different. Not this past Friday, but the Friday before we left, we had nine players run 20 miles-an-hour or more. We only had one at that second practice the year before. So that tells us a little bit about our speed and strength being much more deeper within our entire team. I think we've looked at all of our numbers and it's pretty clear our football team is bigger, faster, stronger. You've got to be able to translate that as well. We clearly feel like we've addressed some depth needs, but you wouldn't know that today. We've got eight healthy lineman out there. So, we're actually in a different position than we were last year, and that we have to be a lot more careful in terms of what we're doing. We've got some help on the way which will help us during the season. But I think each year, what we're looking for is what you mentioned. We want to be physically stronger, faster, bigger, faster, stronger as a team and we are."
Plans for freshman Da'Shawn Womack?
"I think he's got some flexibility as a guy that could play the big end position, but we haven't ruled out how we play him. Is he a stand up, two-point player in a manner that he's 100% of the time a 'Jack' linebacker. No, probably not. But it doesn't mean that we can't be in four down and he can stand up and drop in a limited fashion, to change the looks up because he is so athletic. We think that his athletic ability still lends itself to having some of the traits necessary to put him in in a hybrid position."
Progression of offensive tackle Emery Jones Jr. from last season?
"Well, it starts with how he handles himself. Away from the field he makes good choices, good decisions. He's never on a list. He's never on an academic report. He's never on any of the lists relative to being late to anything. He's reliable. I was telling our guys the other day, in my three decades of being head coach, if there's one question I'm asked over and over from (NFL) GMs (General Managers) and head coaches, 'Is he reliable? Is he going be on time? Can I count on him'? This is a guy you can count on, and we can count on him as a true freshman, and while he's not a sophomore yet, he's so reliable. That just goes to is his parenting his background, his high school. You know where he came from. He's exceptional."
Update on Jack position and decision to have John Jancek coach the position?
"There's young players in there, but we brought some transfers in there. (Texas transfer) Ovie Oghoufo has played a lot at that position in a similar role at Texas, and we felt like him and certainly (Oregon transfer) Bradyn Swinson are two guys that had a little bit more of a veteran kind of presence with some young players. We felt that was the kind of mix that we're looking for and that's proven to be pretty good right now. Ovie's been really good as a leader, as a mentor right away to some of the young players. And I think some of the young kids have shown themselves to be a little bit further along than we thought and that will be a position that continues to evolve. I think we wanted somebody coaching that position on a full-time basis. You look at what we're asking that person to do. It's hard sometimes for the defensive line coach to break away all of the responsibilities of that position in terms of coverage and such when you're coaching the interior. That's why we wanted coach Jancek to be focused on that with the special teams."
Have you seen Malik Nabers showing leadership qualities at his position group?
"I think Malik is the leader of that (receiver) room. I think there's so many things that you have to do on a day-to-day basis to get that. He's made some poor choices, but yet he makes great choices on a day-to-day basis in that he trains hard. He is a guy when it comes to his academics, he takes care of those things. He's a good teammate. As I said earlier, he's reliable, he's on time. He's a good teammate, he's respectful. So, he does have those traits in the room. But he's got to keep doing it. I don't know that we're passing out Cs for the (captain) shirts right now. But he's showing those kind of markers, where people are starting to look towards him as the leader in that room."
Any potential position changes coming in spring?
"Honestly the only positions that we made are to function in practice, and that is we moved a couple of guys on the offensive line just so we can get some good work in practice. We did that also at running back just to get us through because we're so thin there as well. The only position that opens us up to potentially moving some people around, is we have some pretty good depth in the backfield. Is there another safety possibility? Is there somebody that can move around in the backfield? That's yet to be determined, and that will be an area that we'll continue to look at because there are some guys there that could possibly play a couple of different positions. I don't know who they are right now and we'll continue to monitor that. But I don't see anywhere else that really would put us in a position where somebody would move to the other side of the ball."
Philosophy on coaching special teams?
"So, John Jancek will coordinate which will be the voice of what we're doing. I was really happy with our scheme. As I did a deep dive on what we did special teams wise, we fielded the the ball poorly last year. We were in a position where a walk-on was our kicker and he had his moments, but he had some big kicks as well. Our punter (Jay Bramblett) was excellent. Our long snapper (Slade Roy) was excellent. So, when you talk about the individuals, we had to address kickoff return and punt return and who that person was (Alabama transfer Aaron Anderson), and I think we went out and did that. But from a schematic standpoint, I like what we do. So, there won't be many changes. There'll be some coaching points and some tweaks here and there. So, John will be that voice. Lester Erb will stay in his role as an analyst. Analysts can go out and coach like one of the 10 (full-time assistants), but they are allowed now to be more active with the assistant coaches. Lester Erb did a great job last year of putting together our game plans and I thought our game plans were really good. So, he'll continue in that role. And then the assistant coaches and in particular the coordinators, will take an active role and a responsibility in each one of the units. So, this is much more of a coordinator will have the singular voice, but it'll be a team approach to the special teams this year."
Timetable on return of Maason Smith and importance of his return to lineup?
"Well, it'll be immense. We had great edge presence last year. It was pretty obvious like with Harold (Perkins) and BJ (Ojulari). But you could fan one side and chip or move the back to the other, because we didn't have a great inside pass rush presence. Now you put Maason to the inside. If you do that this year, I don't know how many sacks he'll have. You can't single block him. We couldn't. So, when you start to fan to him, when you start to move the center to him or use a back inside, now you're going to leave our edge players one-on-one and we'll have a really good balanced pass rush. So, he brings that presence which we didn't have last year.
"We had nine guys out today that factor into our two-deep and significant playing time. Eight of the nine will be back when we begin our summer program in the first week in June. The ninth is (running back) Armoni Goodwin, who won't be back until camp starts. So, they're all in great position. They're all doing well. They're all moving actively. We're in the middle of March. You know these guys are you know on schedule to be full go doing everything by the time we come back, you know in the first week in June."
Are you in favor of college football's new rules to speed up the game?
"I'm in favor of the rule. I think it's good for college football. I think it is getting to the point where as long as it (clock) stopped the last two minutes before halftime (and) at the end of the game, I still think you have the ability to come back and be part of comeback opportunities. The NFL has done a great job of taking every play and maximizing each one of those and each one of those opportunities, whether it be through shifting and motioning, and in trying to get the defense in positions where they're leveraged. I really think that offensively some college offenses have gotten away from that and they're just trying to run as many plays as they can, and I think it puts an emphasis back on execution. You better be offense that executes and does a really good job from play to play. And you can't be loose and careless, you have to be focused and really disciplined offensively with these changes."