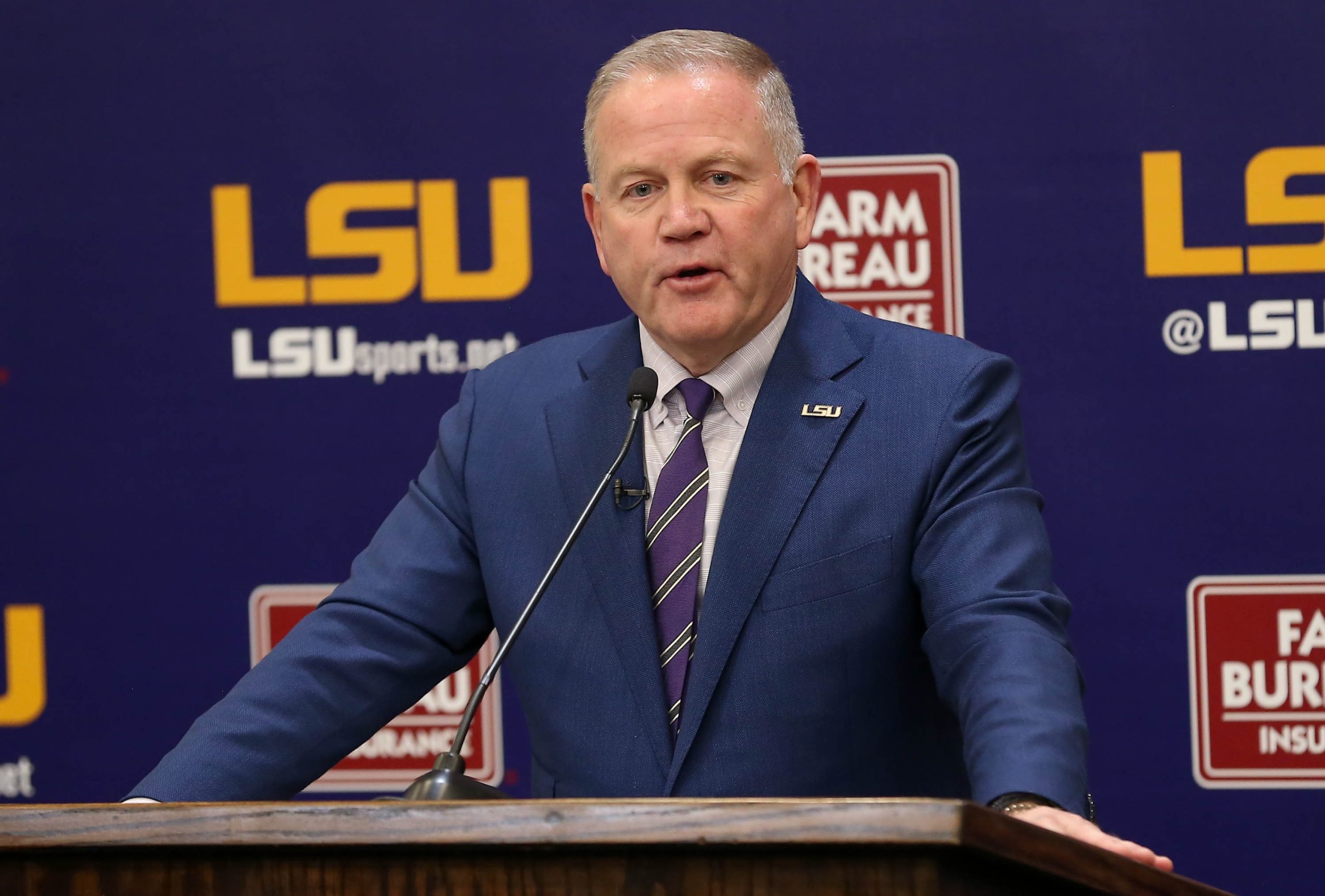 Since his hiring of a new head football coach LSU athletic director Scott Woodward met for the first time with LSU's board of supervisors who offered their congratulations on the search that brought Brian Kelly to Baton Rouge.
"I was so impressed with the way it was handled," board member Robert Dampf said to Woodward during Thursday's meeting. "You kept people like me completely out of it despite I'm sure many board members wanting to know what was going on. The success you were able to accomplish was due to the way the process worked."
Since his firing of Ed Orgeron on Oct. 17, Woodward kept a tight rein during his search on information involving potential candidates, reporting only to the board's hierarchy on any developments that eventually resulted in the announcement of Kelly's hiring Dec. 1.
The board approved the term sheet agreements for Kelly and four assistants he's hired in his week-plus on the job. That group of coaches included associate head coach Frank Wilson, special team's coordinator Brian Polian, defensive assistant Kerry Cooks and strength and conditioning coach Jake Flint.
"In my opinion he's one of the best coaches in all of football and I look forward to many years of great excitement," Woodward said of Kelly.
Kelly agreed to a 10-year, $95 million contract with incentives that will push the total worth of the deal to $100 million that includes a yearly longevity bonus. Woodward said Kelly will also receive the use of two courtesy vehicles, an interest free loan for 20 percent of his primary residence and up to 50 hours of personal private jet air travel.
"These things are very tricky," Woodward said. "It was because of ya'll's support, council and guidance that we were rowing the boat in the same direction. It's hats off to you guys. It was fabulous."
What are you going to do for an encore?" one board member asked Woodward.
"Win ball games," he said. "That's the hope."
Kelly, 60, is the nation's active winningest coach with a record of 284-97-2 over 31 seasons, ranking him ahead of Alabama's Nick Saban (272) and North Carolina's Mack Brown (265).
For the past 12 years Kelly put together a 113-40 mark at Notre Dame, becoming the school's career leader in victories that surpassed the legendary Knute Rockne.
When asked about the terms of Kelly's buyout, Woodward explained one of the stipulations that Kelly was adamant about was the inclusion of a "key man" clause in the contract.
If Kelly decides to leave while Woodward is still the athletic director, he would owe between $2 to $4 million, a figure that would be disregarded in the event Woodward were not employed in that capacity.
"Those are things I don't like, and he demanded of it," Woodward said. "We didn't have the leverage to get it out, but it was something he demanded unbeknownst to me. I've talked a couple of coaches out of it (key man clause), and I haven't on a couple of occasions. This is one of them I couldn't do."
Wilson, a former head coach at both Texas-San Antonio and McNeese State, returns to LSU where he coached for six years (2010-15) as running backs coach and recruiting coordinator. During that span the Tigers had four Top 10-rated recruiting classes.
He received a three-year contract worth an average of $950,000 with the use of a courtesy car.
Polian, a former head coach at Nevada, coached under Kelly for the past five years at Notre Dame as special team's coordinator and received a three-year deal worth $675,000 annually. He'll make $625,000 in his first season with subsequent $50,000 increases over the next two years, plus the use of a courtesy car or $800 per month to handle car payments.
Cooks coached defensive backs at both Oklahoma and Notre Dame, the latter where he was with Kelly a total of six years. He coached in a variety of roles on the defensive side ranging from cornerbacks, outside linebackers and cornerbacks and was the co-defensive coordinator between 2012-13.
Cooks coached for three seasons at Oklahoma, one at Texas Tech before returning this past season to coach with Kelly as a defensive analyst. He received a three-year contract that averages $500,000 per season, plus the use of a courtesy car or $800 per month to handle car payments.
Flint, who will serve in the capacity as director of athletic development, will earn $475,000 with yearly increases of $25,000 along and the use of a courtesy car or $800 per month to car payments. He played for Kelly at Central Michigan, following him to Cincinnati and Notre Dame, the latter where he was the co-director of strength and conditioning.
"I've met all four of them and have met Frank Wilson a long time (ago)," Woodward said. "I can't be more excited about Frank and these new current members to LSU."