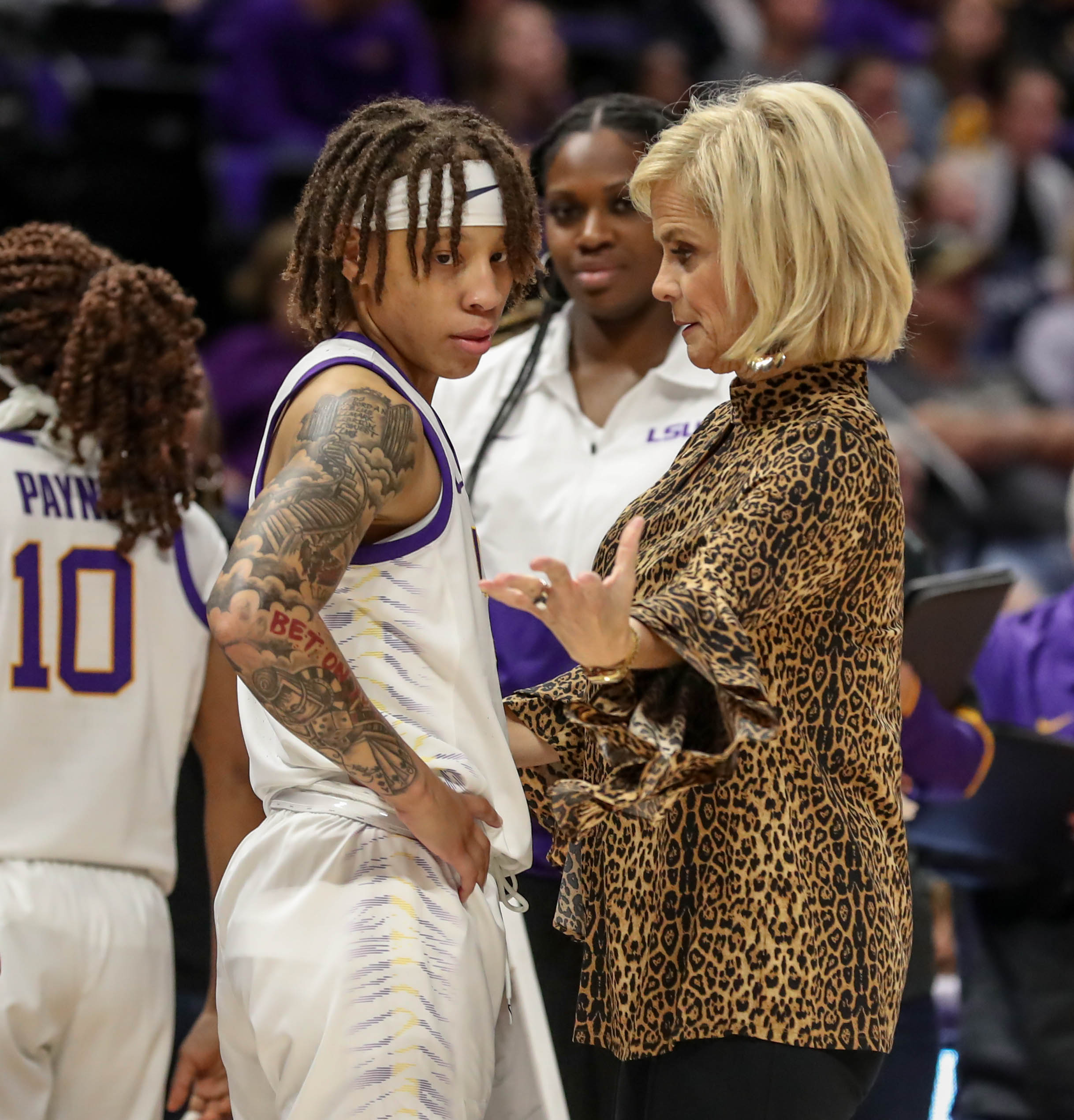 Just when you thought Khayla Pointer and Jailin Cherry had the advantage on everyone else
in the makeup of LSU's backcourt this season, the two graduate student guards had a quick retort.
"I feel like we're all freshmen," Pointer said. "I joke with them (freshmen) sometimes that I know
this is a lot for ya'll. It's a lot for me, too. We're all learning a new system. We're all playing for our minutes."
After four years of playing for Nikki Fargas, who is Pointer's aunt, both guards decided to return for their respective fifth seasons when Kim Mulkey was announced as their new coach, leaving Baylor after 21 seasons where she won three NCAA national championships.
"The way I look at it we're all freshmen here," Cherry said. "We've all got a new coaching staff, it's all a beginning for us. Just go hard in everything that you. We're all learn the way the freshmen are learning. As a fifth-year senior we know a little more, we've been in the SEC, we've been in the game so long."

The return of Pointer is of paramount importance to both LSU and especially Mulkey, a former All-America point guard herself that helped lead Louisiana Tech to prominence with a pair of national titles during her career.
Pointer is the lone player from LSU to earn first team All-Southeastern laurels a year ago, making the step up from the second team her sophomore season. The Louisiana Player of the Year scored in double figures 19 times last season, including one double-double, and led the Tigers in scoring (16.9), assists (3.75) and steals (2.5).

"It usually starts without question with your older players, your returning players, the players that have played college basketball and understand everything's bigger, faster and stronger," Mulkey said. "I have a rotation of players and you want to be in that rotation."

Pointer has played in 110 games in her career, and made 84 starts. She ranks 21st in program history in scoring with 1,306 points and fifth in assists with 431. She's averaged 11.9 points, 3.3 rebounds, 3.9 assists and 1.7 steals during her career.

Cherry has also topped the 100-game milestone in her career, having played in 101 games in a variety of roles between the point and off-guard positions as well as being a starter and reserve. She averaged 3.5 points and 1.8 rebounds, having started in 6 of 22 games a year ago, but it was her sophomore season in 2019-20 where she averaged a career-best 5.8 points, 3.0 rebounds and shot 42 percent from the field.
Senior Sarah Shematsi is a player that played both guard and forward last season and is capable of supplying some of the team's 3-point shooting after shooting 32.7 percent last season with a high of four made in
the SEC Tournament against Mississippi State. She played in 19 games last season with two starts and had a pair of double-figure games against Central Florida (15) and Mississippi State (13).
"I think Cherry's one of the finest players in the SEC," Mulkey said. "You have an all-conference performer in KP (Pointer)."

LSU's other guard with experience is senior Ryann Payne who was limited to five games last season because of an injury. The TCU transfer, where she played in 58 career games, averaged 6.8 points, shot 43.5 percent from the field and 83.3 percent from the free throw line, experiencing a career-high 17 points against Mississippi State during the SEC Tournament.

"We have a lot of depth," Pointer said. "Coach's emphasizing pushing the ball up the floor, so that depth will really be key when we play in the SEC. Just make sure we all have confidence in ourselves; we're able to attack the basket, knock down the open shot. I'm proud of the guards. We're going well, but we've got a lot to learn but we're doing pretty well."
Instead of being to count on graduate transfer Moon Ursin Ursin, who left LSU and transferred to Tulane this summer, the Tigers were awaiting word prior to the start of the season whether Texas A&M transfer Alexis Morris will have a fifth year of eligibility and play this season. The Beaumont, Texas native began her career under Mulkey at Baylor where she tied the school record for assists in a season by a freshman (116) and was selected to the Big 12 Conference's
all-freshman team. She then transferred to Rutgers and Texas A&M, the latter where she played in 20 of 28 games and averaged 6.0 points and 1.3 assists.
LSU signed one freshman guard in Timia Ware, a 5-6 prospect from Chicago who was rated the nation's No. 56 overall player by World Exposure Report and No. 20 rated point guard by ESPN's HoopGurlz.

"It's coach Kim Mulkey," Pointer said. "She's thought a lot of us (fifth-year seniors), she's thought a lot of them (freshmen). I've been pretty impressed with the way they've picked up the plays. The pace of the game is faster. They're getting it. They're learning it. I do my best to stay on Timia because she is a point guard. I try and trickle down to her as much as I can, so she's prepared when it's her time."
"We're also deep at the guards," Pointer said. "Ryann's been doing her thing, Cherry's shooting with a lot more confidence. Alexis Morris and Timia are doing really well and learning."