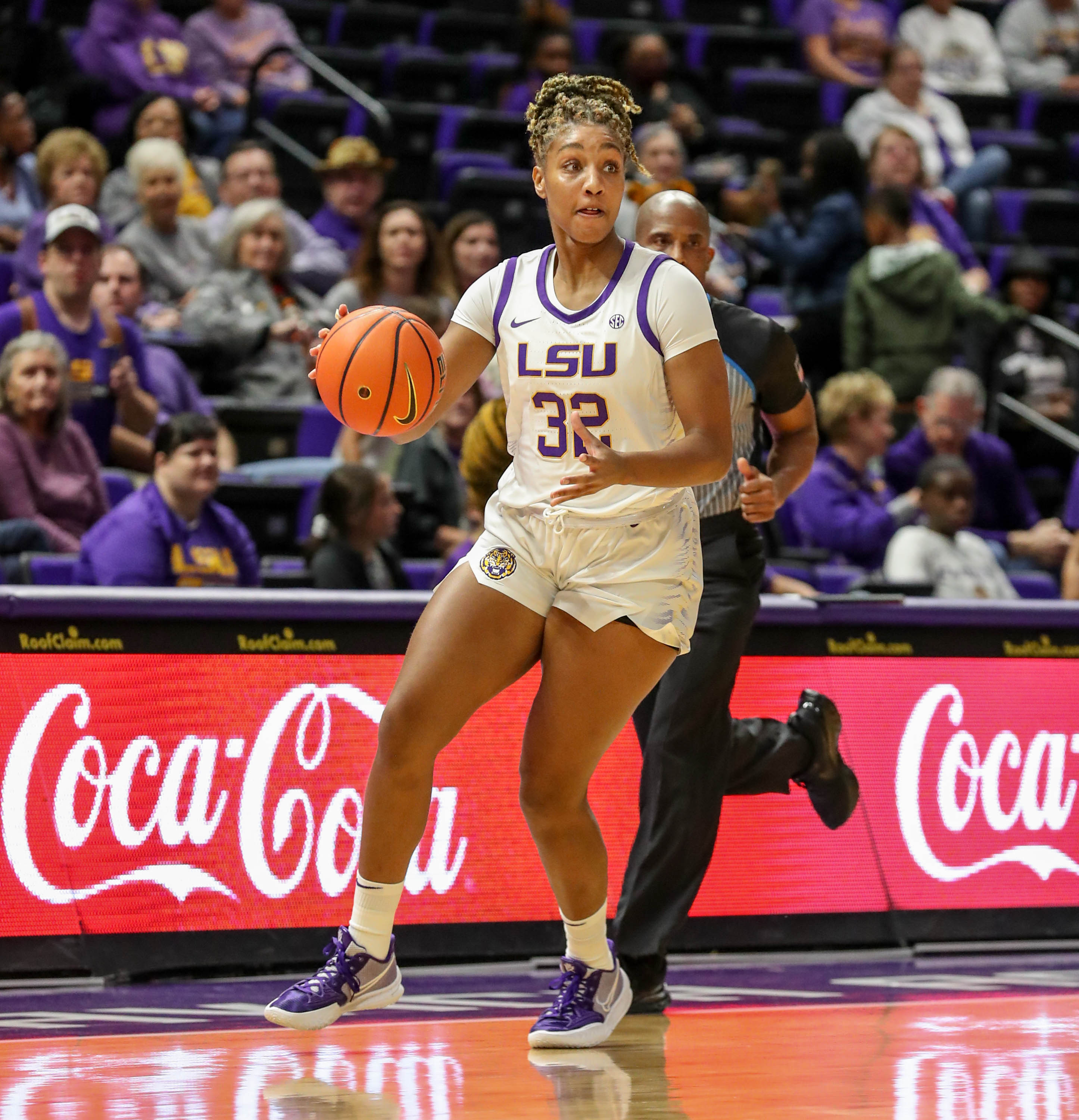 It's hard for LSU fifth-year senior center Faustine Aifuwa to contain her excitement.

Just the thought of the 6-foot-5 Aifuwa pairing with 6-5 sophomore Hannah Gusters is enough for any player to dream about what the prospects for the Tigers' frontcourt might look like this season.

"We do that in practice a lot," said Aifuwa, who returned for a sixth year of eligibility, "Coach (Kim) Mulkey's put us together to see how it will look. Sometimes I'll be the four (power forward) and she'll be the four. The best thing is we're both interchangeable. We can play both spots and we can excel in it the best way possible for the team."

Aifuwa has spent the majority of her career as the lone true center on LSU's roster where she's averaged 11.0 points and 6.9 rebounds. She became the first player since former All-American Sylvia Fowles to lead her team in rebounding in all four years of her career and is second all-time to Fowles in career blocks (188).

She was second to All-SEC point guard Khayla Pointer in scoring after leading LSU in rebounding (8.9) and blocked shots (1.7) last season.

The addition of Gusters, who transferred from Baylor, could give LSU something its rarely featured – a two-post look – which could give the Tigers one of the tallest and more promising inside games in the Southeastern Conference.

"I'm battling Hannah every day," Aifuwa said. "I can't wait for everyone to see the hard work she's put in and let her showcase her abilities to play."

Aifuwa was voted to the SEC's All-Defensive team and earned spots on the All-Louisiana second team where she was selected the state's Defensive Player of the Year. She also shot 42.4 percent from the field, scored in double figures 15 times and had nine double-doubles.

"Been working on face-up game in the offseason," Aifuwa said. "I want to shoot the mid-range and the elbow shots."

The aligning of Aifuwa and Gusters couldn't have worked out better with one player (Aifuwa) taking advantage of an NCAA ruling with an additional year of eligibility, while Gusters opted to follow Mulkey from Baylor.

Gusters played in 30 games without a start for the Bears, averaging 5.0 points, 2.0 rebounds, shot 63.5 percent from the field with 10 blocks in 10.2 minutes per game. She scored in double-figures six times with a career-best 22 points against Northwestern State. She had a career-high 10 rebounds against Kansas.

"I'm going to be as excited to watch her growth because when you're a freshman it's the most difficult year of your life," Mulkey said. "You've got players in front of you and no matter how good you do they're still probably going to be in front of you. It will be different in that she has the returning players at LSU. It's going to be interesting to watch her development, because now she's got to get in better shape, she's got to be thrown the wolves quicker, she's got to be a leader out there every day."

With centerpieces in Aifuwa and Gusters in the post, LSU also features additional experience in the return of fifth-year 6-1 senior Awa Trasi and 6-2 graduate transfer Autumn Newby of Vanderbilt.

Trasi decided to remove her name from the NCAA transfer portal and return to LSU for third season after arriving following a junior college career at Northwest Florida State College.

During her career the native of Toulouse, France has shown a diverse skill set with the ability to shoot from the perimeter out to 3-point range, as well as play with her back to the basket.

Trasi started in 18 of 21 games last season where she averaged 7.7 points and 4.0 rebounds in 27 minutes a game. She also shot 40 percent from the field and 78% from the free throw line.

She enjoyed a breakthrough junior season and was named the state's Newcomer of the Year after starting in 9 of 30 games, she averaged 6.5 points and 3.7 rebounds and was first on the team with 27 3-pointers.

Newby didn't play last season at Vanderbilt which discontinued its '20-'21 season after eight games because of COVID-19-related issues. The Lawrenceville, Ga. native made her mark the previous season as a capable scorer and a willing rebounder where she was third on the team (5.9) in 2019-20 to go with 4.6 points per game.

Newby led Vandy in rebounding six times that season with at least seven rebounds 11 times, including a high of 11 against SEC opponent Auburn. She had 28 starts as sophomore and scored a career-high 30 points against North Alabama. She was second on the team with 6.7 rebounds a game and 10-plus rebounds on seven occasions.

LSU also brings back a pair of experienced forwards in senior guard/ forward Sarah Shematsi (3.0 points, 32.7 3-point percentage) and sophomore Ajae Petty (0.9 points, 0.9 rebounds, 47.1 field goal percentage in 19 games).

The Tigers also signed three freshman but unfortunately lost the services of Logyn McNeil to a season-ending knee injury in the preseason. Amani Bartlett is a 6-3 forward from Cleveland, Texas who was the state's No. 3 prospect, while 6-1 forward Grace Hall of Homewood, Ill. is a four-star prospect that was rated No. 86 nationally.

"We're all working, we're all battling," Aifuwa said. "We're all interchangeable. We're going to have some depth this year."