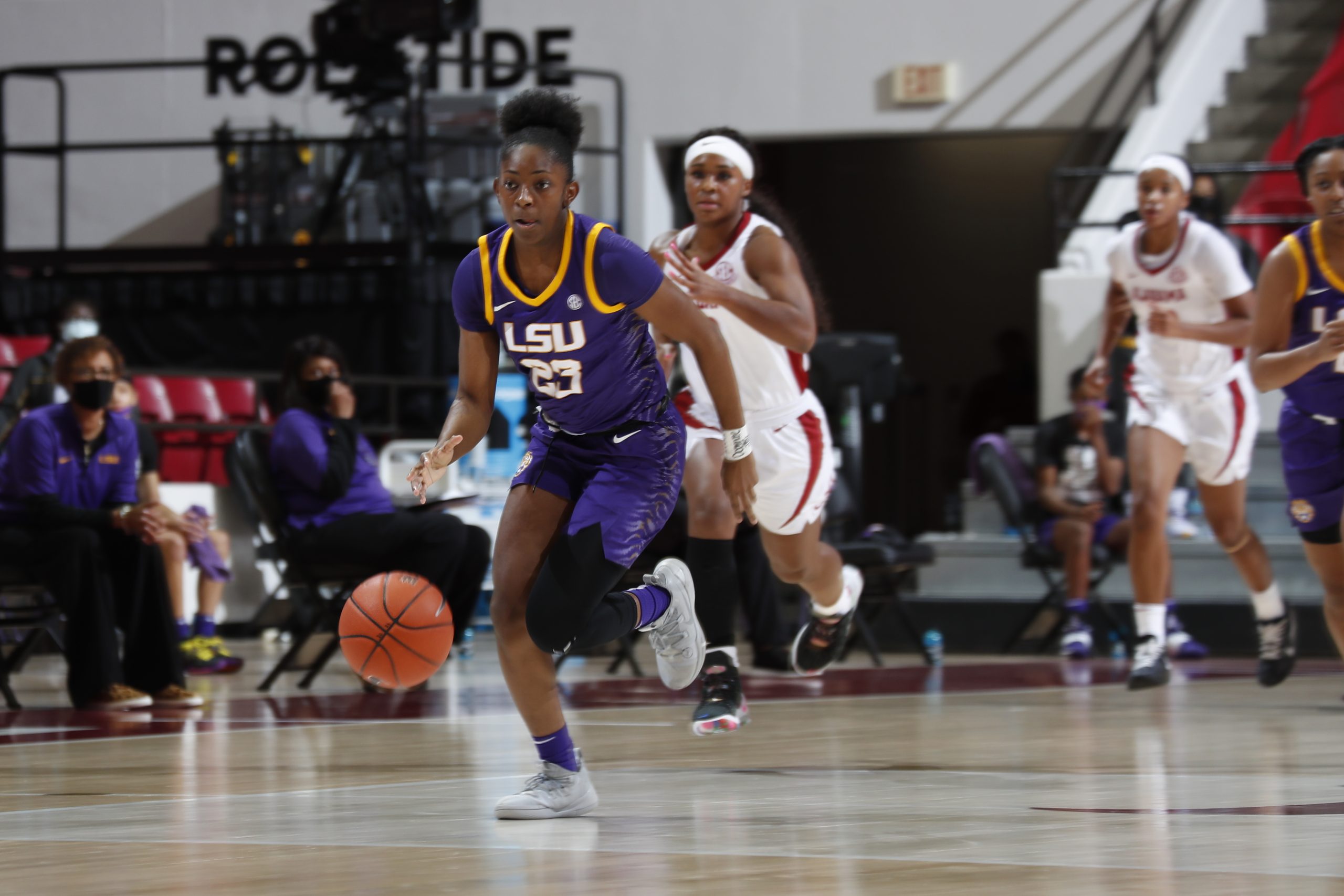 The LSU women's basketball team did its best to set the scene for a dramatic conclusion to Thursday's road game against Alabama.
The Tigers, who trailed by as many 12 points early in the third quarter, stormed back midway through the final quarter and pulled even, but fell victim to a resounding finishing kick from the Crimson Tide which pulled away for a 67-59 Southeastern Conference victory at Coleman Coliseum.
"This game is played for 40 minutes and my team has shown they had a lot of fight in them," LSU women's basketball coach Nikki Fargas said. "They have shown they can cut into leads. I just want this team to understand they have to put themselves in a position to win and it's hard to do that night in and night out when you're always playing from behind."
LSU (4-5, 2-1 in SEC) returns home to host Tennessee at 1 p.m. Sunday.
The Tigers scored eight unanswered points capped by leading scorer Khayla Pointer's floater in the lane with 6:19 to play which tied the game at 53-all.
That burst of momentum lasted 23 seconds when the Crimson Tide scored the go-ahead basket at the 5:56 mark from Ariyah Copeland, who came alive in the final quarter of play. Her basket sparked an 8-0 surge over a two-minute span in which she scored six points to build a 61-53 lead with 3:39 remaining in the game.
"That's what you have to have down the stretch and that's playmakers making plays," Fargas said. "I thought Copeland did a nice job of establishing herself inside. With a team like Alabama that has a balanced attack their players made the big plays."
Pointer's 18-footer finally stopped Alabama's run but Copeland, who scored 10 of her team-high 20 points in the fourth quarter, answered on the interior for a 63-55 advantage with 2:35 showing.
LSU wound up scoring only six points after forging the 53-53 tie with Pointer scoring four of her game-high 25 points and Tiara Young two of her 12.
Pointer, who played through an injured ankle in the last 11 minutes of the game, dished out five assists and had three steals. Faustine Aifuwa added 14 points and 10 rebounds.
LSU shot 40 percent (25 of 62) for the game and scored 25 points off 22 turnovers by the Crimson Tide.
However, the Tigers were outrebounded 44-27 and were just 47 percent from the free throw line (7 of 15) compared to the Tide's 71 percent (15 of 21).
"This game is about runs," Fargas said. "All of the energy it takes to come back from being down is going to be difficult when you're playing a really good team like Alabama to continue to sustain that. You've got to go toe to toe with them from the jump and not spot them plus-8, plus-10 right off the bat and that's the game right there."
Alabama, which shot 45 percent (23 of 51), had a total of four players in double figures. Jasmine Walker provided a perfect complement on the inside with 13 points and 10 rebounds, while guards Megan Abrams and Jordan Lewis scored 12 points apiece.
LSU made three of its first 14 shots and trailed 15-11 after the first quarter following a 15-footer than Aifuwa banked in from straight away.
Lewis' 3-pointer provided Bama with a 24-14 lead and LSU didn't get any closer than the halftime score (33-25) of which Pointer and Aifuwa combined for 21 points.
Four minutes into the third quarter Bama built its biggest lead (38-26) and never allowed LSU closer than eight points (48-40) going into the fourth quarter.
"We had almost 10-plus more field goal attempts (62 to 51) than they did and couldn't convert on those," Fargas said. "This game is about players making plays and I thought Alabama, once we did tie the game in the late game part of it their go-to players, their best players made plays."