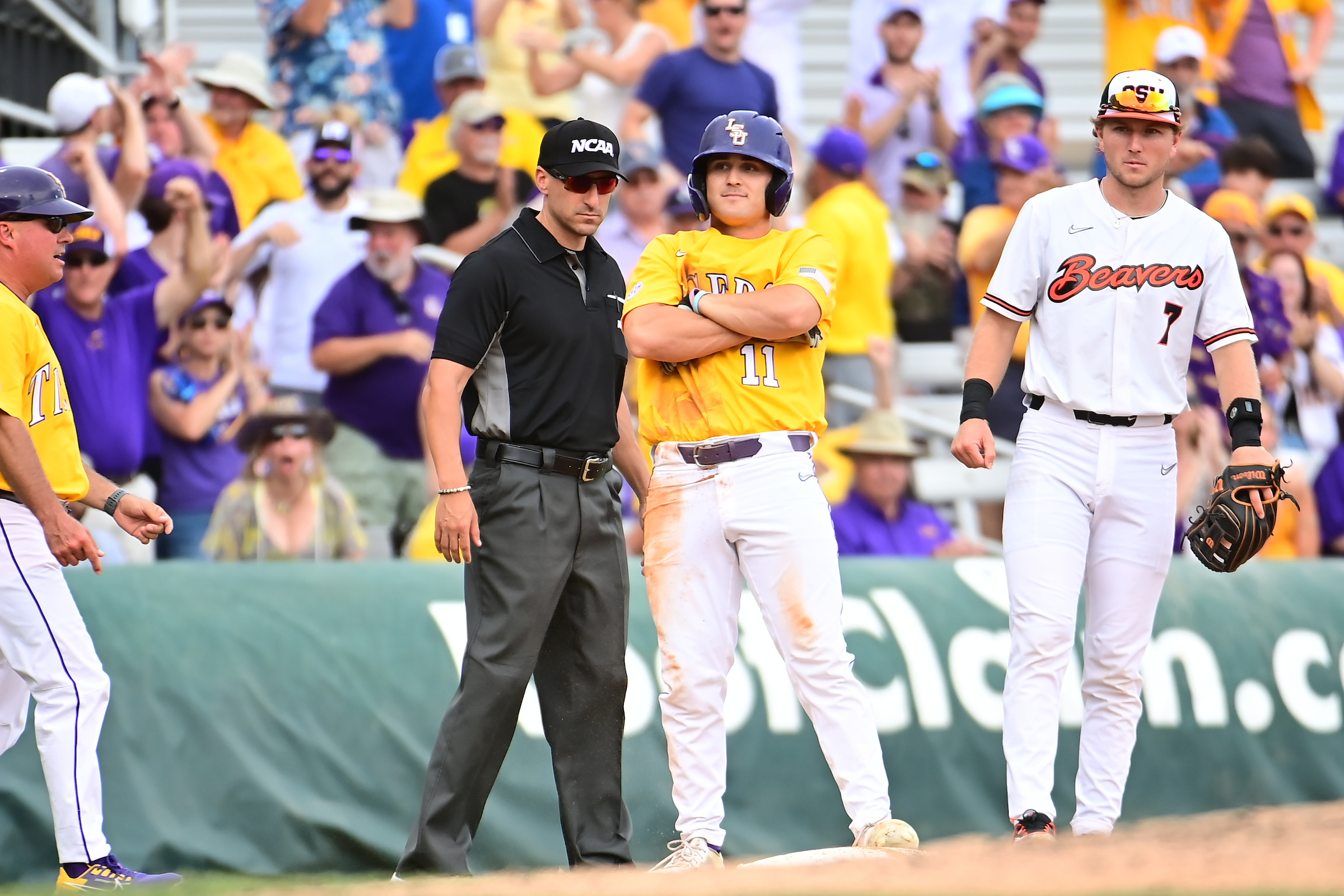 The renowned LSU offense started to show signs of coming to life with five homers in Sunday's one-run victory over Oregon State, advancing to the NCAA Regional's championship game in Baton Rouge.
In reaching the program's first Super Regional in three years, the Tigers reached full throttle, hitting four more homers, and piling up 19 hits in a 13-7 triumph Monday over Oregon State at Skip Bertman Field.
Fifth-seeded LSU (46-15) will host No. 12 Kentucky in this week's best-of-three Super Regional which will begin Saturday.
"I think it shows the capability of this team," LSU coach Jay Johnson said. "And really proud of them. And we're going to get reset, put together another great week, and get prepared for the coming weekend."
Every batter in LSU's starting lineup registered at least one hit with eight starters collecting multiple hits – led by All-Tournament selections Dylan Crews and Hayden Travinski with three hits apiece and a combined four RBI.
Crews, the tournament MVP, was part of another display of power from the Tigers with four home runs – increasing their season total to 109 – against eight pitchers from Oregon State which was playing its third game in less than 24 hours. He was joined in the home run parade by Travinski and Cade Beloso who hit back-to-back homers for the second straight game, and Gavin Dugas.
LSU finished with a total of six extra base hits that included a double from Tre' Morgan and a triple from Josh Pearson.
With the potential for a high-scoring game LSU seized early momentum and maintained its offensive brilliance with a four-inning stretch of 12 runs from the fourth to the seventh innings for a 12-4 advantage after the Tigers scored five times in the seventh.
LSU started slow, though, taking a 2-0 lead on Brayden Jobert's bases-loaded hit by pitch and Jordan Thompson's sacrifice fly. The Beavers attempted to change their fortune with relief pitcher Ben Ferrer coming in to face ninth-place batter Pearson, but instead the Tigers' lead grew to 4-0.
The hit by pitch of Jobert was the second of the inning, adding to the team's total of 126 for the season – a single-season record.
"It's unselfish play," Johnson said. "We have a hitting approach. We stick to our hitting approach. Part of that approach is to win what we call the free base war. We want to walk, hit-by pitches. Make less errors than our opponents. Advance on balls in the dirt, steal bases when it allows.
"If you win those categories, you'd be amazed at how little else you have to do to win the game," Johnson added. "Most college baseball games are actually lost. They're not won. And that part of it and taking pride and being willing to do that is just kind of part of our formula for winning."
Pearson, who homered for the second time this year against Oregon State on Sunday, drove in a pair of runs with a triple off the top of the wall in right-center field. He went 2-for-5 and earned a spot on the all-tournament team.
"Just showing up to the field every day and just trusting my process, even if I'm not in the lineup or anything," Pearson said, "just doing whatever I can to help the team win that day, every at-bat, slowing it down, being where my feet are, just trying to help the offense."
LSU's long ball prowess came in handy in the fifth after Oregon State responded with two runs.
"As you go down the lineup, there's guys that can do damage," Oregon State coach Mitch Canham said of LSU. "We preach a lot of zone control. I think they do a lot of that as well. Their guys are very competitive … One through nine, you've got to be on point. And when we were successful, we were pitching down in the zone, just executing our game plan. When we were losing sight of that a little bit maybe going to effort instead of conviction on that location, then it got us into trouble."
Travinski, an all-tournament selection, became the eighth player on the team to reach double-digit homers – his 10th – with a drive to left field and Beloso, also an all-tournament selection, followed suit for the second straight game with a solo shot to right field and made it 6-2.
LSU continued to pour it on with a run in the sixth on Crews' solo homer to left-center and after the Beavers got as close as 7-4 with two runs in the sixth, the Tigers regained control of the game once Gavin Dugas' homer carried over the left field landing – his 14th of the season.
Crews paid tribute to the job Pearson's done in the No. 9 hole of LSU's lineup.
"It was awesome having him bat in the nine-hole batting in front of me when the lineup switch is over," Crews said. "There's no breathing room in this lineup, really. I think everybody has the opportunity and potential to hit a home run at any point. And he gets on base a lot of times. So, it helps turn the lineup over and gets to the top of the order, keeps the momentum going."
Third baseman Tommy White, the team's top RBI producer, picked up his first two RBIs of the tournament with a two-RBI single through the right side of the infield. Crews, who walked, later scored on a wild pitch and Travinski added his second RBI of the game with a run-scoring single.
Morgan (2-4) made it 13-4 in the ninth on an RBI-double down the right-field line.
"In postseason play you have to score in every possible way," Travinski said. "The big emphasis for us is when runners are in position, slowing down and putting a good bat together. That's the whole focus for our lineup, quality at-bats, pass it to the next guy and keep it moving."