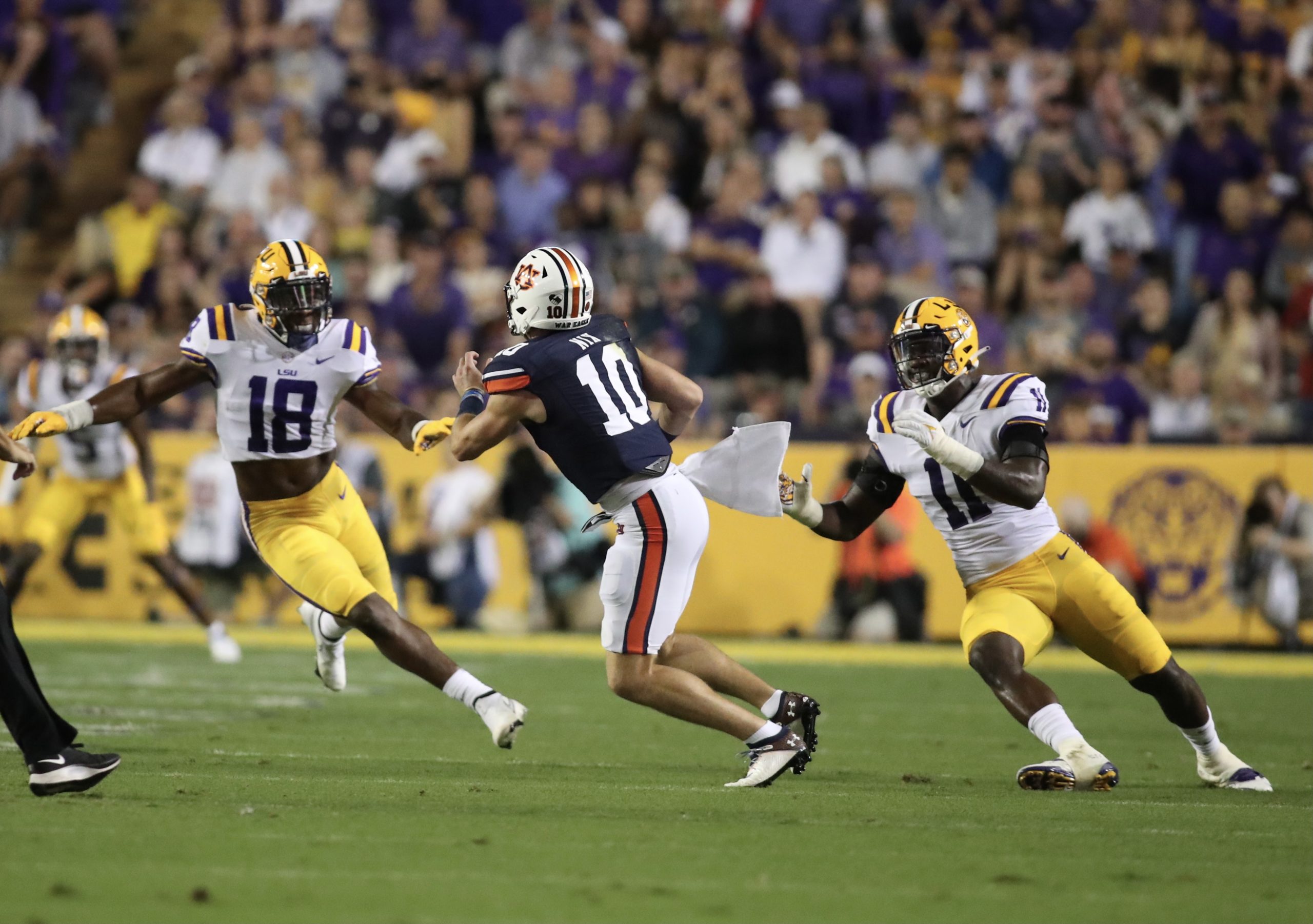 A week ago in a three-point win at Mississippi State, aimlessly drifting LSU landed on Victory Island with its life raft rapidly sinking.
Saturday night in Tiger Stadium, Auburn quarterback Bo Nix and AU's relentless defense made sure LSU never got to shore.
It took 22nd ranked Auburn almost 57 minutes to catch LSU after spotting the home team a 13-0 lead, but a 1-yard TD run by Jarquez Hunter with 3:11 left proved to be a game-winner in 24-19 AU victory.
In getting its first win in Tiger Stadium since 1999, Auburn (4-1, 1-0 SEC West) battled back with Nix accounting for 329 of AU's 433 total yards while AU's defense sacked LSU quarterback Max Johnson three times and hurried him six times.
LSU's (3-2, 1-1 SEC West) offensive line played so poorly the Tigers rushed for just 29 yards on 25 carries. It put the entire offense on Johnson, who threw for 325 yards and one TD on the Tigers' first possession, but never got LSU in the end zone again.
The way LSU opened the game offensively – a 91-yard TD drive that featured on consecutive plays a 22-yard loss on a botched snap followed by Johnson dropping in a 31-yard TD pass over two Auburn defenders to wide receiver Kayshon Boutte – it seemed like the hometown Tigers were going to burn the visitors down to the ground.
Nix and his receivers didn't seem like they were in the same time zone on Auburn's first two offensive series that ended in a punt and a 51-yard Anders Carlson mlssed field goal.
And when Auburn backup QB TJ Finley, the LSU transfer, led a drive that ended in a fourth-down failure at the LSU 41, LSU had a chance to step on Auburn's throat.
But by that time, Auburn's defensive line began frequently collapsing LSU pass protection. LSU had to settle for a second Cade York field goal, this one for 26 yards, for a 13-0 lead with 8:38 left before halftime.
The rest of the first half belonged to Nix, who suddenly found his passing rhythm and led Auburn to touchdown and a Carlson field goal in AU's last two possessions of the opening half.
On Auburn's scoring drives of 75 and 62 yards, Nix completed 13 of 17 passes for 118 yards and a TD pass that completely flipped momentum.
With fourth and two at the LSU 24, Nix scrambled for 11 seconds and played a game of twister with six LSU defenders that couldn't bring him down. Finally, when they had Nix cornered, he fired a TD pass to tight end Tyler Fromm who had slipped behind the LSU secondary 4:53 before halftime to slice LSU's lead to 13-7.
It was enough for Auburn to drive off its 6-yard line and squeeze in a 49-yard Carlson field goal 14 seconds before halftime to send LSU to the locker room ahead just 13-10.
Auburn didn't get in the end zone in the third quarter. But neither did, LSU, even after it recovered Auburn's onside kickoff at the Auburn 45 to open the second half.
York kicked field goals of 22 yards with 11 minutes left in the period and 51 yards with 3:26 remaining for a 19-10 lead exiting the third quarter.
While LSU's Johnson was being forced to run for his life on almost every passing play – sometimes resulting in a offensive holding penalty – Nix seemed clearly in his element dodging, darting and ducking LSU defenders.
On Auburn's 75-yard TD drive that ended with Nix's 5-yard scoring keeper which along with Carlson's extra point kick took LSU's lead down to 19-17 with 14:16 left to play, Nix accounted for 59 yards (3 of 3 passing for 36 yards, 23 yards rushing on three attempts).