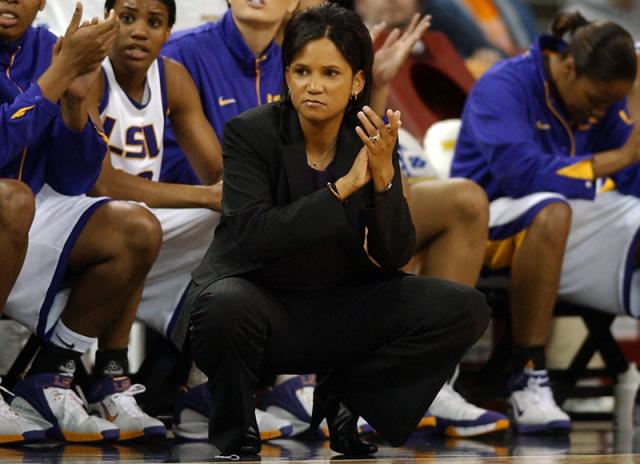 With the naming of the court at the Pete Maravich Assembly Center a tribute to the greatest men's basketball coach in LSU history, the overdue recognition of Dale Brown should be followed by a salute to the most successful women's basketball coach at the university.
Sue Gunter was a productive mentor for the Lady Tigers for 22 seasons, but never won a conference regular season title and never coached in a Final Four.
Pokey Chatman directed LSU to a pair of SEC regular season championships in fewer than four seasons and led LSU to the Final Four three times. Her last team also advanced to the Final Four after Chatman was fired for sexual misconduct. Chatman is not credited for a fourth consecutive Final Four journey of a team she piloted for 33 games.
Pokey committed personal mistakes that cost her the LSU job in March 2007. She is without question, the best coach the program has featured. There is no comparison in measuring the records of the often-revered Gunter and sometimes reviled Chatman.
Overall LSU Record: Chatman 105-19 85 pct., Gunter 442-221 67 pct.
SEC Record: Chatman 45-9 83 pct., Gunter 132-111 54 pct.
In 22 seasons, Gunter was 21 games above .500 in the SEC while Chatman was 36 games above .500 in just 54 games.
Chatman succeeded Gunter after 13 years as her top assistant and recruiter of the likes of Marie Ferdinand, Seimone Augustus and Sylvia Fowles. She inherited a good program and made it great. A bronze likeness of her mentor already adorns the inside of the PMAC.
An appropriate gesture is for LSU to also display a statue of Chatman in the PMAC. Pokey was a star player for one of the two SEC Tournament titles earned by Gunter. Chatman, like Gunter, is a member of the LSU Athletic Hall of Fame.
Pokey was fired for personal failings, but nine years later LSU hired a head football coach despite allegations of domestic unrest in his past. It doesn't take a Boyd Professor to identify a double standard here.
Just as Joe Alleva absolved Ed Orgeron for past sins, LSU should forgive Pokey Chatman for an indiscretion. Chatman was punished for what was alleged to be a relationship with an athlete.
Nearly 15 years have passed since the Chatman scandal. She paid her dues and is deserving of a fond reminder of her substantial contributions to her alma mater.
This honor would also serve as a significant compliment to Gunter with her most influential player receiving a just reward.
Gunter would certainly approve of the overture.
What the title of Coach means
When LSU coaches are hired, won-loss records and championships accumulated are assets in favor of getting the nod from Tigers' athletic director Scott Woodward. LSU prides itself as a premier destination for all of its coaches, not a training ground.
An adequate track record on the competitive level is essential and personal integrity is necessary. Unfortunately, we often judge character and discipline by winning percentage, not reality.
Paul Dietzel, the first LSU national championship head football coach of the modern age, mused the title of "Coach" was the most prestigious one of his life. Placing that word before a name suggests the individual is a person of quality and competence.
It is vital for LSU and other institutions to select coaches who inspire athletes to achieve more in life than in their brief athletic careers on campus.
Dale Brown's biggest achievement is not his four SEC regular season titles and two Final Four journeys. It is the 160 players he coached with 112 college graduates, 22 business owners and seven athletes earning doctorate degrees. His players most notably did not make headlines for felonious conduct unlike those of many of his peers.
A coach should inspire by example and log an admirable record away from the field of play. Coaches are often characters and occasional rogues. It is a nomadic profession that is not for everybody. As in all walks, there are good ones and bad ones who opt for the uncertain odyssey of allowing teenagers to determine success or failure.
When Jonathan Edwards sized up the world in in his 1972 song "Sunshine," his words offer compelling advice to those who are bestowed with title of "Coach."
"If he can't even run his own life, I'll be damned if he will run mine."
Ten expectations for a Coach
1. A coach should be an effective communicator who conveys confidence and inspires his flock to appreciate and utilize the attributes of the university.
2. A coach should possess above average intelligence required to analyze conflicting options and make good decisions. A college transcript of each coach should be a matter of public record at a state university.
3. A coach should be honest enough to admit when he or she is wrong and to adjust from mistakes rather than attempt to bury unpleasant truths.
4. A coach should look the part and stay in good shape. It is laudable to expect leaders of men and women to achieve modest levels of physical fitness and pass an annual test measuring strength and endurance. If cocktail waitresses at a Baton Rouge casino must adhere to a weight requirement, so should LSU coaches.
5. A coach should have a record of personal success in important relationships. No multiple divorces should be tolerated nor abuse of domestic partners.
6. A coach should be financially secure and have no history of personal bankruptcy. In the contemporary world, desperate employees are risks to tank a season to receive lucrative buyouts assured by their contracts.
With gambling embraced by college athletic factories, there will be temptation to fix games from those under fiscal duress.
7. A coach at a flagship institution should have interests beyond athletics. Leaders need intellectual curiosity and read books about all aspects of life. Ohio State's Woody Hayes, five-time NCAA football champion, was an authority on world history. He was also aware of how many members of Congress represented his state and knew the names and backgrounds of the delegation from Ohio. A coach is a solid citizen by voting in every election.
8. A coach should be present at games of other campus sports. It is essential to show support for colleagues. Teamwork goes beyond the sport of employment at university. As former Gov. Buddy Roemer was fond of saying, "A rising tide lifts all boats."
9. A coach should respect staffers by demanding a common pursuit of excellence and acknowledging when demands become excessive or untenable. Equal portions of wisdom and humor should be dispensed.
10. A coach should embrace media practitioners who offer much more opportunity than risk with their requests. Coaches do have the right to expect the same adherence to the above suggestions from scribes and broadcasters who pass judgement from their keyboards and microphones without the peril of actually getting in the arena.