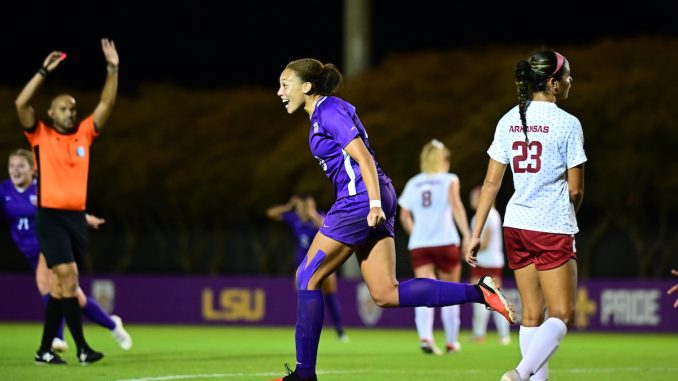 Freshman Ava Galligan's goal in the 77th minute provided LSU with a hope of an upset win before No. 9 Arkansas countered six minutes later with the equalizer in Thursday's 1-1 draw in Southeastern Conference play at LSU's Soccer Stadium.
The Tigers (8-6-2, 3-4-1 in SEC) is tied for eighth place in the conference standings with Kentucky and Vanderbilt with 10 points. They visit Auburn for a 4 p.m. match on Sunday on the SEC Network.
"I'm really proud of the team's performance tonight," LSU soccer coach Sian Hudson, whose team is 2-2-1 against Top 25 teams this season. "We showed heart, passion and determination to earn the point. "We've shown consistently this season that we can beat some of the top teams in the country and on our day this team is special."
Graduate goalkeeper Mollee Swift surpassed Caroline Brockmeier to become the school's leader in career saves with 290. She stopped a potential goal in the 61st minute with a one-handed save of a chip attempt from Arkansas' Morgan White.
LSU finally broke the scoreless match when Rammie Noel passed to Danielle Shannon, who then found Galligan inside the box. After she redirected the ball, she scored on a header.
"It was a great goal by Ava," Hudson said. "She had a chance right before half that the keeper had to make a big save on. We knew that she was going to get another chance in the second half, and she obviously buried it when she got a chance. It was a great ball from Danielle Shannon and a great flick header to find the back of the net."
LSU had one more shot on goal in the final seven minutes of the game, but Razorback goalkeeper Sierra Cota-Yarde came up with a a save.
Arkansas outshot LSU 18-13, but the Tigers led in shots on goal, 6-5
"Overall I'm thrilled by the performance tonight, and any time we can take points off of Arkansas it is a good day," said Hudson.