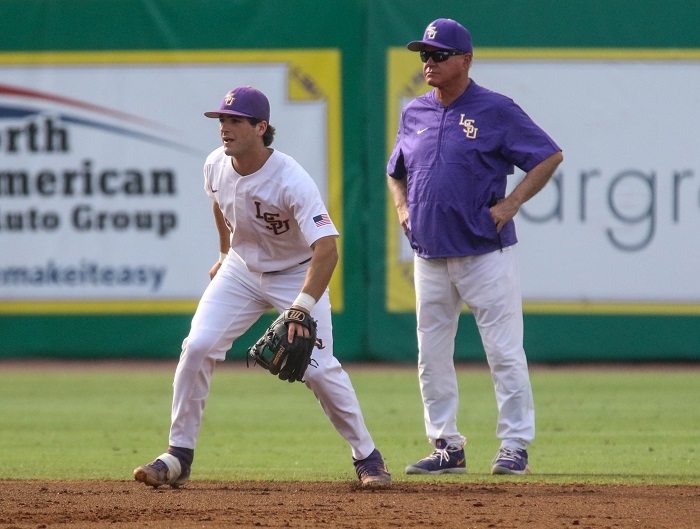 After holding onto Cole Henry, Landon Marceaux and Jaden Hill last summer, LSU could afford — and prepared for—the loss of some power arms from the 2019 signing class to the MLB Draft.
But with Josh Smith, Chris Reid and Brandt Broussard all set to depart the program, one thing LSU could ill afford to lost was infielders.
LSU coach Paul Mainieri got a bit of good news on that front Sunday when prized Denham Springs High infielder Cade Doughty came to see him before the regional final.
Doughty, the younger brother of current catcher Braden, told the coaches that he'd priced himself out of the draft and would be coming to school. He made the news public with a tweet as day two of the MLB Draft wrapped up Tuesday afternoon.
"He gave teams a figure that there was no way in the world they would meet so they wouldn't waste a pick on him, and that he was coming to school," Mainieri said. "I told him that if we beat Southern Miss, I'd feel like we won both ends of a double header."
LSU went into the draft fully aware that infielder Rece Hinds intended to sign professionally. He went in the second round to the Cincinnati Reds. But the staff felt good about the possibility of holding onto Doughty and Christian Cairo through the draft.
Cairo, the son of long-time Major Leaguer Miguel Cairo, was on campus Tuesday morning. The entire family met with Mainieri for 90 minutes and took a tour of the new weight room.
Cairo's mother actually broke down in tears about her son being ready to go away to school. Christian then met with LSU's academic advisor to register for summer school classes.
"While he's sitting in there, he gets a phone call from the Cleveland Indians," Mainieri said. "They offer him close to $1 million. He walks out, comes by to tell me he's going to sign and they leave. Fly back to Tampa. Obviously that knocks you for a loop.
"It's just a roller coaster of emotions for the whole day. It's not my favorite day of the year, I can tell you that."
Such is life as a college baseball coach during the topsy-turvy three-day experience that is the MLB Draft. Mainieri spent his Tuesday pulled between monitoring signees, hoping current players like Zack Hess and Todd Peterson would get picked and, oh yeah, also preparing for the Baton Rouge Super Regional.
Losing Cairo won't have any effect on LSU's chances of getting past Florida State, but it's a problem for whenever LSU turns its attention to 2020. The slick-fielding infielder was thought to be a contender to replace Smith at shortstop.
He'd come all the way to Baton Rouge and was gone in the span of a phone call. Mainieri has seen some tough beats on this front during his long career — as any coach who signs top-flight talent has — but that was a first.  
It's a situation unique to college baseball, which is also the sport in which the process recruiting players begins the earliest. Coaches recruit top players early on in high school and then spend years trying to keep them from flipping to other schools or bolting for pro ball.
The Indians offered Cairo $955,000, according to Mainieri. That was more than double the slot value for the No. 130 overall pick ($434,300), but considerably less than the number he told LSU it would take for him to sign professionally.
LSU will still have Doughty as well as returning players like Hal Hughes, Drew Bianco and Gavin Dugas to fill out the infield. LSU also signed Louisiana natives Tommy Biggs and Collier Cranford, who could play into the mix.
Cairo isn't an irreplaceable player, but to lose a signee at a position of need so late in the process — literally on campus registering for classes — will sting for a bit.