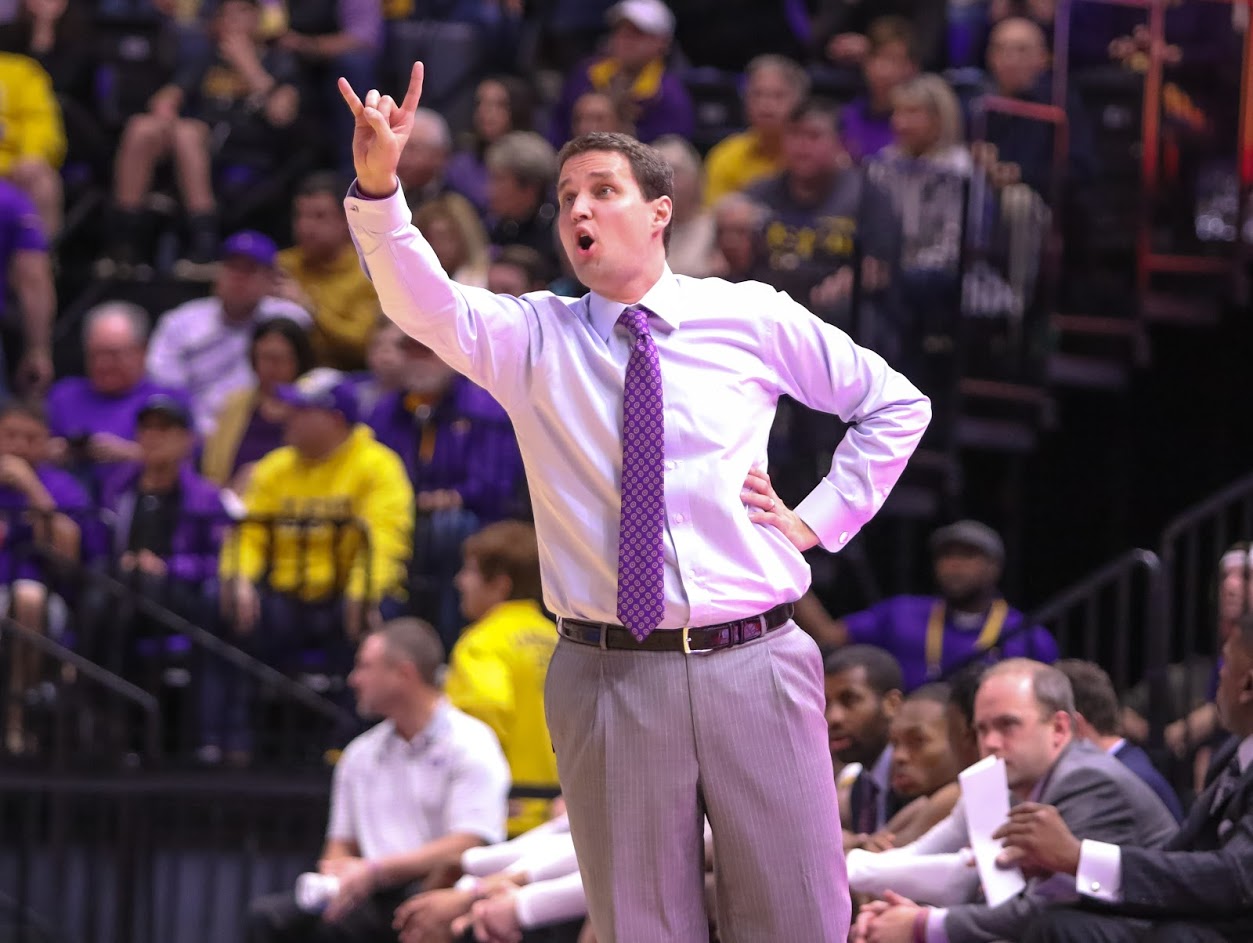 On the day of birth for LSU Basketball Coach Will Wade, a legendary heavyweight bout was held in Houston, 779 miles from Wade's earthly arrival in Nashville. On the night of November 26, 1982, Larry Holmes scored a unanimous 15-round decision over Randall "Tex" Cobb at the Astrodome. The Holmes-Cobb fight is now regarded as the best mismatch in the history of the ring.
Cobb lost every round but would not buckle from 45-minutes of constant punishment from Holmes, then in his prime as the undefeated champion of the world for four years. In the end, it was Howard Cosell who gave up his ringside seat and megaphone while Cobb gallantly engaged in pugilistic exercises for another decade.
Cosell was appalled the Holmes fight was not stopped as it was apparent Cobb was outclassed by the champion and in danger of serious injury or worse. Two years earlier, trainer Angelo Dundee tossed in the towel after ten tortured rounds in the parking lot at Caesar's Palace as Holmes battered Muhammad Ali, who was making an ill-fated comeback bid at 38.
Like Cobb, Wade has demonstrated remarkable survival skills in the last few months, but he is battered and bruised. In this corner it was thought Wade was toast after revelations of taped overtures to recruits. Wade has done little to refute allegations of wrongdoing but reigns as the Tiger coach and has skillfully assembled a roster of talent that should compete at high levels when his third season at LSU tips off in five months.
The casualty of the Wade saga was Athletic Director Joe Alleva, who has reportedly lamented to friends that he was set up to fail in this episode. Alleva weathered a lacrosse scandal at Duke while others paid dearly for what turned out to be false allegations. It remains to be seen if the accusations against Wade are false, but it was not the coach who lost his job. Alleva was canned hours after reinstating Wade. Gone in a flash like Howard Cosell in 1982.
Wade may surpass the journeyman career of Tex Cobb and win more championships at LSU, but he will need to do better than provide non-denial denials to pointed questions about his actions. A lesson he could take from Cobb is to provide levity in a tense situation while directly confronting the proverbial elephant in the arena.
Cobb, who was tough enough to knock out the ring's most notorious power puncher of his era, Earnie Shavers, was actually a good boxer with a razor sharp wit.
When referee Mills Lane asked a dazed Cobb where he was after a particularly brutal barrage from Holmes, Cobb replied, "I am in Reno and getting the shit kicked out of me." (The fight was not in Nevada).
Later Mills asked a swollen faced Cobb if he could see him. The response: "Yeah, You're white. It's the black guy I am worried about."

When told Cosell was hanging up his boxing microphone, Cobb quipped "I'll go another 15 rounds with Holmes if Howard will quit announcing football."


Assessing his defeat, Cobb's answer: "Larry Holmes didn't beat me. He just won the first 15 rounds."
On the Tonight Show a new nights after the fight, Johnny Carson commented on the way Holmes kept landing his jab. "You noticed that too," Cobb teased the host.

"Every time I felt like saying something to Holmes, I found it hard because he kept putting his left hand in my mouth," Cobb smiled as he used a winning personality to capitalize on his newfound stardom and snag a role in the film "Raising Arizona" as biker Leonard Smalls.
Cobb also forged a friendship with fellow tough guy, Philadelphia scribe Pete Dexter, who got into some fisticuffs in a Philly bar and thought it was a good idea to return to the scene with his heavyweight pal. When the pair walked in, thirty men wielding baseball bats ambushed Dexter and Cobb.
Cobb mused "I sure hope this is the softball team." He broke his arm in a wild fracas and was forced to cancel a major bout with heavyweight title-holder Mike Weaver. Dexter was severely injured and permanently disabled. Despite enduring a broken back and pelvis, brain damage and dental destruction, his writing career flourished with the celebrated novels, "Deadwood" and "Paris Trout" for which Dexter won the National Book Award in 1988.
Hopefully, Wade's future is less eventful off the court and more substantial inside the PMAC. The Tiger kingdom loves characters, but only up to a point. Time will tell whether the embattled coach is a perennial punching bag or fights to restore his reputation that has been tarnished immeasurably.
In the last few months, three men with close ties to LSU died in Otis Washington, Leroy Colter and Allan Crow.
Otis Washington Jr: February 12, 1939 to May 24, 2019
Mike Williams and Lora Hinton broke the color barrier when the joined the LSU football team in 1971 as the first African-American signees for Charles McClendon. Nine years later, Otis Washington became the Tigers' first black assistant coach under Jerry Stovall.
Washington led St. Augustine in New Orleans to a record of 113-17-1 in eleven years and guided the Purple Knight to three state titles in 1975, 1978 and 1979 in Louisiana's highest classification. The Selma, Alabama native was captain of the last football team at Xavier in New Orleans in 1959. He left LSU to take the head coaching post at Southern University. Washington was dismissed after leading the Jaguars to a 35-30-1 record in six years. Washington was buried at Heavenly Gates Cemetery in Baton Rouge.
Leroy Joey Colter: July 20, 1935 to April 9, 2019
An LSU Journalism graduate and United States Marine Corps Korean War veteran, Colter was press liaison at Tiger Stadium for more than 40 years.
On the night of Oct. 13, 1984, LSU hosted Vanderbilt at Death Valley in a game broadcast by ESPN. An out of town journalist pushed me aside to get the last spot on the lone elevator leading to the press box. A minor skirmish ensued in which the out-of-towner stated "Let's step outside."

As I recall, my response was "We are outside." At any rate, Colter found me in the press box. Instead of scolding me, he encouraged me to "finish off that SOB." Fortunately, I was unable heed Colter's advice and pummel the perpetrator, but from that night forward, Leroy Colter was a hero of mine.
Allan Brian Crow: February 17, 1953 to March 8, 2019
Allan Crow was a columnist for Tiger Rag for more than a decade. We started writing for the Bible of LSU Sports in the same issue in 1985. Anyone who read his column as many subscribers did religiously knows that Crow wore his passion for LSU on both sleeves.
In his day job, Allan was an exceptional political consultant and moved to Atlanta in 1998. Crow had gamely fought cancer for ten years before succumbing to the disease at 66. This is a passage from his obituary in the Atlanta Journal-Constitution.
He believed in the power of the human spirit and that with God's help, there was nothing he could not do. He lived his beliefs every day, and will be remembered for his intelligence, integrity, wit and humor, and for his compassion and empathy for all people. Allan will also be remembered for his incredible attention to and knowledge of details and ability to hold intelligent and meaningful discussions related to many topics, especially sports, music and politics.
*************
Photo by Terrill Weil