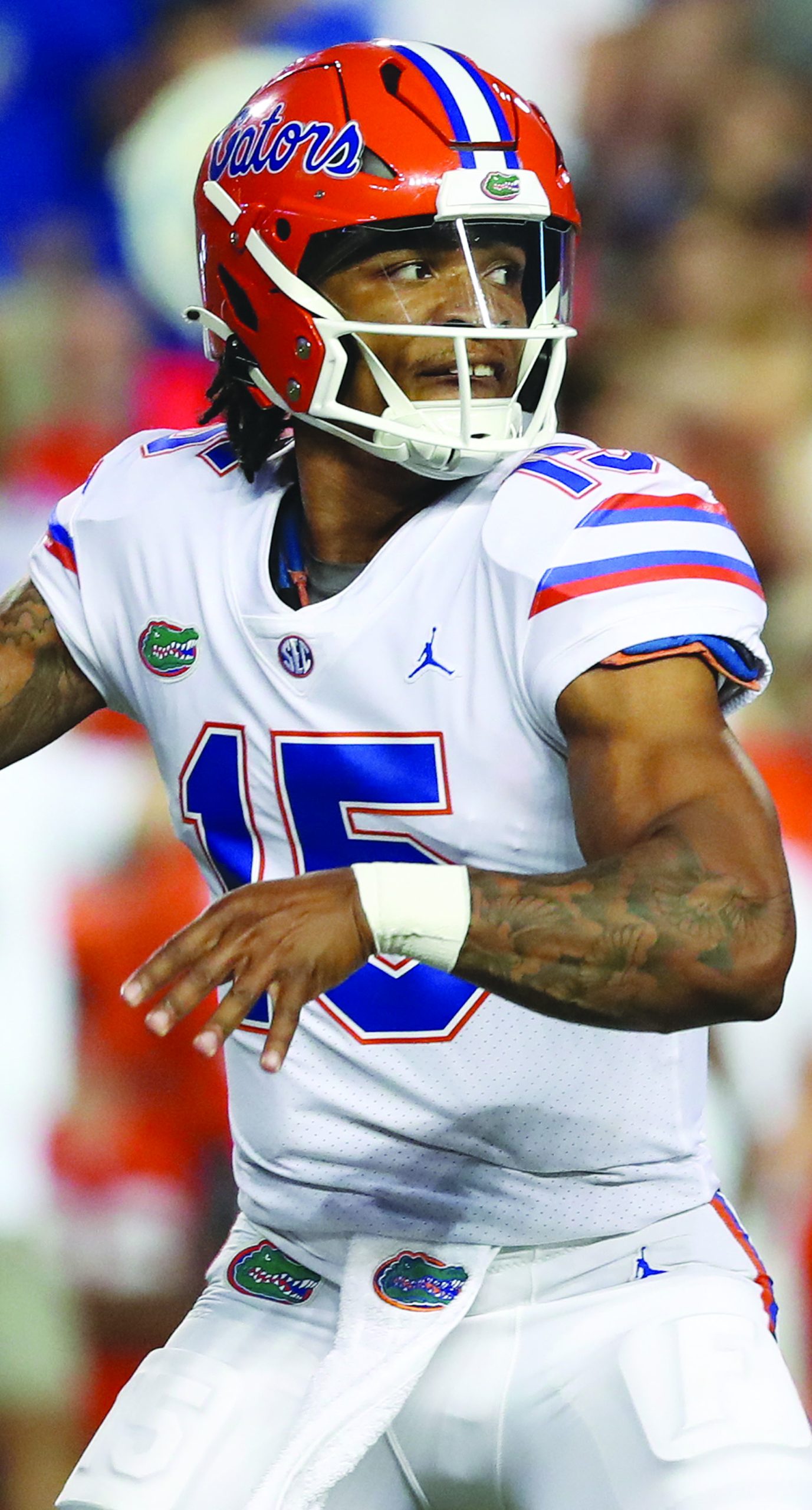 FLORIDA GATORS (4-2, 1-2 in SEC East)
FACES LSU: Oct. 15, Ben Hill Griffin Stadium, 6 p.m., (Gainesville, Florida)
HEAD COACH: BILLY NAPIER (4-2 at Florida, 44-14 overall)
NUMBER OF HEAD COACHES, 20 SEASONS: Six
2021 RECORD: 6-7 (2-6)
OVERALL RECORD, 10 SEASONS: 80-46
CONFERENCE: SEC
LAST CONFERENCE CHAMPIONSHIP: 2008
SEC TITLE GAME RECORD: 7-6
TOTAL NATIONAL CHAMPIONSHIPS, LAST: 3, 2008
THIS SEASON: Florida opened the BILLY NAPIER Era with a 29-26 upset win over then No. 7 Utah at home and promptly followed that with a 26-16 home loss to SEC Eastern Division foe Kentucky … Florida also lost to league at rival Tennessee 38-33 on Sept. 24 despite quarterback ANTHONY RICHARDSON throwing for 453 yards and two touchdowns … The Gators won their first SEC game last week at home, outlasting Missouri 24-17 behind a pair of interceptions from JAYDEN HILL which included a pick-six with a 49-yard score
NAME GAME: Napier was coach of UL-Lafayette, his first top job, for four seasons before replacing the fired DAN MULLEN in Gainesville; Napier's previous jobs included offensive coordinator at Clemson and Arizona State, and receivers coach under NICK SABAN at Alabama … Napier took several assistant coaches, staffers and players from UL-Lafayette to Florida, including two Louisiana high school products, 2021 first team All-Sun Belt Conference offensive lineman O'CYRUS TORRENCE and 2021 Sun Belt Freshman of the Year MONTRELL JOHNSON JR. … Torrence has started for the Gators at guard and Johnson has emerged as the team's rushing leader with 368 yards and a team-high five touchdowns. One-time LSU commitment Trevor Etienne of Jennings is second with 306 yards and two TDs … The Gators picked up a new weapon in transfer receiver RICKY PEARSALL, who averaged 12.1 yards per catch on 48 receptions as a junior last season at Arizona State … Outside linebacker BRENTON COX JR. had a team-high 14.5 tackles for loss last year

TIDBITS: Florida's losing season last year was its first since going 4-7 in 2017, JIM MCELWAIN'S last of three seasons in charge … The Gators have been to four straight bowl games, including last season's Gasparilla Bowl loss to UCF in Tampa … Florida was picked to finish fourth in the SEC's Eastern Division, according to a preseason media poll.
FUN FACT:
Florida's new offensive coordinator and offensive line coach is former LSU offensive lineman ROB SALE, who was Napier's OC/OL coach for three seasons with the Ragin' Cajuns before leaving last season to coach the New York Giants offensive line.
INFLUENCER
Anthony Richardson
Quarterback | 6-4 | 232 | RS Sophomore
Richardson saw limited action in seven 2021 games, mostly as Emory Jones' back- up. The playmaker's first career quarterback start was in an Oct. 30 loss to then-No.1 Georgia. Jones transferred to Arizona State to succeed Jayden Daniels, who transferred – it's a small world – to LSU after three seasons starting for the Sun Devils.