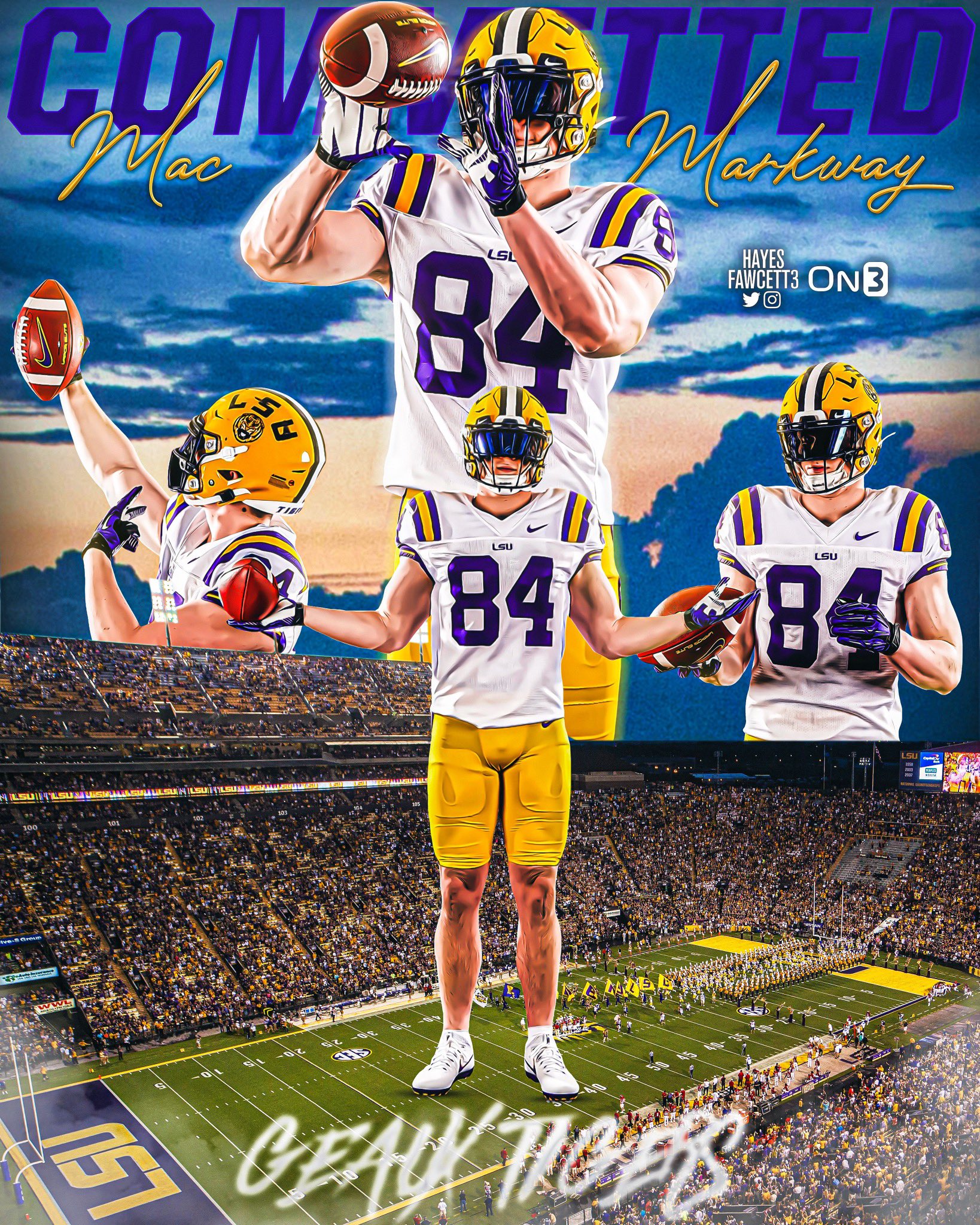 Turns out the suspense over four-start tight end Mac Markway of De Smet High in St. Louis was unfounded.
Markway, the nation's seventh-rated prospect at his position, decided to commit to LSU on Thursday after taking an unofficial visit there earlier this month.
"I've known way before I took the (unofficial) visit that they were my No. 1 and once I took the visit it really sealed the deal without question," Markway told 247Sports. "Just the fit there, the fit there with the tight end room. The coaching around it with (offensive coordinator) Coach (Mike) Denbrock and (LSU head) Coach (Brian) Kelly and the offensive analyst who coached the Saints tight end for 12 years, Coach (Terry) Malone all three of those guys it was perfect."
With LSU embarking on the start of its spring practice Thursday the Tigers reaped the benefits of an earlier junior day appearance with Markway's announcement on social media. The 6-foot-4, 250-pounder joins wide receiver Omarion Miller of North Caddo as members of the Tigers' Class of 2023.
Markway is rated by 247.com as the nation's No. 100 overall player, No. 7 tight end and No. 3 player in Missouri. The one-time Florida commitment selected the Tigers over Miami, Ohio State and Iowa.
"I have a ton of family who lives in Louisiana, some of my family went to LSU actually," Markway told 247. "The way they're going to use the tight end position there. He said they're not changing anything they did at Notre Dame; they're just getting talent on both sides of the ball being LSU and the recruiting they have there."
Markway was a former player under De Smet High Coach Robert Steeples, who is entering his first season at LSU as defensive backs coach. He also teamed with current LSU signee Mekhi Wingo, a one-time Florida commitment, while at De Smet.
De Smet went 6-1 during the 2020 season and 8-3 last season, losing in the first round of the state playoffs to Christian Brothers, 42-7.
Markway's father Mark played at tight end for Iowa, while his cousin Kyle was a tight end at South Carolina.
Denbrock and special team's coordinator/recruiting coordinator Brian Polian, both of whom followed Kelly from Notre Dame, took the lead in Markway's recruiting process.
Markway helps LSU address a position of need where the Tigers only have a pair of junior tight ends, Kole Taylor and Jack Mashburn, currently on scholarship for the upcoming season.