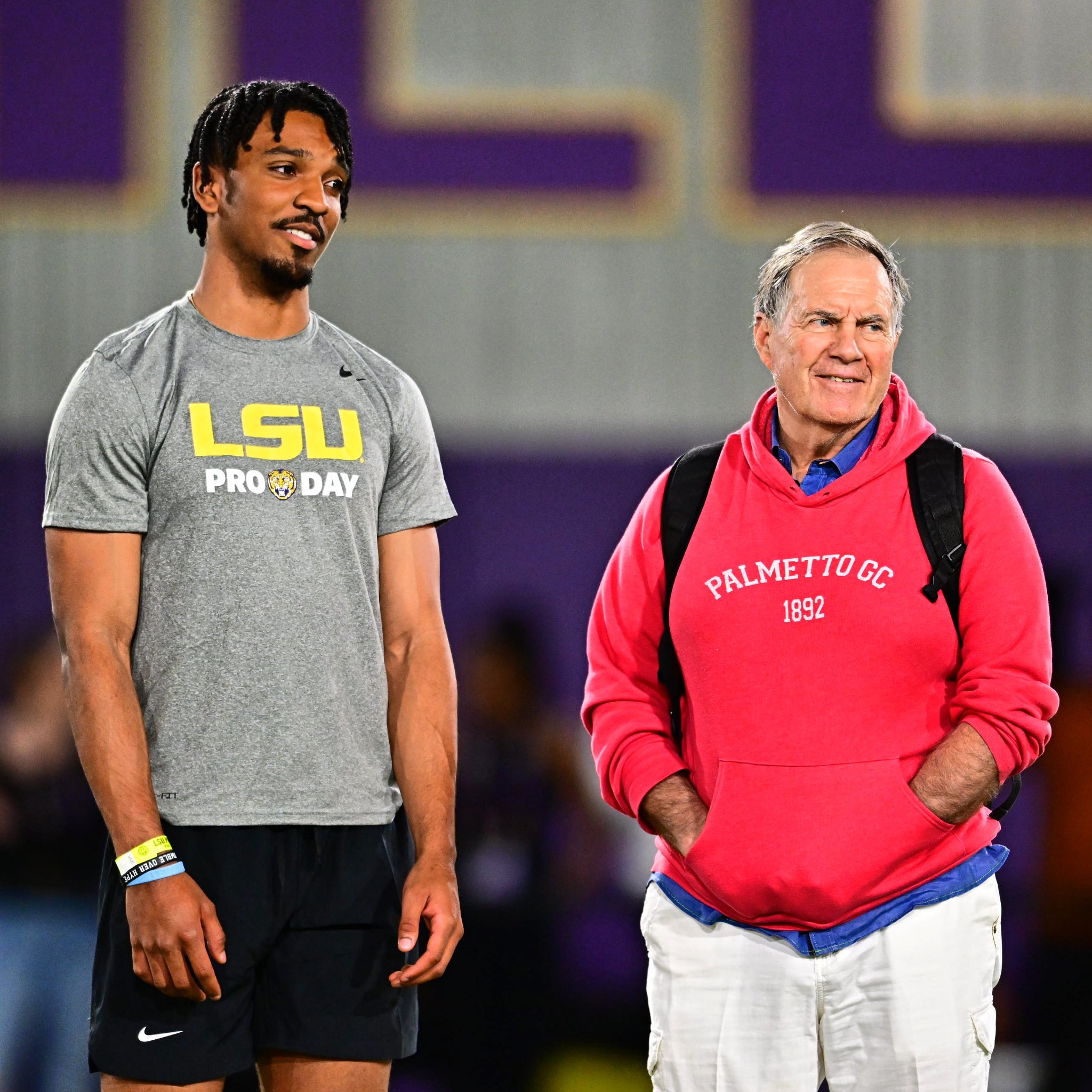 Jarrick Bernard-Converse lit it up on Wednesday at LSU's Pro Day, and more than likely changed a lot of minds prior to next month's NFL Draft, especially since he was not invited to the NFL Combine at the end of last month.
Bernard-Converse's performance at the LSU indoor facility may have vaulted the former LSU cornerback into the top 10 at his position heading into the draft.
A total of 16 players showcased their skills before representatives from all 32 NFL teams, including New England Patriots head coach Bill Belichick, one final time before the draft next month (Thu, Apr 27, 2023 7:00 PM – Sat, Apr 29, 2023).
More closely than anything else today, Bill Belichick watched Jayden Daniels throw to Kayshon Boutte and Jaray Jenkins.

He spoke with Daniels for a minute, too. Good chance for the #LSU QB to get in front of NFL eyes before next year. pic.twitter.com/SMpcaUXpes

— Wilson Alexander (@whalexander_) March 29, 2023
Full results from the measurements and skill tests for all 16 players are listed below.
Bernard-Converse literally stole the show. He posted a 42-inch vertical jump and unofficial 40-yard dash time of 4.40 seconds. His vertical jump would have placed him third among all players at the combine regardless of position, and his 40-yard time would have put in sixth position among all cornerbacks. He would have also finished in the top five for all cornerbacks at the combine on the bench press, 3-cone drill and 20-yard shuttle. The lack of an invitation to the combine may have served as fuel for such a performance.
Wide receiver Kayshon Boutte went through a full-positional workout, but decided to stand pat on his combine results, which were relatively disappointing compared to expectations. On Wednesday, Boutte ran crisp, tight routes and did not drop a ball. Boutte did participate in the 3-cone drill, the only agility or speed drill he did not do at the combine. He completed it in 7.08 seconds, which would have ranked him second-to-last among wide receivers at the combine.
| | | | | | | | | | | | | |
| --- | --- | --- | --- | --- | --- | --- | --- | --- | --- | --- | --- | --- |
| Name | HT. | WT. | Arm | Hand | Wing | Bench | Broad | Vertical | 40 yd (1) | 40 yd (2) | 3 Cone | 20 Shuttle |
| Ali Gaye | 6'5 5/8 | | 33.5 | 9.125 | 81.25 | 19 | | | | | | |
| Anthony Bradford | 6'3 7/8 | 337 | 33 | 9.5 | 81 | | | | | | | |
| BJ Ojulari | 6'2 | 251 | 33.5 | 10.5 | 83 | 24 | "10'6″"" | 33.5 | | | 7.44 | |
| Colby Richardson | 6'0 1/8 | 186 | 31.125 | 8.75 | 76 | 6 | "10'2″"" | 34 | 4.48 | 4.48 | 7.03 | 4.41 |
| Jaquelin Roy | 6'3 1/4 | 297 | 32.25 | 10.5 | 80.875 | | DNP | 26 | 5.19 | 5.13 | 7.95 | 4.75 |
| Jaray Jenkins | 6'1 3/8 | 203 | 31.5 | 9.875 | 75.375 | | "9'8″"" | 30.5 | | | 7.35 | 4.53 |
| Jarrick Bernard-Converse | 6'0 3/4 | 196 | 32.25 | 9.75 | 79.125 | 16 | "10'6″"" | 42 | 4.42 | 4.4 | 7.01 | 4.28 |
| Jay Ward | 6'0 5/8 | 189 | 32.25 | 8.5 | 77.25 | | "11'1″"" | 36 | | | 7.31 | 4.36 |
| Joe Foucha | 5'9 7/8 | 198 | 30.125 | 9.125 | 74 | 13 | "9'11″"" | 35.5 | 4.69 | 4.7 | 7.32 | 4.53 |
| Kayshon Boutte | 5'11 1/4 | 197 | 31.375 | 9.75 | 77.375 | | | | | | 7.08 | |
| Mekhi Garner | 6'0 1/4 | 211 | 32 | 9.625 | 77.625 | 12 | "10'5″"" | 38.5 | | | 6.88 | 4.28 |
| Micah Baskerville | 6'0 3/8 | 224 | 31.375 | 9.5 | 78.25 | 18 | "9'7″"" | 35.5 | 4.75 | 4.81 | 7.75 | 4.78 |
| Mike Jones Jr. | 5'11 1/2 | 227 | 32 | 10 | 79.25 | 25 | "9'9″"" | 33 | 4.74 | 4.73 | 7.2 | 4.57 |
| Sevyn Banks | 6'0 3/4 | 202 | 30.75 | 9.25 | 76.25 | | | | | | | |
| Todd Harris Jr. | 5'10 3/4 | 186 | 29.375 | 8.75 | 73.125 | 15 | "9'11″"" | 31 | 4.69 | 4.68 | 7.52 | 4.68 |
| Tre'Mond Shorts | 6'4 | 326 | 34.375 | 9.5 | 82.5 | 23 | "8'6″"" | 24 | 5.26 | 5.27 | 7.96 | 4.94 |
Former Tigers checking in at Pro Day pic.twitter.com/n0ABks7jlY

— LSU Football (@LSUfootball) March 29, 2023