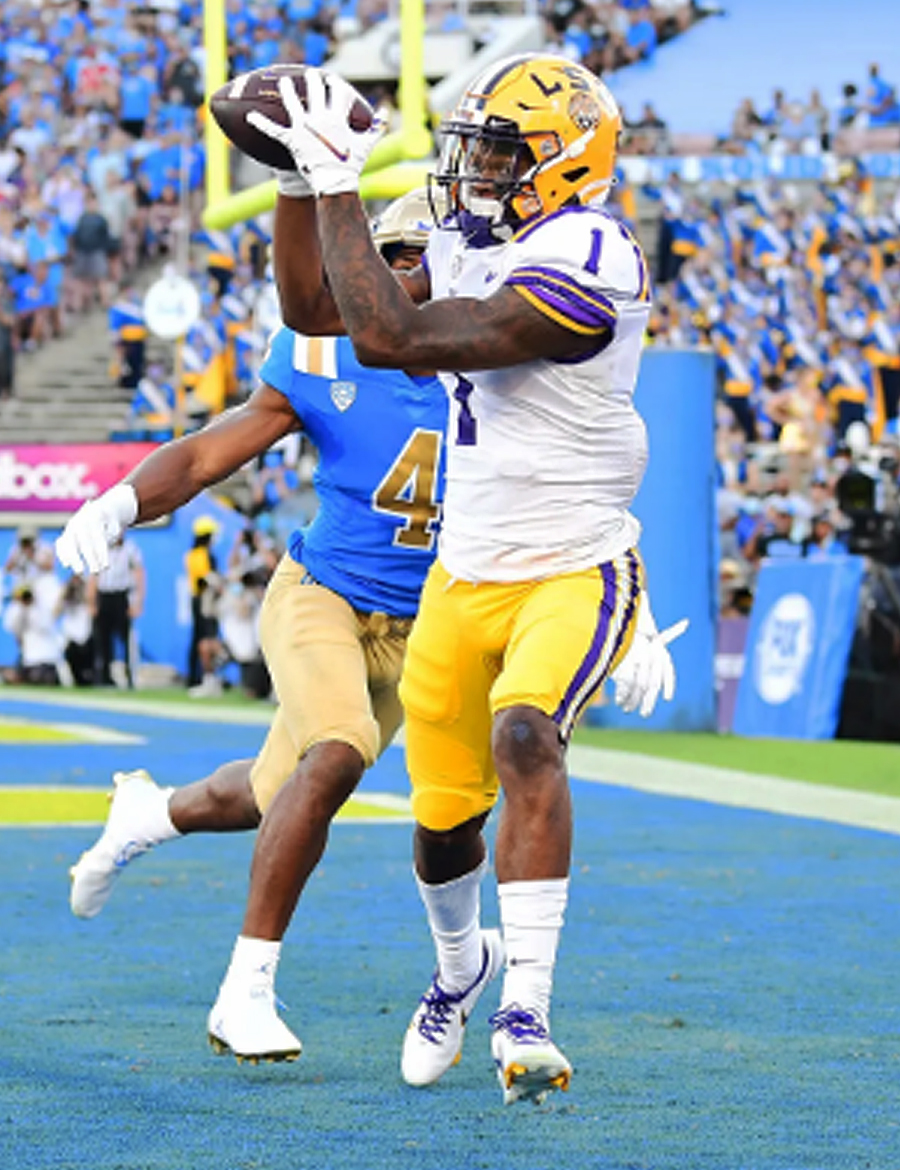 Kayshon Boutte was leading the nation in touchdown catches with nine when he sustained a season-ending ankle injury in LSU's early October loss at Kentucky last season.
He finished his sophomore year as the Tigers' leader in both TD receptions and receiving yards (509), and was second to Jack Bech in total catches with 38, despite appearing in just six of LSU's 13 games.
But after challenging times as LSU parted ways with coach Ed Orgeron late in the season and hired away Notre Dame coach Brian Kelly, Boutte – a highly regarded 2023 NFL Draft prospect ranked by some as next year's top receiver prospect – underwent a second surgery and missed all of spring practice as a result.
Appearing Tuesday night on Tiger Rag Radio while promoting an NIL collective to which he belongs, the product of Westgate High in New Iberia Boutte discussed those issues and more – some of them never before publicly addressed – with co-hosts David Grubb and Tim Buckley.
The wide-ranging interview covered everything from Boutte's take on the LSU quarterback situation, his high praise in particular for QB Garrett Nussmeier, the ankle and just how close he came – or did not come – to leaving LSU for Alabama in the offseason.
Here are some of the highlights of what Boutte had to say:
   * On his relationship with quarterback Myles Brennan, who is back after being injured and out all last season, and his take on the play during the spring of Nussmeier, who is battling Brennan and Arizona State transfer Jayden Daniels for the starting job:
"I've got a great relationship with all the quarterbacks, and I would say Garrett Nussmeier is gonna be a great quarterback for LSU. … He's gonna lead LSU to win most of the games, to national championships hopefully. I look forward to watching him play."
* On what it is about Nussmeier's personality and skill set that separates him, from Boutte's perspective:
"I would say Garrett can kind of do everything. He's versatile, so that's what I really like about him. I feel like anything you ask him to do he can do."
* On the ankle, which was surgically repaired for a second time in March:
"The Kentucky game, I kind of landed on it wrong. So that was the reason I had to have the (first) surgery. I broke a bone in my ankle then. The second surgery, it kind of didn't heal right. It was a quick process, so it kind of didn't really heal a hundred percent and I still felt pain. So it was necessary for a second surgery."
* On whether he is still rehabbing or if he's back to 100% now:
"No, we're back with the team. We're back."
* On the challenges he faced trying to overcome the setback:
"I would say mental-health wise you got better throughout the course of time, but it wasn't really as great going through the coaching change and stuff like that."
* On his heart-to-heart talks and relationship with Kelly, who was a bit hard on Boutte the first time he was asked about him following Orgeron's exit and Kelly's move from South Bend to Baton Rouge:
"You know, getting rid of coaches that you're so used to being around for a while, coming into a new environment, trying to get comfortable, it was just a lot going on at an important time in my life, so I just felt everything was kind of scattered everywhere. But I feel like we're in a better place now."
* On questions including these: During the time of transition, how much did Boutte consider the possibility of leaving LSU? Was Alabama in the mix, or somewhere else? And how much did NIL deals (Boutte represents The Players Lounge's Bayou Cat Crew, among other ventures) play a part in decision to stay?
"NIL, it really didn't really play a big part in the decision. Like I said, there was just a lot going on. I didn't know what I wanted to do, so …"
* On whether or not it ever really got close with Alabama or anybody else, or if it never got as far as it perhaps seemed like it did:
"Nah, it didn't get far (laughing)."
* On the decision by Class of 2022 tight end Danny Lewis Jr., Boutte's friend and former teammate at Westgate High, to sign with Alabama over LSU after Lewis decommitted from Cincinnati:
"I mean, me personally, I always feel like someone's gonna make the best decision for themselves. And, like I told him, I said, 'Whether it's LSU, 'Bama or wherever you go, I will never be mad. Just do what's best for you, because at the end of the day you've got to provide for your family.' "
* On Boute being a possible top-10 selection in the 2023 NFL Draft if everything goes according to plan:
"I feel like LSU is Wide Receiver U. I mean, you see the guys they put the league, the guys they have now, the recruits they bring in. I just feel like everybody is capable of doing great things. Everybody's stats might not be similar, but at the end of the day everybody brings a certain aspect to the game that makes them dominant as a player."