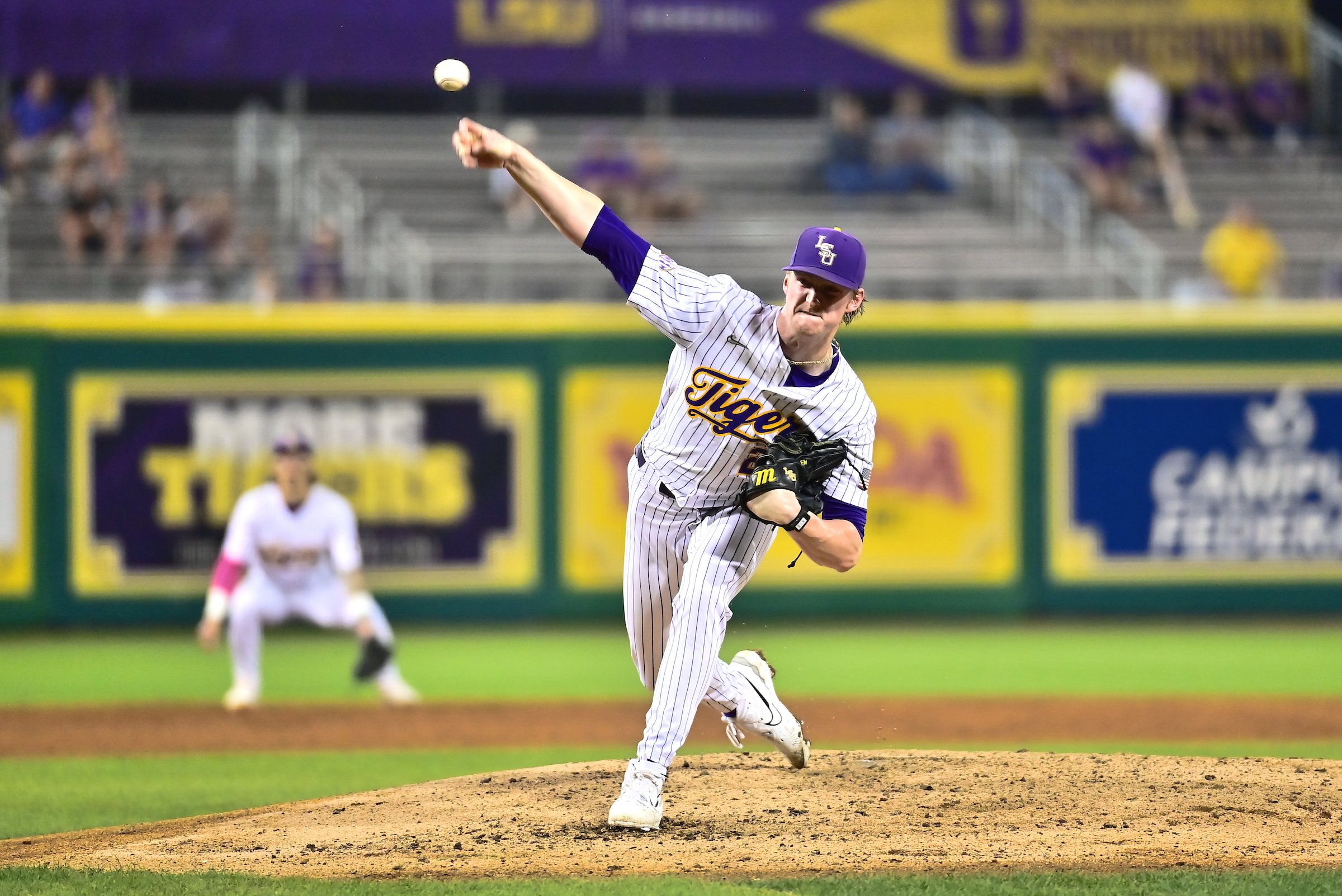 Sophomore right-hander Thatcher Hurd appears to be fully acclimated to Alex Box Stadium and the LSU crowd now if his pitching performance on Monday night is any indication.
Hurd, a transfer from UCLA, fired a three-hit shutout and struck out 11 while three different LSU players hit solo home runs as the No. 1 Tigers won their third 10-run rule game in a row, 11-0, over Butler at Skip Bertman Field.
Hurd (1-0) struck out the first nine batters he faced and dominated the Bulldogs from start to finish, throwing 73 total pitches with 54 for strikes and walking one through six innings. Blake Money relieved Hurd to start the seventh and struck out two while putting out Butler in order.
LSU freshman outfielder Paxton Kling led the Tigers' 14-hit attack, going 3-for-3 with his first career home run. He also doubled and scored three runs.
Dylan Crews, who was 2-4 with double and three RBIs, and freshman catcher Brady Neal, also hit solo home runs for the Tigers.
LSU (11-1), which now has four shutouts in 12 games this season, returns to action on Wednesday night when it hosts Lamar at 6:30 p.m.
"Great job by Thatcher tonight, had all four pitches working for a strike," LSU baseball coach Jay Johnson said. "The mix was outstanding. (Pitching) Coach Wes Johnson did a great job calling pitches. Hurd executed and it's one of those games where you feel like you can sit in a rocking chair when we're on defense, when the pitcher's going like that. So great performance by him.
"You don't have to be a baseball genius to just see his stuff," Johnson said. "It's a great fastball with both velocity and movement. The downward breaker on the curve balls, really special, he spins the ball really well, like his metrics are really good. His slider and change-up, it's a lot to deal with. And I mean, literally like I mean, they're probably guessing at pitches out of a hat tonight because he threw everything on any count. He can be really hard to deal with."
Johnson said LSU's offensive performance, which began in the bottom of the first with a two-out 411-foot home run to straight-away centerfield from Crews – his third home run of the year – was probably the Tigers' best so far this season.
"I would actually go as far as saying that's our best offensive game of the year," Johnson continued. "Just the way we did it, the way we executed, the way the lineup flowed and did a lot of things really well. We ran the bases well, hit with runners in scoring position about as good as you possibly can. I mean going into the day, we were 80% in getting the guy in from third with less than two outs and we were perfect today, so that's always a huge stat. We want to do a good job and tonight we did it really well throughout the order. I mean, Dylan got us going with that. Two-out homer in the first inning, what a special talent he is."