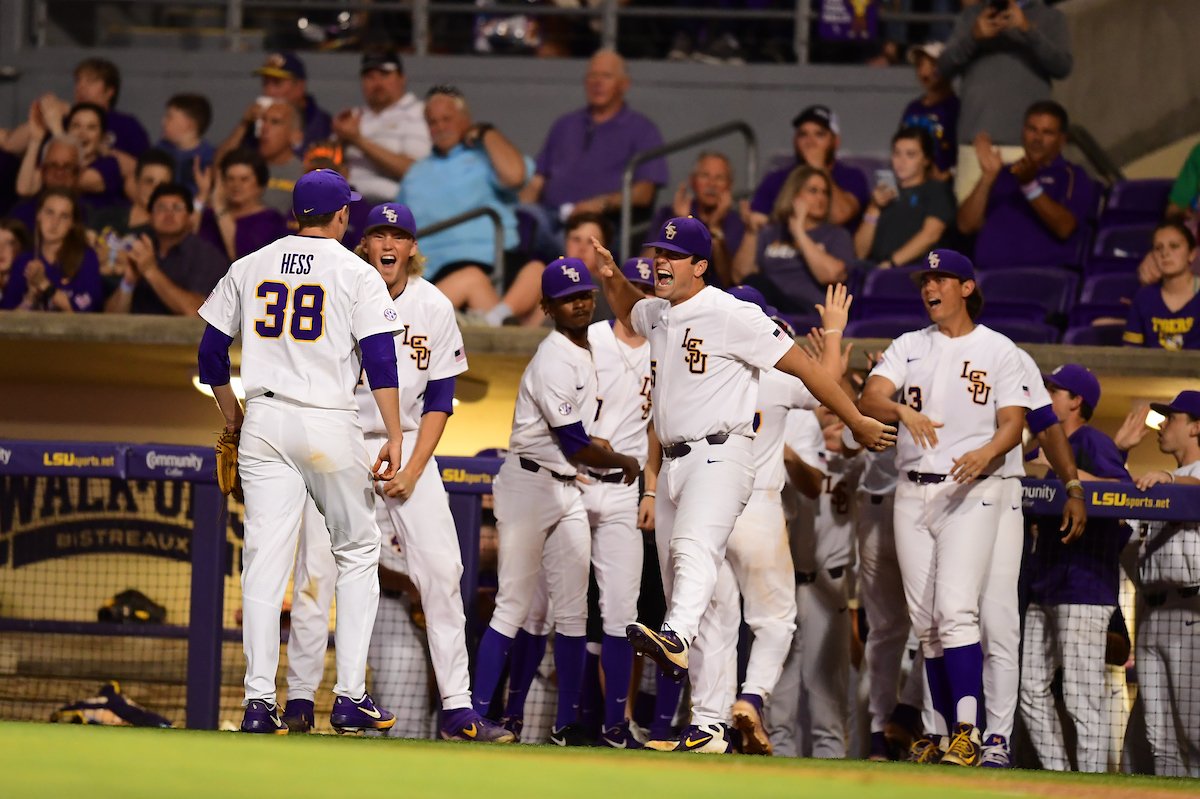 After a series of devastating sliders and weak hacks, Zack Hess swaggered off the mound and pumped his fist on the way back to the dugout.
The crowd erupted and a line of fired-up teammates filtered out of the dugout to greet him. Just like that, LSU had its Wild Thing back where he belongs.
Paul Mainieri turned things over to his newly-minted reliever with a 3-1 lead and the tying runs aboard in the fifth inning. Hess gave him four innings of dominant relief as LSU's bullpen nailed down a 8-3 win over Ole Miss to steal a critical series opener at Alex Box Stadium on Friday night.
"That felt great," Hess said. "It felt like I was back to normal in a sense. I think this was a total team win."
There was a postseason-like intensity in the building for the first time this season, and Hess looked right at home letting it fly with the game on the line.
The plan was for him to pitch two innings, Mainieri said, but Hess was throwing the ball so well he stayed with him. Hess needed just 29 pitches (24 strikes) to complete his first three innings.
It all came down to Mainieri trusting Hess despite Ole Miss loaded the bases in the eighth inning. He'd walked and hit the previous two batters, but Mainieri left his horse in to face Ole Miss catcher Cooper Johnson — who homered off him earlier — with the bases juiced.
"I believe in the kid," Mainieri added. "This what you do as a coach. You figure out the kids you hitch your wagon to. They either allow you to have a career or they get rid of you because you hitched your wagon to the wrong guy. I picked Hess. I believe in Hess, and Hess has rarely let me down."
Hess fell behind in the count, 2-1, exchanging glares with home plate umpire Jeff Wright between two balls he felt were strikes. Nonetheless, Hess blew consecutive 95 mph heaters past Johnson to end the inning and barked at the batter on his way back to the dugout.
"That gave me chills," said Hess, who declined to share what he said to Johnson. "It felt good to be back in that situation. I've missed that for sure."
LSU blew the game open from there. Daniel Cabrera and Drew Bianco launched back-to-back blasts in a four-run eighth inning before LSU turned the game over to Devin Fontenot for closing.
The emotion was palpable for LSU (30-16, 14-8 SEC) in that eighth inning, whether it be Hess on the mound or Bianco flipping his bat after homering against the Ole Miss (30-17, 13-9 SEC) club coached by his father.
"I just love to see kids you believe in go out there and do things like what Zack Hess did tonight," Mainieri said. "It makes me feel young again."
Ma'Khail Hilliard, spot starting with Cole Henry hurt and Hess moved back to the bullpen, weathered a rocky start to the night. Four of the first seven Rebels to come to the plate got hits, but Hilliard limited the damage and settled in from there.
Ole Miss scratched out a run in the second inning, but the lead didn't last long. Chris Reid singled, Gavin Dugas doubled and Cabrera tied the game with a run-scoring chopper to first base.
LSU took the lead in the third inning as Hilliard retired nine Rebels in a row. Singles from Saul Garza and Antoine Duplantis set the table, and Josh Smith came through with a two-out, two-run single to put LSU ahead 3-1.
Mainieri wasted no time going to Hess once Hilliard gave up back-to-back singles to open the fifth inning. Hess quickly induced a 6-4-3 double play and picked up a strikeout to escape with the lead intact. He came back and struck out the side in the sixth inning after a leadoff single.
LSU eked out an opportunistic run in the bottom of the inning. Smith singled and scored all the way from first base when Dugas smashed a ball through the wickets of Ole Miss first baseman Kevin Graham. The Rebels got that run back with a solo home run off Hess to begin the seventh.
"This is about as electric a home game as we've had this year," Hess said. "Great to see the Box like this again."
Cade Beloso and Smith led off the bottom of eighth inning with singles after Hess pulled his dramatic escape. After a sacrifice bunt, Dugas lifted a sac fly to deep right field. The back-to-back jacks followed.
The Tigers will look to clinch the series behind Eric Walker on Saturday night, weather permitting. First pitch is set for 6:30 p.m.