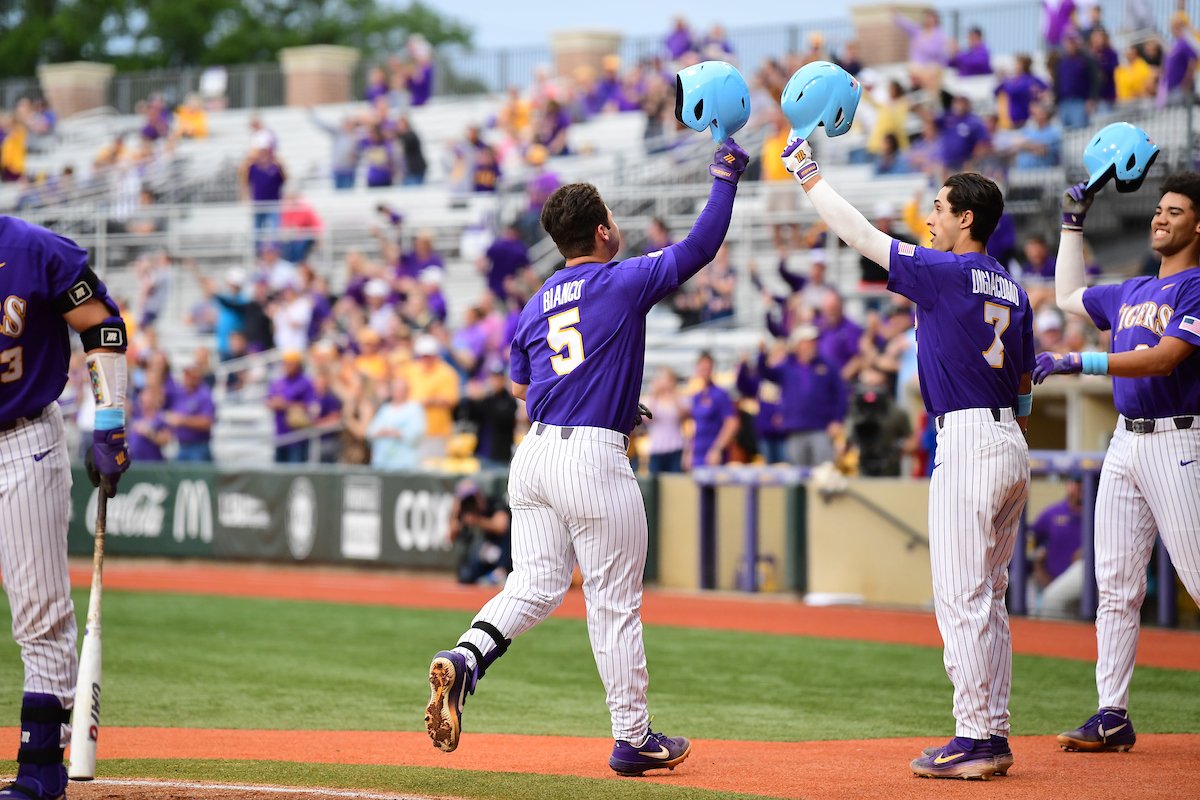 Mired in a seemingly endless two-month hitting slump, baseball wasn't fun for Drew Bianco anymore. It was a phone call from his father Mike that went a long way toward pulling LSU's freshman infielder out of a dark place.
This weekend father and son will find themselves in opposite dugouts as LSU and Ole Miss meet for three games at Alex Box Stadium. The series is equally pivotal as both sides begin the weekend two games behind first-place Arkansas in the SEC West race.
The hope is that the immense importance of the games will help take away some of the awkwardness for Drew as he takes on a pitching staff coached by his father, the long-time Ole Miss coach.
"We know what it is this weekend," Drew said. "It's a big series for both teams, and at the end of the day, it's just a baseball game. He's still my dad, and that's the most important thing."
Drew continued: "Everybody knew this day would come eventually. It's on the schedule every year, and this is the first one out of four … It'll be weird, but Coach (Paul) Mainieri has done a good job just to let me know that it's just a baseball game and don't worry about the outside noise. I know that."
Both have known this collision course would be an annual event ever since Drew committed to and ultimately signed with LSU. He grew up dreaming of playing in the SEC, and Mike has a strict rule that none of his children — even the ones who don't play baseball — will attend Ole Miss.
The reason: Mike wanted all of his children to go elsewhere and create their own legacy as opposed to being known as the child of the longest-tenured coach in the SEC.
That direction took Drew to Baton Rouge, where Mike had played two years as a catcher and team captain under Skip Bertman from 1988-89. Drew said he had the utmost respect for Mainieri for treating him just like one of the guys.
"Growing up as a coach's kid, you kind of get labeled as a coach's kid," Drew said. "I'm remember going through travel ball and people saying "That's Coach Bianco's son. That's Drew Bianco.' Same with my brothers. You have Bianco on the back of your jersey, and in the state of Mississippi, that's a big name."
Father and son were on the phone again earlier this week trying to carve out some time to spend together away from Alex Box Stadium.
Working around Drew's final exam schedule didn't make matters any easier, but the two planned to have dinner on Thursday night before the series opener.
According to Drew, baseball talk won't be on the menu. "Just family stuff."
Camie, the matriarch of the Bianco family, won't be making the trip to Baton Rouge. She'll be traveling to see another child play for a high school state championship and monitor the games from afar, hoping to avoid the camera time that'd come with watching her husband's team face their son.
"Kramer Robertson's mom (Kim Mulkey) was on TV every five seconds (when he played for LSU)," Drew said. "I'm sure she doesn't want that. She's just cheering for No. 5 (Drew and Mike share a jersey number) the whole weekend. Both in red and blue and purple and gold."
The family is a competitive bunch, as you might expect, but Drew said he doesn't think there will be any trash talk or bragging rights come Sunday evening. Both understand how much the series means to the respective teams and their long-term aspirations.
"I still want his money every month and everything, so hopefully he still loves me at the end of the series," Drew smiled. "Maybe next Christmas one of us will make a joke around the fire, but not right away."