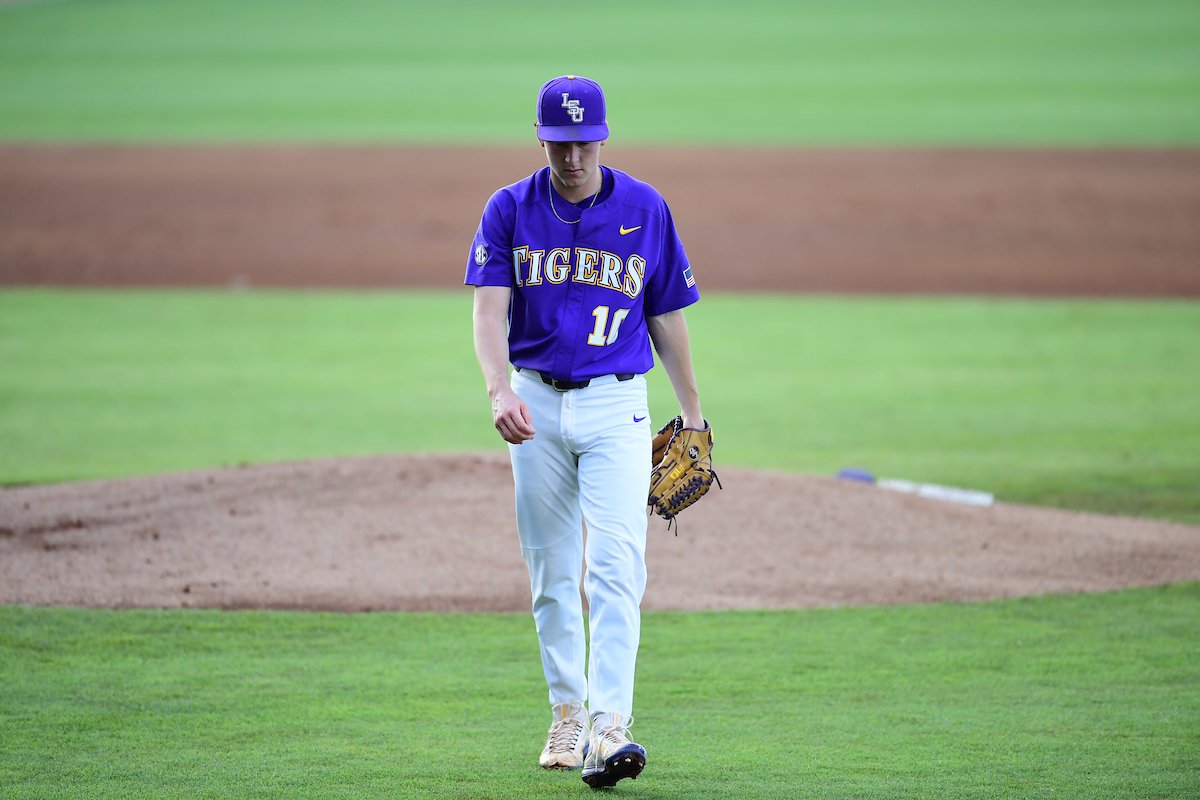 Though his command wasn't particularly sharp, Eric Walker was one strike away from wiggling out of another jam and keeping LSU within a run.
Unfortunately his 0-2 offering caught way too much of the plate, but Ole Miss first baseman Kevin Graham launched it deep into the Baton Rouge night for a three-run homer.
Walker served up two long blasts to the power-laden Ole Miss lineup and LSU couldn't capitalize on enough opportunities against southpaw Doug Nikhazy as the Rebels struck back to even the series with a 5-1 victory at Alex Box Stadium on Saturday night.
"It wasn't our night tonight," LSU coach Paul Mainieri said. "When you analyze the game, it came down to a few pitches and a few plays … The difference between winning and losing in this league is so small."
The right-hander allowed only three hits over his four innings, but two of them left the spacious confines of the Box.
Walker also uncharacteristically walked three batters, an indicator that he wasn't locating the ball like he usually does. His changeup, usually an out pitch, was non-existent in his estimation.
"I thought I was on track for a good outing, but I made too many mistakes," Walker said. "That's baseball. You've got to be consistent and you've got to make pitches. I feel like this week I didn't make pitches, and they made me pay for it. So I've got to be better."
"He just didn't have his command," Mainieri added. "The 0-2 pitch was a big mistake. He was supposed to throw it up over the strike zone to see if the kid would chase it, but he threw it thigh high."
LSU (30-17, 14-9 SEC) has now split the first two games of its weekend series in seven consecutive weeks. The Tigers is 4-2 in the previous six rubber matches and will hand the ball to Landon Marceaux needing a win to keep pace in the SEC West race.
Strangely enough, the team that lost the opener went on to win five of those five previous series. LSU will look to reverse that trend on Sunday afternoon with major postseason implications on the line.
"We all could speculate on how much tomorrow's game means," Mainieri said. "I think it means an awful lot. There's still nine games to go plus the SEC Tournament, but the winner of this series probably has the inside track on hosting a regional. This is a really, really important ballgame tomorrow."
Ole Miss (31-17, 14-9 SEC) forced a rubber match by jumping all over two mistakes from Walker in the early going. Thomas Dillard launched a solo shot to right in the second inning and Graham's three-run blast came in the fourth, Walker's final frame.
LSU had a chance to answer right back in the bottom half of the frame after loading the bases, but Nikhazy retired Cade Beloso on a humpback line drive to shortstop to escape the jam.
"You've got to tip your hat to him," Chris Reid said of Nikhazy, who scattered six hits over 6.1 innings of one-run ball. "He was obviously doing something right."
The Rebels had extended their lead to 5-0 on an unearned run before LSU got on the scoreboard. Zach Watson doubled off the wall in left with two outs in the fifth and Antoine Duplantis plated him with a single up the middle.
LSU finally managed to chase Nikhazy from the game in the seventh inning, but Ole Miss reliever Austin Miller retired Duplantis with two runners aboard to keep the Tigers from getting any closer.
First pitch is set for 2:30 p.m. on Sunday for the rubber match.