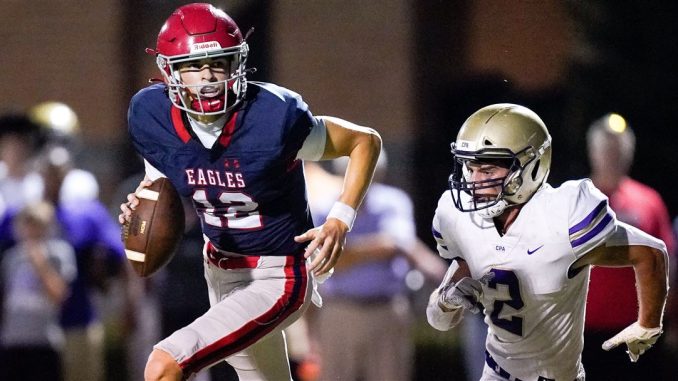 The nation's No. 2 ranked quarterback in the Class of 2025 has narrowed the scope of his recruiting process.
Five-star George MacIntyre of Brentwood Academy in Nashville, Tennessee announced he's reduced his finalists to 10 schools this week, a group that includes LSU.
The 6-foot-5, 190-pound MacIntyre, who is being recruited to LSU by offensive coordinator Mike Denbrock and quarterbacks coach Joe Sloan, attended LSU's summer camp in June and followed with an unofficial visit for the Arkansas game on Sept. 23.
LSU will host the nation's No. 1 quarterback in the Class of '25 for Saturday's home game with Auburn when five-star QB Bryce Underwood of Belleville, Michigan will take an unofficial visit.
Apparently quarterbacks from across the nation are paying close attention to LSU's prolific offense under quarterback Jayden Daniels that leads the Southeastern Conference and is one of the nation's best in total yards and scoring.
MacIntyre, the nation's No. 11 overall prospect and No. 1 player in Tennessee per 247 Sports with 4,565 career passing yards, has completed 187 of 278 passes this season for 2,218 yards, 16 TDs and seven interceptions. A year ago, he passed from 2,341 yards with 19 TDs and four interceptions.