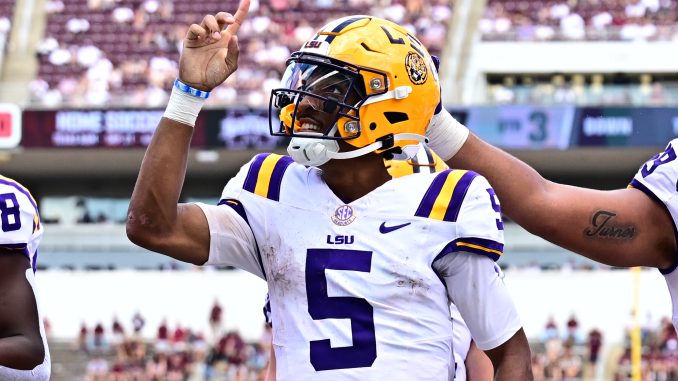 There's a developing trend when LSU's offense produces at a high rate it usually correlates in another outstanding performance from quarterback Jayden Daniels.
For the third time in a four-week stretch the Southeastern Conference office has honored Daniels with its weekly Offensive Player of the Week after the fifth-year senior directed LSU to a come-from-behind 49-39 victory last Saturday at No. 21 Missouri.
"The things he's doing are starting to separate him from good to great," LSU football coach Brian Kelly said Monday of Daniels at his weekly news conference.
Daniels registered 389 yards of total offense and four touchdowns and became the first player in school history to account for four TDs in five consecutive games. He showed his toughness by playing the final quarter with a rib injury that required him leaving the field and entering the team's injury tent.
Daniels returned to lead the visiting Tigers back from fourth-quarter deficits of 32-27 and 39-35 with a 35-yard TD run and two-point pass to Malik Nabers. He then found Nabers for the go-ahead score with 2:58 remaining for a 42-39 lead and safety Major Burns put the game away with a 17-yard interception return for a score with 34 seconds left.
Daniels completed 15 of 21 passes for 259 yards and 3 TDs, while adding a career-high 130 yards on the ground and 19 attempts for another score.
2, 4, Week 6, Great 8. Whose play did we appreciate? Congratulations to our Week 6 Great 8 quarterbacks! #DaveyQBs

READ: https://t.co/D3hN5kn4YZ pic.twitter.com/TOXNsp8rEb

— Davey O'Brien National Quarterback Award (@daveyobrien) October 9, 2023
LSU was also honored when Catholic High graduate Emery Jones Jr. was named the SEC's Offensive Lineman of the Week. The sophomore played all 73 snaps and helped the Tigers rush for 274 yards against a Missouri defense that ranked eighth nationally in rush defense at 74.8 yards per game.
Emery Jones Jr. is the SEC Offensive Lineman of the Week pic.twitter.com/jypkPkD1Lb

— LSU Football (@LSUfootball) October 9, 2023
LSU, which finished with 534 total yards, averaged 6.5 yards per carry and didn't have a negative play on designed runs. The Tigers produced two 100-yard rushers (Logan Diggs added 134 yards and TD) – the first time in 2023 Missouri allowed an opponent to top the 100-yard mark.
"I thought he played outstanding," Kelly said of Jones. "He showed great poise when there were some personal foul penalties out there. He was outstanding and I'm proud of the way he handled himself during some of those interchanges."