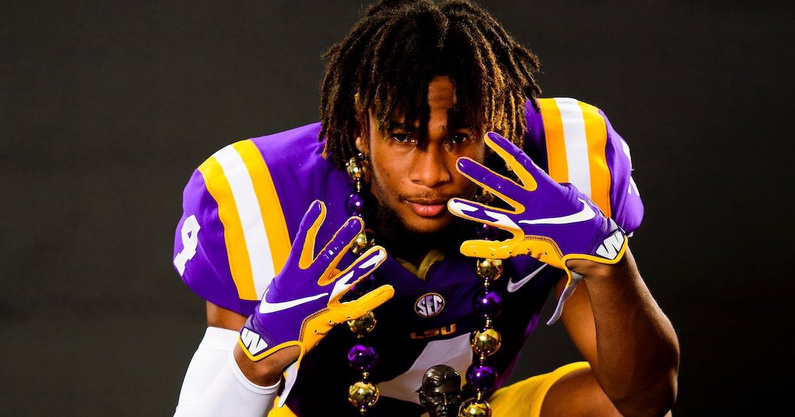 One of the nation's top safeties in the Class of 2023 – Michael Daugherty – had plenty of choices at his disposal when he decided to make a heart-felt decision.
For the standout from Loganville, Georgia, who's been a staple for Grayson High, that didn't mean staying in his state.
Instead, the 6-foot-1, 180-pound Daugherty, a four-star recruit, chose LSU over six other finalists during a live broadcast on 11Alive in Atlanta. He selected the Tigers over North Carolina, Auburn, Miami, Georgia, Louisville and Texas.
"I have to follow my heart on this season," Daugherty said after pulling out an LSU hat from a box located under a table in front of him. He also unzipped his jacket to reveal a dark LSU t-shirt emblazoned with a Tiger head on the chest.
Daugherty decided to get in on the ground floor of LSU's first full recruiting class under first-year head coach Brian Kelly, who also has commitments from wide receiver Omarion Miller of North Caddo and tight end Mac Markway of De Smet High in St. Louis.
Daugherty, who received more than 40 scholarship offers, made official visits to LSU and North Carolina within the last week. First-year defensive backs coach Kerry Cooks is the lead recruiter for the Tigers staff, which received plenty of praise from Daugherty after his announcement.
"I feel like everything I've been talking about with coach Kelly, this staff, (defensive coordinator) Coach (Matt) House, Coach Cooks, has been everything I've needed to hear," Daugherty said. "It was the right things to hear. I've got to follow my heart on this, and my family has supported me on this whole decision."
Daugherty's the nation's No. 124 overall prospect, the No. 9 safety in the nation and No. 12 prospect in talent-rich Georgia. His commitment vaulted LSU into the top five team rankings, according to 247Sports.
He's been a mainstay for Grayson High which has played for the last two Class 7A state championships in Georgia. Two years ago, Grayson completed a 14-0 season and was ranked No. 1 in its class under head coach Adam Carter with a 38-14 win over Collins Hill.
Collins Hill returned the favor in 2021 and defeated Grayson, 31-0, in the 7A title game where Daugherty had 12 tackles. He wound up second on his team with 91 tackles, 15.5 tackles for loss, 7 QB hurries and 4 QB sacks.
Daugherty totaled 46 tackles during his team's state title season, picking off a pass and recovering a fumble. He had 31 tackles with a TFL, and three passes broken up as a freshman.