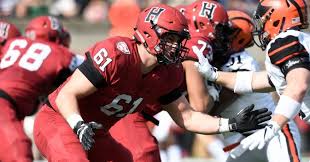 LSU's available football scholarship signee will surely improve the team's grade point average and hopefully provide some offensive line depth.
The Tigers signed Harvard graduate transfer Liam Shanahan on Tuesday. Shanahan, who played both guard and tackle and was an All-Ivy league first team honoree last season.
In his three seasons, Shanahan had 16 starts at right guard, 11 starts at right tackle and two starts at left guard. He had nine starts at right guard in 2019, one at right tackle, and he started all 10 games at right tackle in 2018. He had seven starts at right guard in 2017, with two starts at left guard.
At 6-5, 270 pounds, he is extremely undersized for a standard-sized SEC lineman. But the Tigers need bodies after losing four starts from its 2019 national championship team.
Shanahan is the second-ever Harvard player to transfer to LSU. Former Harvard quarterback Andrew Hatch transferred to LSU after his freshman year and played two seasons for the Tigers in 2007 and 2008 as a walk-on who eventually earned a scholarship.
He played in seven games during his LSU career, which included going 3-0 as starter after starting the first three games of the 2008 season. His '08 season was cut short after suffering a broken bone in his lower leg against Georgia. He missed the remaining six games and transferred after the season back to Harvard where he had to sit out the season as a redshirt in accordance with NCAA transfer rules.
He became Harvard's starting quarterback in 2010, completing 20 of 25 passes for 276 yards and three touchdowns in the season opener. He suffered a concussion on the first play of the second game of the year against Brown. He then went on to play baseball for Harvard in 2011, sporting a 2-0 record and 1.84 ERA.