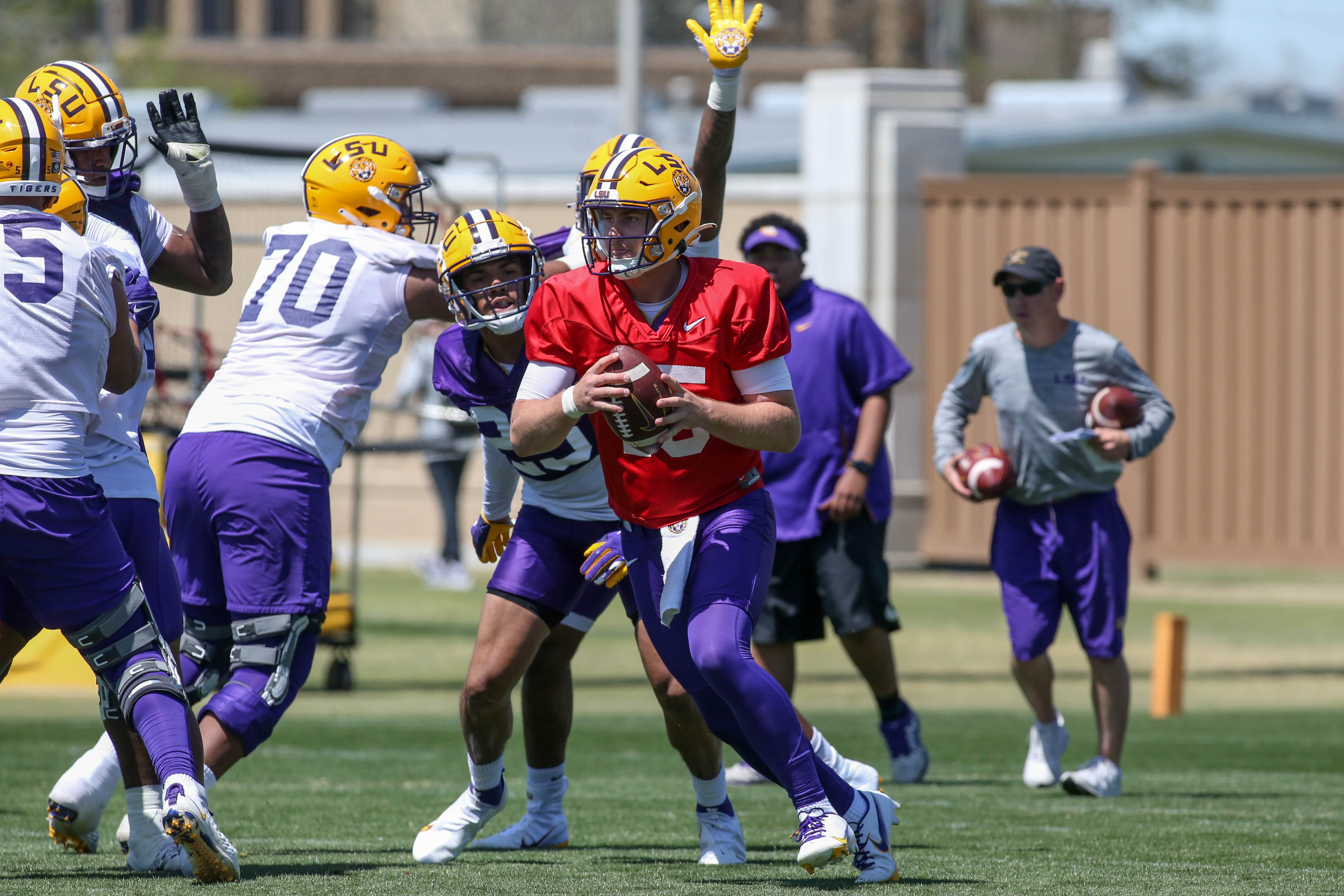 (Editor's Note: This is the first in a series of stories on LSU's quarterbacks this spring. Today: Myles Brennan.)
'Twas a few days before Christmas, and Brian Kelly was on the lookout.

The new LSU coach was searching for quarterbacks. There was one in particular, right in front of his wondering eyes, he didn't want to see fly away.

But Myles Brennan already was ready to move on to his next home. He had entered the NCAA transfer portal in early November, not long after LSU and former coach Ed Orgeron reached a $16.9 million separation agreement in October. With the holiday fast-approaching, Brennan – who has played in just 18 games for the Tigers since arriving in Baton Rouge in 2017 – was waiting to see where fate would bring him next.

Then his phone rang – or whatever sound it makes when a new coach tries to dial up the old quarterback these days.

"It was an interesting process. It was back to recruiting pretty much," said Brennan, who spent his first five college seasons at LSU mostly dealing with injuries and spending two seasons – 2018-19 – behind Heisman Trophy-winning Joe Burrow. "Just getting blown up, schools here and there and taking visits. Trying to narrow it down and I think I was going to make my decision that week.

"Coach Kelly called me that week on a Tuesday and asked to meet him in his office on Wednesday. He made the cut by an hour. I wanted to have that decision made before Christmas."
Brennan liked the pitch from Kelly, especially the part about getting to play in a quarterback-friendly scheme for an offensive-minded head coach – much unlike Orgeron, a defensive guy through and through.

"That was part of the reason that he shared with me that he decided to come back," Kelly said. "I think he wanted to be in a system where the head coach was involved with the quarterbacks."

So, Brennan decided to stay.

Garrett Nussmeier, who appeared in four games as a freshman but skipped LSU's Texas Bowl loss to Kansas State to preserve his redshirt, did the same. And Kelly convinced hotshot commit Walker Howard, a legacy recruit who originally pledged to Orgeron and his staff, to remain as one of the centerpieces of his hastily reorganized 2022 signing class.

Even with all that, though, Kelly was by no stretch content yet with his quarterback room.
He has so much to sort out between now and Sept. 4, when LSU opens against Florida State in New Orleans.

How will versatile Arkansas transfer Greg Brooks Jr. be used in the secondary?

Can running back John Emery Jr. make the most of an opportunity denied in 2021?

How much can the two former Ragin' Cajuns players LSU picked up in the transfer portal, receiver

Kyren Lacy and cornerback Mekhi Garner, contribute now that they're playing in the SEC rather than the Sun Belt Conference?

How much of a difference can defensive tackles Maason Smith and Jaquelin Roy really make up front, and how fresh will defensive end Ali Gaye be after undergoing season-ending surgery to repair a torn labrum?

How good can receiver Kayshon Boutte be with his bad ankle fully healthy? Which of the freshmen receivers from last season – Jack Bech, Malik Nabers and Brian Thomas Jr. – will thrive the most in Kelly's new system? What in the world might Bech say next?

Those are questions to be answered throughout the rest of the month, in LSU's April 23 spring game, into the summer and perhaps beyond.

But for now, the most-pressing one centers on the quarterbacks, and how Brennan and Nussmeier will respond with newcomers in the room.

In early March, apparently not fully sold on what already was in place, Kelly plucked Jayden Daniels, a three-year starter at Arizona State who played 29 games for the Sun Devils since 2019, from the portal.

So, when LSU opened spring practice on March 24, there was Brennan – besieged by injury issues ever since Burrow left – looking over his shoulder.
"It's been an interesting road to say the least," Brennan said when he met with reporters March 23 in spring camp. "I feel like my whole journey has been."

•••
As the battle brews, Brennan – whose father Owen played linebacker at Tulane and mother Megan played volleyball and basketball for the Green Wave – is saying the right things.

It helps that LSU coaches braced him for what was to come.

"That's honesty, that's transparency and that's all I've wanted," Brennan said. "I'm in college ball and it is a business. I really do appreciate it because it really does mean a lot. Someone in our shoes, it speaks volumes for them."

Being willing to give it one last shot at LSU says a lot as well, especially considering all he's overcome.
Brennan sustained a season-ending abdominal injury in his third game of 2020.
Then he broke his left, non-throwing arm in a bizarre fishing accident in August 2021. Brennan tripped when one of the flip flops he was wearing malfunctioned on a dock in Grand Isle. The stumble cost the Saint Stanislaus Catholic High product from Bay St. Louis, Mississippi, yet another chance at a full year starting.

"From getting hurt in the '20 season against Missouri to getting back healthy again to having this injury and missing last year, to going into the portal, to coming back, it's been a whirlwind," Brennan said. "It's part of it and I understand that and it's not going to stop me. Nothing has since and nothing will. I'm moving forward."

Sans sandals, that is. Brennan bought new boat shoes shortly after the mishap.

"They're waterproof," he said. "It's like a tire. I will sue the company because they say they're, like, trip free. We'll see."

•••
Kelly is spending the spring trying to see what each of his starting quarterback contenders – and everyone else on offense, for that matter – is all about.

"Anytime you have a different system there's going to be a learning curve there," he said. "I think what I'm most interested in is retention from one day to the next. "They're gonna make mistakes. But I think what we're evaluating is who are the guys that are able to retain the information, and then what kind of learners are they? Do they learn by watching film? Do they learn by walk-through? Do they learn by taking reps?"

By LSU's fifth spring practice, Kelly said, "We're getting a better understanding of, say, for example, how Nussmeier learns vs. how Brennan learns."

Brennan opened with the starters early in spring ball based on seniority and looked good when LSU ran a few live action scrimmage plays for the first time on April 2.

Daniels worked with the backups, with Nussmeier and Howard behind those two.

Early enrollee Howard – son of former LSU quarterback Jamie Howard, who threw for 6,158 career yards from 1992-95 – has dealt with how own injury issues the last several months. He missed senior-season time while playing for St. Thomas More High in Lafayette but managed to return after just four weeks despite sustaining a fractured fibula in his left leg. Howard later underwent surgery to repair thumb damage on his non-throwing hand but was ready for the start of spring drills.

Nussmeier's story is different.

The son of current Dallas Cowboys quarterbacks coach and former New Orleans Saints QB Doug Nussmeier, he was healthy enough to play in the Texas Bowl. But Nussmeier didn't want to burn the redshirt, leaving Jontre Kirklin, really a receiver who merely played quarterback at Lutcher High, to run the offense.

"I don't want to speak too much on that," Nussmeier said. "But obviously it was hard."
For Nussmeier, much like Brennan, the spring so far has largely been about soaking up what Kelly has to offer.

"It's a lot different," Nussmeier said, comparing the present to last season. "You know, Coach 'O' was a d-line guy, so we were really working with mainly our side of the ball. But now Coach Kelly is an offensive guy; really, a quarterback guy.

"So, it's different having the head coach work in your position drills. But it's awesome. He's teaching us a lot of different things, how he wants us to operate. I think it's pretty cool knowing what the head guy wants you as the quarterback to do."

•••
What Kelly ultimately wants from his quarterback, though, is a question that won't really be known in full until the Tigers and Seminoles meet at the Superdome.

His spread offense is designed to both spread the field and, with LSU's receiving corps so deep, spread the ball around too.

But Brennan and Daniels seem so different, Brennan possessing the traditional pocket-presence traits
and Daniels more of a scrambling type who extends plays and arguably is better suited to the RPO plays so many college teams use nowadays.

"They all throw the ball great. Daniels, you know, he can run," receiver Jaray Jenkins said. "He can throw it and everything, just like a few of the other ones."

Who'll be running things in September, though, remains to be seen, which is why for now some Tigers are proceeding as if it could be either one.
"They both look great," Bech said in late March. "I'm really excited for the end of spring to play out, the whole summer and whole fall. They have different abilities. But both their balls are really great, and I'm excited to be catching for both of them."

•••
When Brennan decided to stay, the feeling was one of relief for Jenkins, who caught a 65-touchdown pass from his old pal on LSU's first live scrimmage play of the spring.

"Whenever I saw him leaving, I was like, 'Man,'" Jenkins said.

Truth be told, though, Brennan never wanted to exit – and never did.

The job was his until he got hurt in 2020. It was going to be his again in 2021. And he's staying because he wants it to be his in 2022.

Yes, Brennan was in the portal.

But none of the offers he was getting was as good as the one he got coming out of St. Stanislaus, which is why that pre-Christmas call from Kelly meant so much.

"He said they wanted to give me another opportunity to come back here and compete for the job," Brennan said.

Competition is something Brennan embraces, especially now that he's all grown up – engaged as of last December following a Tiger Stadium proposal, wearing boat shoes instead of flip flops, ready to see things through in Death Valley.

"I remember when I was younger, I used to pay more attention to the things around me," he said. "Now it's just another year, another quarterback battle. "We bring 10 guys in, so what? … I know what I need to do to get it done. I've done it before, and things worked out pretty well when I was healthy."

So, when Daniels entered the picture, Brennan insists he wasn't fazed.

"This is probably my sixth quarterback competition since I've been here," he said. "It's part of the game. It's nothing I shy away from. I know I'm more than capable of playing at this level. I've already done it. I know what I have to do to win the job. We'll make each other better in the room."

Brennan is saying it, and teammates are too.

"When you have a room, this stacked, it brings the best out of everybody," Nussmeier said. "You don't have a minute to slack off. You don't have a rep to miss. That's what competition does nowadays. You don't run from it. You attack it, and let it make yourself better."

By the grace of Kelly, who values experience, Brennan has one more shot to do just that.

"He's a veteran," Kelly said, "and that is such a great commodity to have in college football today."

Which is why Brennan was sold when he was asked to stay.

He received an early Christmas gift and couldn't wait to unwrap the possibilities.

"No one told him (Kelly) to call me," Brennan said. "For him to give me that opportunity it just feels like
it's meant to be. "This is it, though. It's one last ride."

(Tiger Rag Assistant Editor William Weathers contributed to this story)