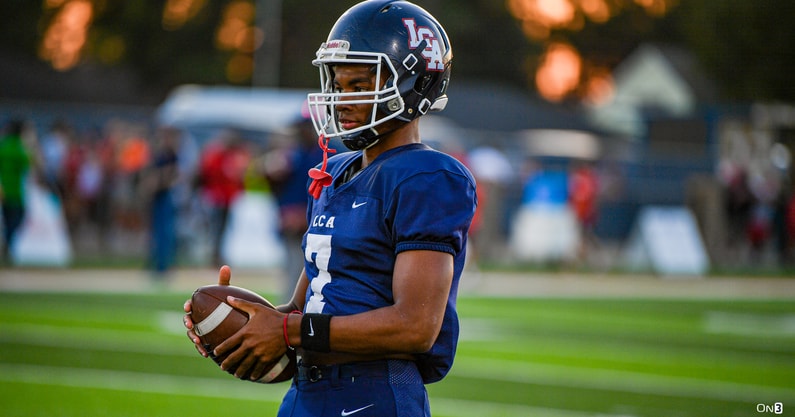 One of the state's most dynamic players in the Class of 2024 has included LSU in his list of finalists.
Lafayette Christian Academy's Ju'Juan Johnson, who quarterbacked the Crusaders to the Division II select state runners-up finish, released his top four schools on On3Sports.com Thursday of LSU, Georgia, Florida, and Colorado.
"Of course, this is "Da Crib" but the coaching staff has shown me I'm a priority and that in itself feels really good," Johnson told On3Sports. "Every kid dreams in Louisiana to play for the Tigers. It means a lot to have that option."
The 5-foot-11, 175-pound Johnson, a projected cornerback in college, is the nation's No. 195 overall prospect, No. 18 athlete and No. 4 prosect in Louisiana per On3. He's also rated the state's No. 4 player and No. 27 athlete according to 247Sports.
Johnson, who made several unofficial visits to LSU during the 2022 season, has been LCA's starting quarterback for three years. He's led the Crusaders to the 2020 state title in Division III and subsequent runners-up finishes in D3 in '21 and this season in D2.
He wrapped up one of more the spectacular seasons in '22 when LCA dropped a 52-48 decision to St. Thomas More in the state final.
Johnson combined for 5,487 yards and 60 touchdowns, passing for 4,140 yards and 43 TDs, and adding another 1,347 and 17 scores on the ground. In the final, where he was voted LCA's game MVP, Johnson totaled 586 yards and five touchdowns on 67 offensive snaps.
Johnson helped LCA reach the state final with an astounding performance in the state semifinals against district foe Teurlings Catholic, combining for 649 yards and nine touchdowns in a 68-46 victory. He passed for 473 yards and 6 TDs and rushed for 176 and an additional three scores.
Johnson reduced his original list of seven finalists on Dec. 7 to four, removing Alabama, Penn State, Texas, Tennessee and Vanderbilt from consideration.