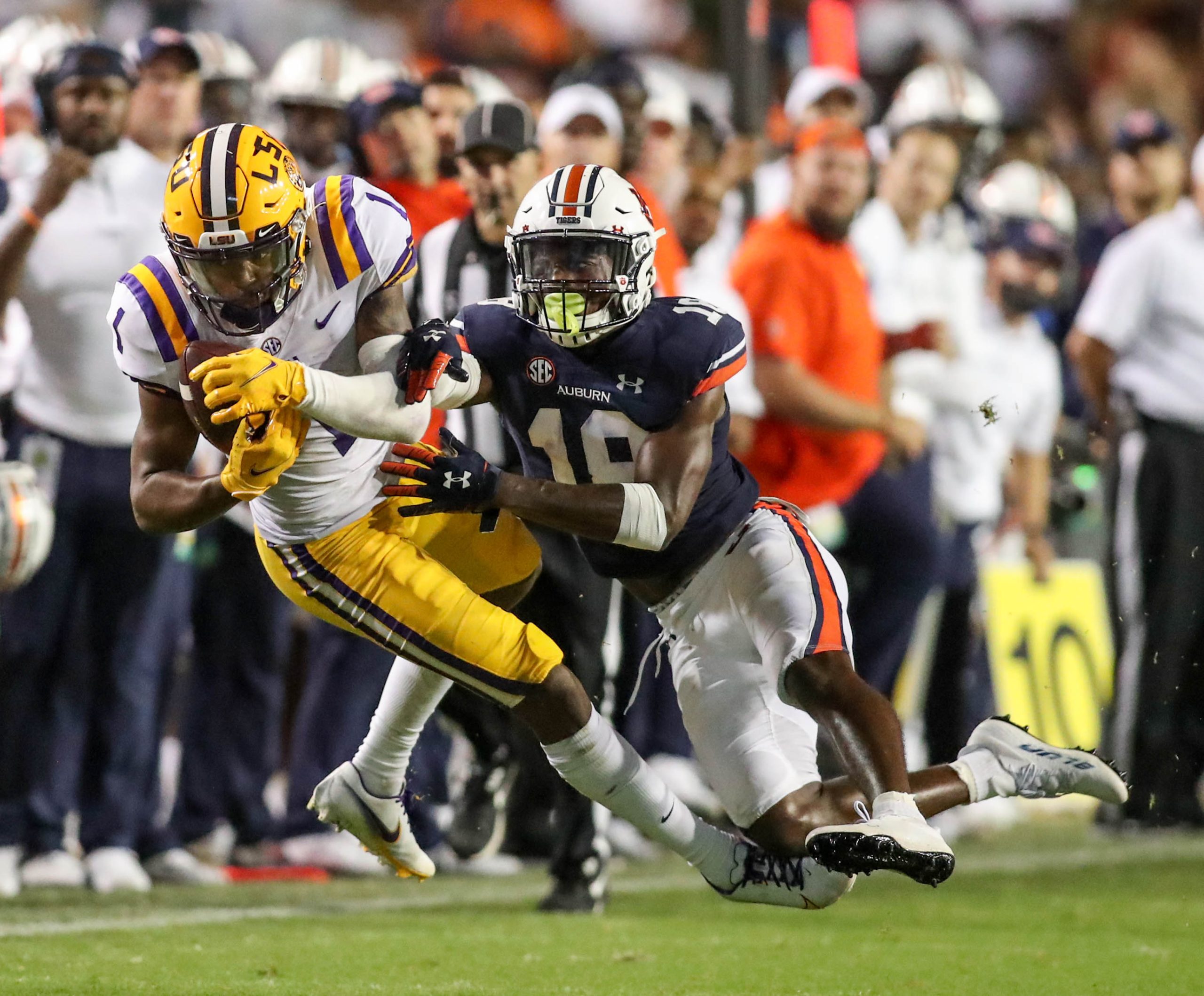 LEXINGTON, Ky. – Two SEC football teams trending in different directions collide here Saturday night at 6:30 CT when struggling LSU faces freshly ranked No. 14 and unbeaten Kentucky in Kroger Field.
The Tigers (3-2 overall, 1-1 SEC West) have done just enough wrong to suffer a pair of losses (UCLA, Auburn) by a combined 16 points.
"We just have to keep on looking at the things we can fix, be constructive, believe in our coaching staff, believe in our team," LSU coach Ed Orgeron said. "We've been here (in a losing situation) before. We can handle it. It's a matter of playing better."
The Wildcats (5-0, 3-0 SEC East) have done just enough correct to win their three SEC games (Missouri, South Carolina, Florida) by a combined 20 points.
"We haven't played our best football," UK coach Mark Stoops said. "I hope they're just hungry. I believe they will be."
LSU and Kentucky's offense are both one-dimensional, If you could mix the Tigers' passing game (303.2 yards, 16 TDs) with Kentucky's running attack (191 yards, 9 TDs), you'd have an offense averaging 494.2 yards which would rank second in the SEC.
Instead, while doing their best to find better offensive balance, both teams have defenses that give LSU and Kentucky a chance to win each week.
Yet this game, in which Kentucky is a 3-point favorite, it's all about which team wins the line of scrimmage.
It's where the Wildcats have dominated, led by SEC rushing leader Christopher Rodriguez Jr. He's averaging 124.2 yards and three TDs compared to LSU's team rushing average of 70.6 yards and two TDs.
And it's where LSU has suffered.
Unlike Kentucky, which has started the offensive line combination each game including LSU transfer Dare Rosenthal, the Tigers' offensive line has been in disarray starting with a series of preseason injuries.
Left guard Ed Ingram and center Liam Shanahan are the only offensive linemen to start in every game this season. The Tigers have started four different players at left tackle, three at right guard and two at right tackle.
The lack of continuity has contributed to the worst rushing team in LSU history so far.
It has also put all the pressure on sophomore quarterback Max Johnson to carry the offense. His 293.8 yards per game passing accounts for 77.7 percent of the Tigers' 377.8 yards total offense and his 16 TD passes are 84.2 percent of LSU's 19 total TDs.
In last Saturday's 24-19 home loss to Auburn, Johnson led LSU to a TD on the first possession of the game. But LSU had to settle for four Cade York field goals the rest of the night as Auburn turned up the pass rush on Johnson, whose passing completion percentage cooled.
LSU basically abandoned its running game vs. Auburn. Yet Orgeron vowed it won't happen at Kentucky.
"I believe in a commitment of running the football," he said. "We had some very physical drills this week. I really showed some stuff I thought the offensive line was doing very well. I showed them some physicality of them knocking people off the ball in practice. We changed a couple of formations on offense that I think will help us get more physical."
Kentucky's challenge is overcoming its history of losing the week following a monumental win. Last Saturday, the Wildcats upset No.10 Florida 20-13.
Stoops believes his team will approach the matchup with LSU with the proper frame of mind.
"We've been humbled already this year with our play," Stoops said. "I always tell our players that you're going to get an opportunity to be humbled every seven days. We have been humbled. Fortunately, we were able to get away with a win."