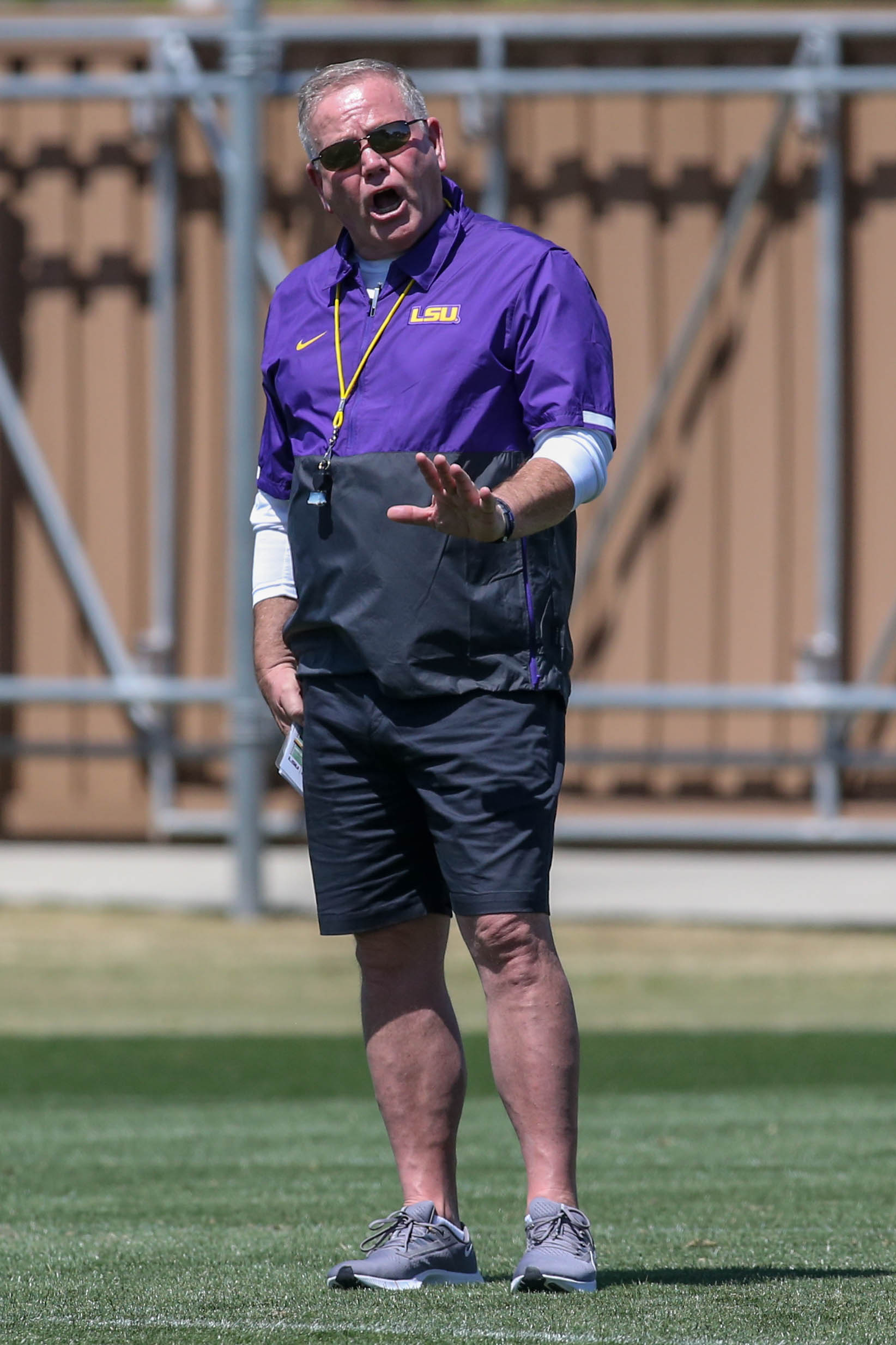 It perhaps was Brian Kelly's biggest worry going into spring practice.
Two months later, and a week-and-a-half after LSU's April 23 spring game, LSU's new head football coach seems much less concerned about his most-problematic position ground.
"I think the offensive line is going to work out better than I thought," Kelly told Tiger Rag. "I thought it was going to be an unmitigated disaster.
"I think it's moved up to being a position where we can compete. It's not going to be a strength of the team, but I was worried that that was going to be a situation where we couldn't overcome some things.
"But," Kelly added while in Lafayette on Wednesday night as part of LSU's offseason "Coaches Caravan, "I think we're going to be able to put something there that will be much better than I thought."
Perhaps that's because LSU's offensive line is getting a big boost, according to Kelly.
"We're going to get another player back that played a lot last year – he was just readmitted into school today – (and) that played a lot of football, that's an 'NFL player,' " Kelly told Tiger Rag in exclusive interview.
Kelly didn't name the player he was referencing but did address the possibilities his presence will present.
The addition is expected to be 6-foot-5, 365-pounder Anthony Bradford, who for unexplained reasons did not take part in spring practice and whose 2021 season was inexplicably cut short in late October.
Bradford's likely return is much needed for a line that's lost a lot.
Left guard Ed Ingram (second round, Minnesota), right tackle Austin Deculus (sixth round, Houston) and right guard Chasen Hines (seventh round, New England) were among 10 Tigers selected in last week's NFL Draft, including cornerback Derek Stingley Jr., who went to Houston as the No. 3 overall pick.
One other 2022 offensive line starter, center Liam Shanahan, signed with New England as an undrafted free agent.
   LSU finished the spring with high school early enrollee Will Campbell starting at left tackle, East Tennessee State transfer Tre'Mond Shorts in Ingram's old spot at left guard, versatile but relatively inexperienced Charles Turner at center, Florida International transfer Miles Frazier at right guard and often-injured Cam Wire (a four-game starter in 2021) at right tackle backed up by Marcus Dumervil.
LSU moved Campbell to tackle shortly after spring practice opened, and Kelly immediately loved the options that presents.
"He gives us a lot of flexibility," Kelly said.
Wire started four games at left tackle last season, including 6-7 LSU's season-opening loss at UCLA and its Texas Bowl loss to Kansas State. Garrett Dellinger, who was injured and out for the spring, started three games there last year. Xavier Hill, who played as a redshirt freshman last season and who remains with the team, started two non-conference games at the spot in September.
Bradford started the other four mid-season games at left tackle, in addition to opening against UCLA at right guard as injuries forced former coach Ed Orgeron to mix and match.
A product of Muskegon High in Michigan, the versatile Bradford also appeared in three games with no starts as a freshman in 2019 and seven games, mostly on special teams, in 2020.
Dellinger, Kelly said again Wednesday night as did last month as well, is going to be back this season too.
"So," Kelly said, "I think there's pieces there that are going to help us. Much better than I thought."
Getting back the player Kelly did not name returns another key piece in a puzzle that not long ago seemed simply unsolvable.
"He's eligible," Kelly said. "I think he makes us better. He's got a chance to be a starter.
"Now the trickledown is all those (other) guys now become quality backups for us. Now your two tackles are settled, and now guys can start to move and compete for those inside jobs. … It just creates a better situation for us."
RUNNING BACK BY COMMITTEE?
LSU's running backs room was so crowded in the spring that one contender for playing time, freshman Corey Kiner, transferred to Cincinnati to join his hometown Bearcats, before the Tigers spring ending-scrimmage was even played.
The rest remaining – John Emery Jr., who missed all last season due to academic eligibility, along with Tre Bradford, Josh Williams and Armoni Goodwin – all made favorable impressions at various points.
But none emerged as LSU's certain starter.
"I thought the running backs ran hard," Kelly said. "I don't think there's one guy that kind of says, 'I'm the guy.' "
Kelly, who'll add Penn State transfer Noah Cain in the offseason, was asked Wednesday by Tiger Rag if, upon further reflection since spring drills ended, he'd be willing to use a running back by committee approach in 2022.
"I'm OK with that," he said. "I thought there was physicality and toughness. Look, if at the end of the day there is toughness and physicality at that position, and then there's responsibility – meaning they're going to pick up blitzes and they're going to do things the right way – you can get by with that from a running back position."
NEW TIGHT END WANTED
Kelly was pleased with the play of tight end Kole Taylor (four catches, 22 yards) in the spring game.
But he's still seeking depth for a position group whose only other scholarship tight end besides Taylor is Jack Mashburn.
Kelly is hopeful the NCAA transfer portal can provide it.
"We're in the portal for another tight end," he said Wednesday night. "We'll see how that finishes out."
Also working at tight end in the spring was former LSU baseball pitcher Nick Storz, who last played football in 2020, when he appeared in 10 games with one start before taking so-called "medical retirement."