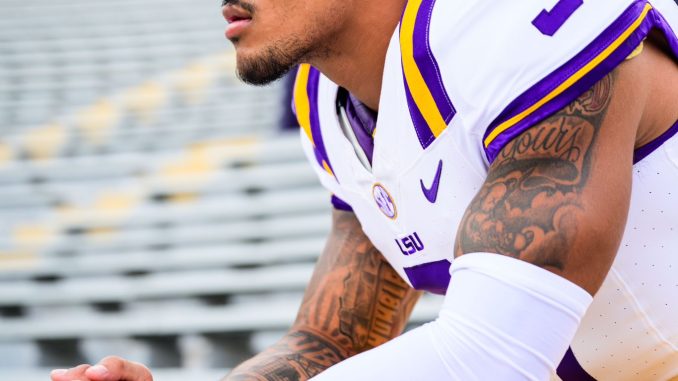 LSU football coach Brian Kelly said the awareness centered around senior cornerback Greg Brooks Jr. and his battle from a rare form of cancer has grown in scope.
Brooks, 22, had to have emergency surgery Sept. 15 to remove a tumor located between his brain and cerebellum at Our Lady of Lake Health Hospital in Baton Rouge. He was diagnosed with medulloblastoma which affects between 350 to 500 people in the United States – mostly children – according to the Cleveland Clinic.
Kelly said on the Paul Finebaum Show on Tuesday that Brooks had been transported to St. Jude Research Hospital in Memphis, Tennessee where he will need an additional surgery.
He also said that the Tiger Athletic Fund's helped generate in excess of $100,000 for the Greg Brooks Victory Fund to help offset rising medical costs.
LSU has added a No. 3 decal (Brooks' jersey number) to the backs of its helmets. Arkansas, where Brooks spent the first three years of his career, also added a similar sticker to its helmet along with last week's opponent Missouri.
"You know our guys have Greg Brooks T-shirts," Kelly said Wednesday during the SEC Coaches' Teleconference. "We have a number of them that visited him virtually every day in the hospital. Every day that goes by there's not a day that we don't think about Greg and his family. I think what has been inspirational, heartwarming has been the national support and in particular within the SEC. You know, Arkansas wore the No. 3 on their helmet. We went up to Missouri, Missouri did the same thing.
"He's now been moved over to Memphis and the head coach from Memphis (Ryan Silverfield) reached out and it's just been heartwarming to see this kind of, you know, national support," Kelly said. "But I think our players individually have been impacted, knowing that in this world of so many distractions, they realize how lucky they are to play the game. And I think that's probably been the single most important thing that they've recognized. That it can be taken away from you."
Redshirt sophomore cornerback Sage Ryan said Brooks' ordeal has given him a new perspective on life.
"It makes you realize how good you have it in life when you have a brother that goes down or is battling with something," Ryan said after Tuesday's practice. "I'm blessed and thank God every day for the position that I'm in. We play for 3.
"Just to wake up every day and be healthy, to be able to walk and talk and feel stuff," Ryan said. "It's just amazing. We're praying for him and hope the doctors have the knowledge they can to treat him right. There's much love there for him."
Here's what else Kelly had to say:
Opening statement:
"We really bounced back after a difficult loss the previous week on the road against a very good team. We had to go back on the road against an SEC opponent Missouri, outstanding offensive team in a difficult environment to play, but the guys showed great resolve and came back and won the football game. Now we would go with our fifth weekend row in the SEC and get a chance to play at home against a really well-coached, physical football team in Auburn. (Coach) Hugh Freeze is an outstanding football coach and (Philip) Montgomery is an outstanding offensive coordinator. He's done a great job wherever he's been in terms of putting together offenses, so this is a very difficult offense to defend. The quarterback situation (Payton Thorne) gives you great versatility in terms of being able to run it and then it's just a physical group. Their defensive line is as good as we're going to see probably in the country. It's another difficult SEC battle. So, our guys excited about the opportunity and we're excited about getting back into Tiger Stadium."
What have you been seeing from Jayden Daniels this season?
"His development has been well chronicled, though. He's done all the things necessary to put himself in this position. He is working his tail off, and it's great to see him have this kind of success and our offense and he's really been driven."
Have you ever coached a quarterback like Daniels in your career?
"I've had quarterbacks that have had different skill sets that have done great things. His speed, his durability, his toughness puts him up there with some of the great ones. Daniels has passed for over 10,000 yards and rushed for over 2,000. I've coached two guys in this category and Daniels clearly is the guy that separates himself with his speed and ability to make big plays with his feet."
Did take a step toward developing an identity for forcing turnovers?
"Turnovers, tackles for loss, sacks; those things become contagious, and we're hoping that we catch a little bit of that. You've got to make a couple of plays and we hadn't made any plays up to this time other than interception here we had against Arkansas. These are the kinds of things that get a defense feeling good about themselves and gain some confidence. So again, I think it comes down to being in the right place, being fundamentally sound and then obviously making plays when you have an opportunity. Earlier in the year against Florida State there was a ball that could have been an interception that could change the complexion of the game. We made these plays this past weekend, so we need to continue to do that."
Role of Joe Sloan in Jayden Daniels' development this season?
"He's with the quarterbacks every day. He's with Jayden and his relationship with him and his development in the offseason as well is integral. I think Jayden would tell you that the relationship that he has with Joe has allowed him to grow as a quarterback, and as a person, and that's what you're looking for as a quarterback. You want to see growth and it was last year at this time when he threw for 80 yards (against Auburn). There's been an incredible growth in terms of development."
What's it like preparing for Auburn's offense after facing Missouri?
"You know each offense has its identity and this one is a little bit different than that (Missouri) you're going to see. Obviously, Peyton Thorne and you're going see (Robbie) Ashford and he's an outstanding runner. You have got to defend the quarterback much more in terms of a running threat. And in the passing game, I would say that there's a little bit more similarity in the passing game, but the running game is a lot more unique. (Against) Missouri you're dealing with counter; a quarterback counter and you know their offense in terms of running. When you talk about two offenses, I think it's more like a combination of Mississippi and Missouri in terms of getting ready for this Auburn offense.
What changes has Pete Jenkins been able to make in a short period of time?
"It's been great for me just to spend time with him and pick his brain about the line play, and the things that we need to do to continue to develop and coach our players on a day-to-day basis, I know our players played better on Saturday because of some of the things that Pete was able to help us with from a technical standpoint. There's a long way to go here and you know, we're going to have to continue to work on consistency, but I think just having somebody with his wealth of experience where you can get into drill work and technique during the season is extremely helpful when everybody is really focusing on game planning. We're focusing a lot more with our defensive line on technique work and I think that's going to be beneficial for us."