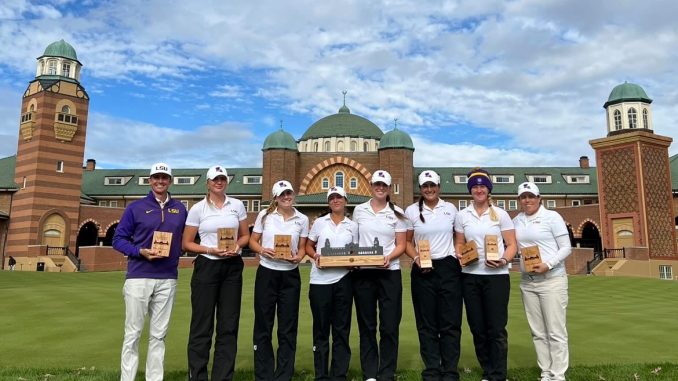 Led by the performances of co-medalists Ingrid Lindblad and Latanna Stone, the nationally ranked LSU women's golf team captured the team title Tuesday at the Illini Women's Invitational at famed Medinah Country Club.
The Tigers, ranked as high as No. 1 in one major poll, won its first tournament of the fall and turned in its second top two finish in three outings.
LSU had rounds of 275-287-275 for a 27-under par total of 837, nine shots ahead of Ole Miss at 18-under 846.
"It was a great win for us at a great venue," said LSU women's golf coach Garrett Runion, who picked up his 12th team title in his sixth season. "Anytime you can go wire-to-wire to win it, it makes it more challenging but it makes it more rewarding. I was really proud of how focused (the team) was this week. They were really in control of their games and just played really solid. It was cold and windy and they didn't let some off shots affect them. They kept their heads down and kept grinding."
Stone and Lindblad both shot final rounds of 4-under 68 to finish in a tie for first at 9-under par 207. Stone had rounds of 69-70-68, while Lindblad posted rounds of 67-72-68.
For Lindblad it now gives her an active streak of 14 consecutive rounds of par/under dating back to the final five rounds of a season ago.
Stone won the third college medalist honor of her career, all coming in the last 10 tournaments dating back to the first tournament of the spring 2023 season. She won the Nexus Collegiate in the Bahamas to open the 2023 calendar year and then was the co-medalist at the NCAA Regional in Palm Beach Gardens, Florida.
Lindblad is co-medalist for the second time this season and for the 13th time in her LSU career. It is believed that ties her with Arkansas' Stacey Lewis, the LPGA star and recent Solheim Cup captain, who also won 13 times at Arkansas between 2005 and 2008.
"Latanna and Ingrid shooting matching 68s to tie individually was pretty impressive," Runion said. "They were both excited they tied and more excited that the team won."
For the second time in the tournament, LSU counted four under par scores. Junior Aine Donegan birdied three-of-her-final four holes to finish at 3-under 69 and senior Carla Tejedo fired five birdies in a 2-under 70.
Both Donegan and Tejedo finished tied for ninth in the tournament at 4-under par 212. Donegan had rounds of 71-72-69 and Tejedo posted 69-73-70.
LSU finished 34-under on the par 5 holes to lead all teams and also led on the par 3 holes at 4-over par. The Tigers had 66 birdies, 13 more than any other team in the event.
"We really played the par 5s well and that may have been the difference," Runion said. "All-in-all a great week. Everyone played well."
LSU wraps up its fall in Mississippi at The Ally at Ole Waverly Golf Club in West Point, Mississippi, Oct. 23-25.
ILLINI WOMEN'S INVITATIONAL
Medinah Country Club – Medinah, Illinois
Final Team Results – 288-864
1 LSU 275-287-275 – 837 -27
2 Ole Miss 284-289-273 – 846 -18
3 Northwestern 291-277-282 – 850 -14
4 San Jose State 288-286-280 – 854 -10
5 Oklahoma State 294-286-290 – 860 -4
T6 Georgia 292-279-293 – 864 E
T6 Houston 290-292-282 – 864 E
8 Ohio State 288-287-291 – 866 +2
T9 SMU 297-277-294 – 868 +4
T9 Alabama 299-281-288 – 868 +4
11 Illinois 292-299-287 – 878 +14
12 Oklahoma 299-294-287 – 880 +16
13 Texas Tech 293-305-295 – 893 +29
14 TCU 300-297-298 – 895 +31
15 UNCW 301-302-300 – 903 +39
Individual Top 5 (Par 72-216)
T1 Latanna Stone, LSU 69-70-68 – 207 -9
T1 Ingrid Lindblad, LSU 67-72-68 – 207 -9
T3 Isabel Sy, Illinois 70-70-68 – 208 -8
T3 Faith Choi, Ohio St. 70-71-67 – 208 -8
5 Tessa Kremser, San Jose St. 67-74-69 – 210 -6
LSU Scores
T1 Latanna Stone 69-70-68 – 207 -9
T1 Ingrid Lindblad 67-72-68 – 207 -9
T9 Aine Donegan 71-72-69 – 212 -4
T9 Carla Tejedo 69-73-70 – 212 -4
T37 Taylor Riley 70-73-76 – 219 +3
T45 Edit Hertzman 74-69-78 – 221 +5