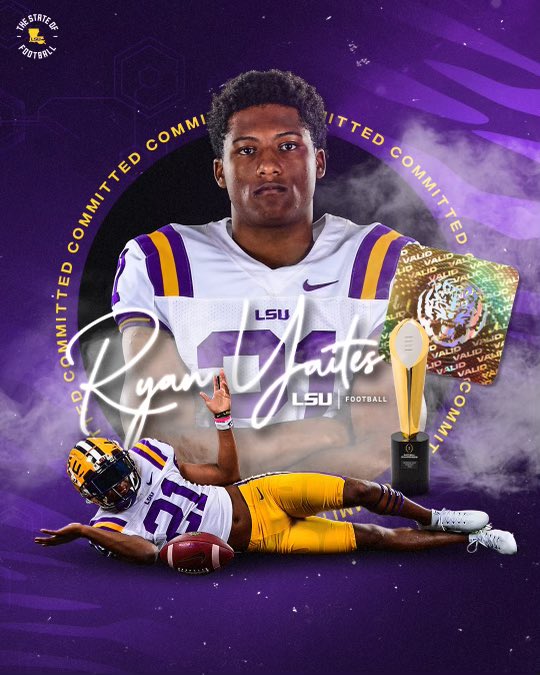 Within the span of three days LSU continued to stack up top-end defensive backs in its Class of 2023.
After securing a pledge Wednesday from Michael Daugherty of Loganville, Ga, the Tigers picked up a commitment Friday from four-star safety Ryan Yaites of Denton, Texas-Guyer High School.
The 6-foot-2, 190-pound Yaites, the nation's No. 73 prospect by Rivals.com, chose LSU over a list of finalists that included Cal, Ole Miss and Texas Tech. First-year defensive backs coach Kerry Cooks has served as his lead recruiter for the Tigers.
"I actually met (head) Coach (Brian) Kelly, Coach Cooks and most of the staff last summer on a couple visits I took to Notre Dame before they came to LSU," Yaites told TigerDetails.com. "I used to have a call with Coach Kelly each week. That relationship just carried over when they offered me again."
The addition of two four-star safeties this week has pushed LSU's Class of '23 into the Top 10 for On3.com at No. 8, while Rivals.com has the Tigers No. 13 and 247Sports at No. 16.
With a transition to a new coaching staff where Kelly was officially hired Nov. 30, LSU's current recruiting class has been slow to develop but now has four commitments following Yaites' commitment. The Tigers previously had wide receiver Omarion Miller of North Caddo committed under former head coach Ed Orgeron, but Kelly has since added tight end Mac Markway of St. Louis-De Smet, Daugherty and Yaites.
"With LSU, the environment is crazy and it's beautiful," Yaites told TigerDetails.com. "In Baton Rouge, you got the food, too and that's one of my favorite things. With the guys, Brian Kelly, I'm talking to them every couple of days."
Yaites said in his discussions with Cooks that LSU projects him to play safety but because of his versatility could possibly play other positions in the secondary.
He had 42 tackles with eight pass breakups last season for Guyer High (14-2) which reached the Texas 6A Division II state championship game against Austin-Westlake. He was also a member of the all-district first team.
Yaites is the nation's No. 7 rated safety by 247Sports (No. 11 by Rivals) and No. 11 prospect in Texas (No. 24 by 247Sports). He's already ticketed to play in next year's Under Armour All-American Game in Orlando and made an unofficial visit to LSU for its junior day on March 5.
"It's really the consistency of talking," Yaites told On3.com. "Going into the beginning of the process, I wanted to feel like family, and I wanted to have a solid foundation and that's what LSU provides. It's definitely special and I'm glad to be a part of it. Coach Cooks wants me at safety and it's the SEC, a big-time place. I can play anywhere and wherever will get me on the field soonest. I'm ready to come in, do what I need to do and get on the field as soon as possible."