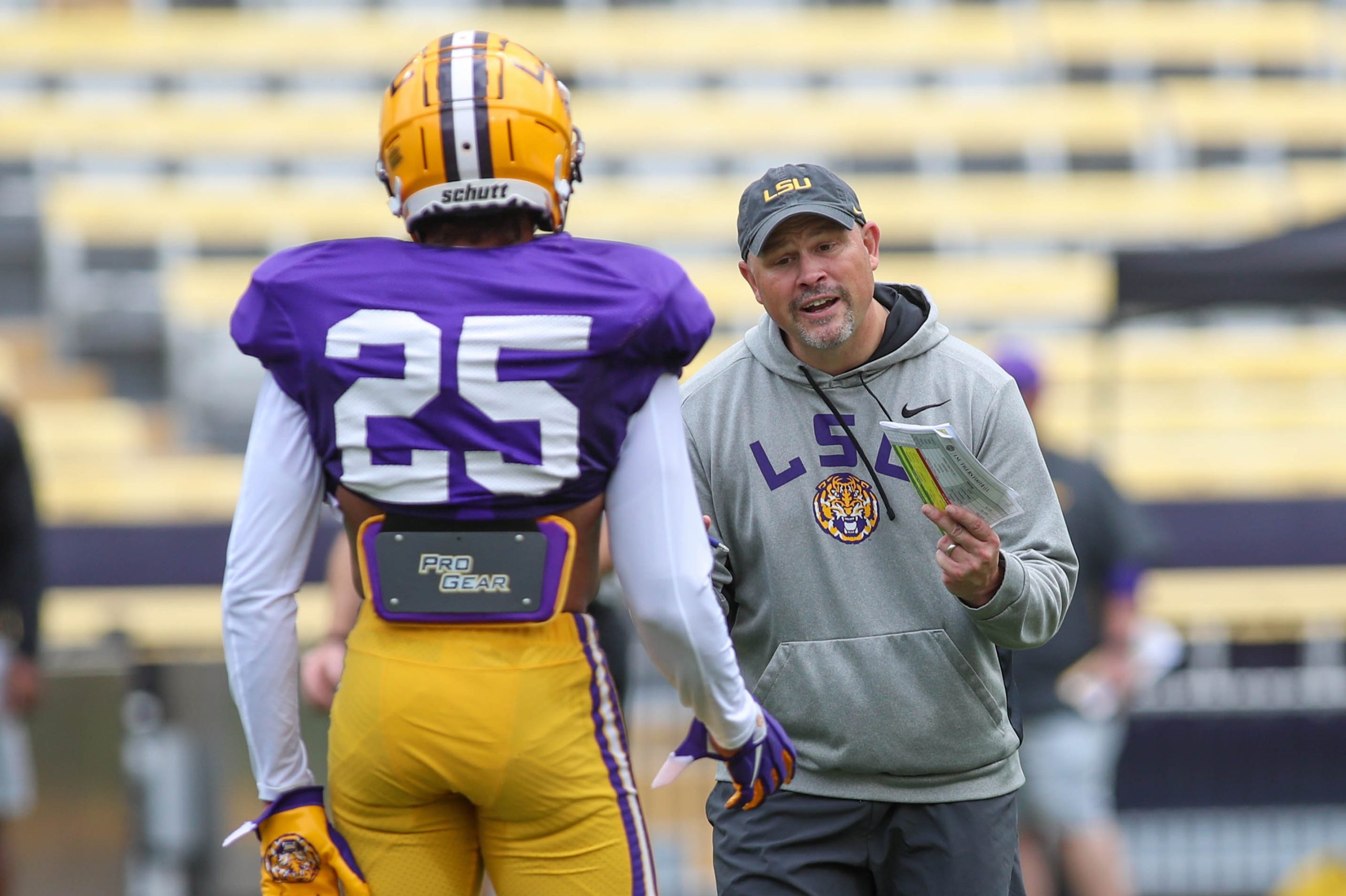 Three years of coaching one of the elite franchises in the NFL taught Matt House about the ability to help the Kansas City Chiefs reshape their defense into a Super Bowl winner in 2019.
House appeared content on remaining in Kansas City where he served as linebacker's coach, a place where winning remains more than a byproduct of an electric offense that scores bushels of points. The Chiefs have also made strides defensively where they ranked among the league's top five defenses in points allowed (20.4) and takeaways (28).
But when first-year coach Brian Kelly began assembling a staff in LSU after becoming the winningest coach in college football, including the last 12 at Notre Dame, the 42-year-old House jumped at the opportunity to get back into college football where he had five years of experience as a defensive coordinator.
Truth be told, though, House said he never had such a chance to check off so many boxes when it came to following Kelly to LSU which will culminate its spring practice with a scrimmage at 1 p.m. Saturday in Tiger Stadium.
"You've got an elite place," House said during a recent post practice news conference with reporters. "You've got an elite state of talent. You've got an elite head coach. You have elite tradition here on defense. It's exciting to be in the process of building a defense."
Never during his three seasons at Kentucky, the last two as defensive coordinator, did House coach against LSU but he's well-schooled in the program's ability to showcase tenacious defenses. The Tigers have featured strong defensive units on all three of their NCAA championship teams and are looking to regain a measure of redemption after having defenses ranked at or near the bottom in the Southeastern Conference in points allowed, passing defense and total defense under two different defensive coordinators.
"This is a process," House said. "The building part of a process is fun and right now we're at the ground level. We're trying every day to establish habits that grow into traits and we're working through that every day."
House said the purpose of the spring wasn't to install an entirely new defense but to improve in certain areas and build upon them.
The Tigers return three of their four leading tacklers with senior linebacker Micah Baskerville (83 tackles, 2 sacks, 3 PBUs), senior safety Jay Ward (71 tackles, 2 interceptions, 4 PBUs) and junior defensive end B.J. Ojulari (55 tackles, 11.5 tackles for loss, 9 QB hurries, 7 sacks).
"He has to keep improving and he will," House said of Baskerville. "I told them not to ready too much into who's running out there with the first group and who runs out there with the second group right now. Don't look at where you are in the line. The reality is where you line up against Florida State because we're going to need more than 11 of you, I can promise you."
LSU allowed 26.6 points, 377.5 total yards with 236 of those through the air in 2021 season that ended 6-7 with a loss (42-20) to Kansas State in the Texas Bowl.

"You better be able to run on defense," House said. "You better be able to play with positive energy. You better be able to focus when you're tired."
LSU's tried to speed up the process of improving its team and through the NCAA transfer portal hit on several key areas to revamp its defense.
The Tigers, who were depleted in the secondary, added SEC signees Greg Brooks Jr. and Joe Foucha of Arkansas and both have enjoyed impactful moments during the spring along with Mekhi Garner of UL-Lafayette. Jarrick Bernard-Converse of Oklahoma State suffered a foot injury and has missed the majority of spring but is someone who figures into the team's plans this fall along with recent cornerback signee Sevyen Banks of Ohio State.
"In spring ball we're trying to install concepts," House said. "We're not trying to put our whole defense in. We're trying to get good at certain things. We've got a lot to clean up."