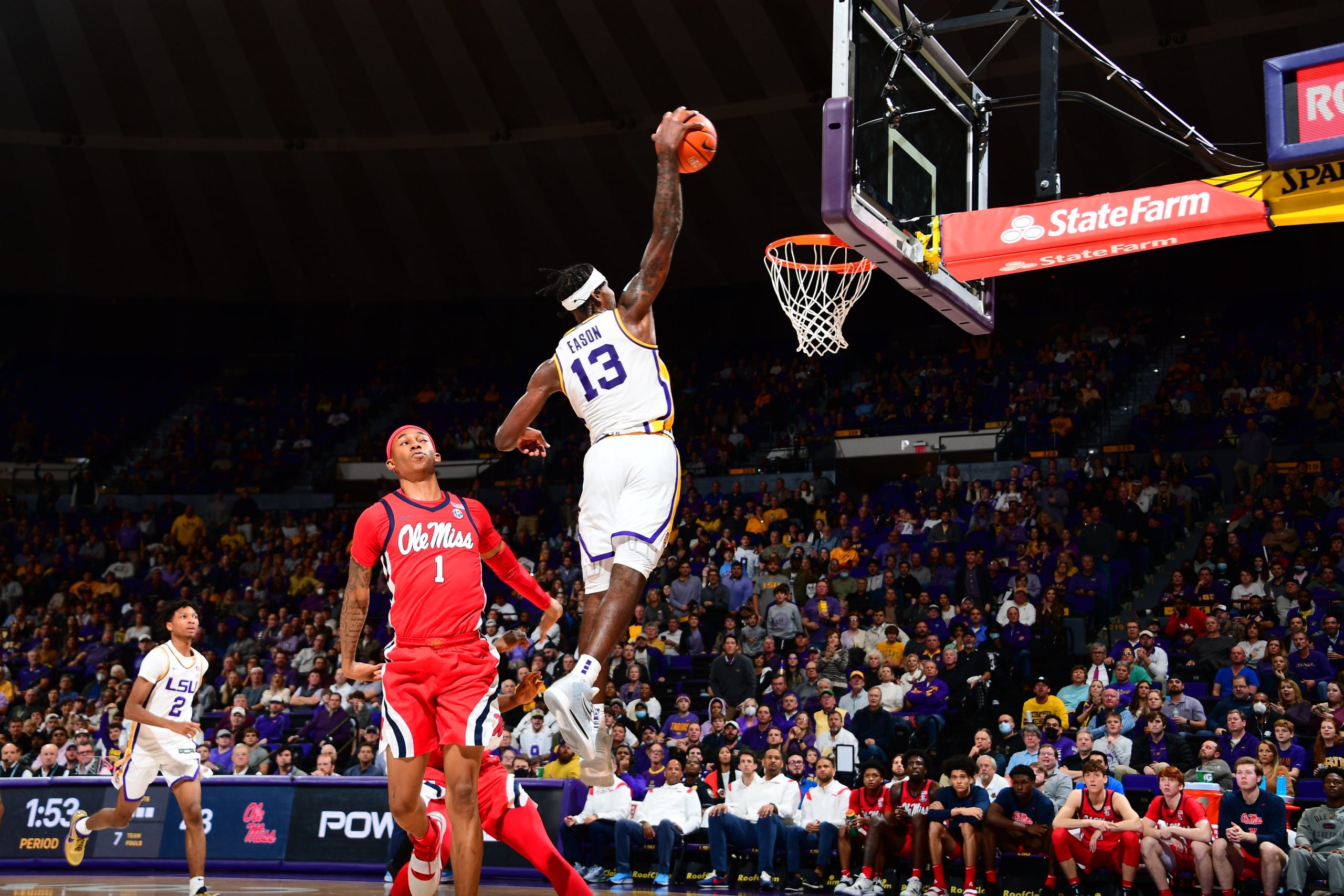 At the beginning of SEC play, LSU was primed to challenge Auburn in the league standings. Aside from a December loss to those Tigers, a place among the league's top-4 seemed assured after wins over Kentucky and Tennessee
Until the bottom fell out with injuries.
LSU lost point guard Xavier Pinson to a knee sprain against Tennessee on Jan 8. Forward Darius Days turned an ankle in a 70-67 loss at Alabama on Jan. 19. Nothing has been the same sense.
The Tigers, now looking up at the top of the SEC standings, haven't finished below third in the conference since Will Wade's first season as coach in 2018.
"I told our guys the best views come from the toughest climbs," Wade said.
The climb got steeper after Ole Miss (12-10, 3-6 SEC) stunned No. 25 LSU (16-6, 4-5) on Tuesday night at the Pete Maravich Assembly Center. The Rebels, who were shooting 33 percent from 3 on the year, went 9-for-21 (.429) in a 76-72 win.
After spotting Ole Miss a 23-point lead in the first half, LSU clawed to within two points with 1:27 to go. The Rebels scored seven points over the last 65 seconds to ice the game.
The Tigers have lost five of their last six games.
"For the first 10 minutes of the first half, it just wasn't there," Days said. "We missed a couple switches and they were very comfortable. It was just some things that we need to work on and we'll get better at. We've got time but we have a lot of work to do."
Pinson returned to the starting lineup on limited minutes. Days led LSU with 21 points and 14 rebounds. Forward Tari Eason had 16 points and five rebounds.
"(Pinson) couldn't move, so we couldn't press or do what we needed to do," Wade said. "He's been better in practice and is continuing to improve. We just have to continue to move him forward and get him closer to where he feels more comfortable."
In the first game without Pinson, LSU escaped Florida with a 64-58 win on Jan. 12. Arkansas beat the Tigers 65-58 on Jan. 15, their first loss of the season at the PMAC, which started a three-game losing streak that encompassed Alabama and the rematch with Tennessee in Knoxville.
Wade turned to Eric Gaines at point guard, and while he showed flashes, the offense lost the continuity it had with Pinson. Turnovers, a problem even before Pinson was injured, escalated further. LSU's assist to turnover ratio (.847) dropped to the third-worst in the SEC.
"Coach always talks about free throws and taking care of the ball in the last six minutes of the game," Gaines said. "I have no excuses for it. I just have to be better."
Officiating drew Wade's wire during the losing skid. LSU has been whistled for 20 or more fouls in every conference game this season, a product of the switching man-to-man defenses that Wade favors.
Wade drew a technical foul in the loss at Alabama after a Gaines layup was pinned against the backboard and didn't draw a goaltending call. LSU rallied to within one point in the second half.
His frustration lingered through post-game interviews.
"It was pinned against the backboard. It didn't look like it — it was," Wade said. "I told our guys I got the technical because I've got to stand up and have their back. We can't keep having this happen."
Reinforcements weren't enough for LSU to leave Fort Worth with a second consecutive win. With Pinson and Days back on the floor, the Tigers lost 77-68 at TCU on Jan. 29.
Pinson, who missed five games with a knee injury, made two free throws and played only seven minutes.
Missed layups were the biggest concern exiting TCU. While the Tigers only made 42 percent of their layups, the Horned Frogs made 52 percent of their midrange jump shots.
Following the TCU loss, LSU's coaching staff spent an hour and a half on Zoom with an NBA trainer who specializes in finishing at the rim.
LSU gutted out a 70-64 win over Texas A&M on Jan. 26 at the PMAC, snapping a three-game losing skid in SEC play. The situation looked dire when Eason exited the game with cramps.
Guard Brandon Murray scored 21 points off the bench while Gaines finished with 16 points. Reserves Alex Fudge (27), Justice Williams (22) and Shareef O'Neal (20) played extended minutes off the bench.
O'Neal, the son of LSU legend Shaquille O'Neal, made his season debut in the win over Florida.
"I thought those guys stepped up and made plays and made things happen," Wade said. "I was very proud of those guys. We still have a lot of growth to go so we have to play consistently and play back-to-back but I was very proud of those guys."
The schedule lightens up as the SEC Tournament approaches in March. LSU swaps Auburn and Tennessee for Georgia, Missouri, South Carolina and Vanderbilt over the final stretch.
The toughest game is a Feb. 23 visit to Kentucky at Rupp Arena.
"We're just going to stay together." Days said. "We work hard around here and we're going to keep stacking days. Some of the guys are banged up and that shouldn't be an excuse, but at the same time, when we get back healthy, we're going to get back rolling.
"Everybody that's counting us out, we'll see them again."