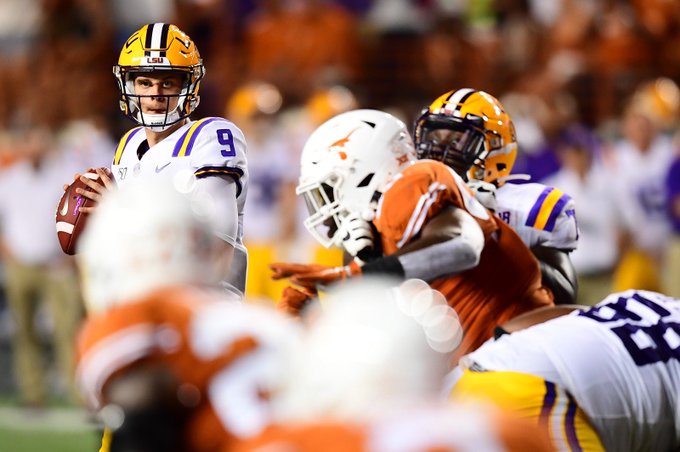 AUSTIN, Texas — Leading by just six, LSU faced third-and-17 with the very real of having to punt the ball back to a Texas offense its gassed defense had been unable to slow down since halftime.
Joe Burrow took the snap and surveyed the field as the pocket closed in around him. As Ed Orgeron freely admitted, LSU's defense was in no shape to be counted on for a game-saving stop. The game was on the shoulders of Burrow and his talented crew of receivers.
The Longhorns dialed up a zero blitz—meaning six defenders were coming and it was man coverage across the board. A clutch blitz pickup from Clyde Edwards-Helaire bought Burrow just enough time to wait for Justin Jefferson, his go-to guy, to beat his man and come open across the middle.
Burrow climbed the pocket and fired just before being swarmed under a sea of burnt orange. Jefferson made a move up-field and was gone for the 61-yard touchdown that wound up the difference in No. 6 LSU's wild 45-38 win over No. 9 Texas at Darrel K Royal-Texas Memorial Stadium on Saturday night.
"Thank God," a victorious Orgeron smiled after the game. "I knew when they get the ball back, we couldn't stop them. Just being honest, we couldn't stop them. If they got the ball back, I think it would've been a different story. It was a phenomenal a call, phenomenal catch, a phenomenal play."
"I got it out in front of him and he made a play for me," Burrow said. "The rest is history."
The play was dialed up by LSU offensive coordinator Steve Ensminger, who Orgeron says is the man who pressed him to keep the gas pedal down on that final offensive drive.
Orgeron asked his veteran play caller if he wanted to go to the four-minute offense and milk the clock with a six-point lead. Ensminger didn't. His offense has riddled the Texas defense for the better part of three quarters, so why stop then?
LSU scored on seven of it's final eight possessions, including four in a row once Texas cut the lead to two early in the second half. Sam Ehlinger and the Longhorns never stopped coming, but Burrow and the Tigers had an answer every single time.
So instead LSU was in the shotgun and dialing up deep balls on first down. That alone is kind of surreal, let alone the part where it came in a road game against a top-10 foe.
"LSU. You guys aren't used to that one, huh," Burrow quipped. "It's definitely different from what we did last year. Last year we would've tried to pound the run game and eat up that clock. You saw it last year against Texas A&M. We didn't get the job done and they ended up scoring."
Whether it was Nick Saban, Les Miles or Orgeron, LSU has been a program that wins with dominant defenses and a downhill running game dating back to 2000.
There's been occasional signs of life from the often-maligned passing game over the year, but nothing that would suggest the Tigers capable of emerging victorious from a Big 12-style shootout in which it's vaunted defense got cut to ribbons in the second half.
"I was just telling some guys in the locker room that I'd never seen that many passing yards looking up on the scoreboard," center Lloyd Cushenberry said. "It's amazing to be a part of. We executed in all areas of our offense and it was just fun to be a part of."
"It's crazy how much this offense has turned around in one year," Jefferson added. "To be honest, this new offense is going to be crazy for us. We're ready for any team to come through. We've just got to stay focused and continue to do what we have to do."
Burrow is the reason for this offensive renaissance more than Ensminger, Joe Brady or LSU's three-headed monster at wide receiver. They all deserve credit, but it's Burrow who is erasing the stigma of mediocre-at-best quarterback play at LSU.
Last year he was a competent quarterback leading a gritty, hard-nosed team. Now he's blossoming into a full-blown star who leads one of the most dynamic offenses in the country.
Burrow has always had that kind of belief in his own abilities. Dissecting Georgia Southern in the opener was eye opening in terms of the things LSU was doing schematically.
Throwing for 471 yards and four touchdowns to win a top-10 shootout in front of a hostile crowd is a national declaration that Burrow belongs among the elite at the position.
"I think I always kind of knew it," Burrow said. "I think everybody is starting to see it a little bit, but people that've been around me, and myself, always kind of felt that way."
Of course he didn't do it alone. Jefferson, Ja'Marr Chase and Terrace Marshall became the first trio in program history to all surpass the 100-yard mark in the same game. Clyde Edwards-Helaire chipped in 102 total yards and a key score. Even the offensive line adjusted after a shaky start.
LSU will need to play better defense if it's going to prove itself a contender on the level of Clemson and Alabama. The pass rush was spotty, the tackling was inconsistent and the coverage busts were far too frequent.
That's not the kind of thing you're used to seeing from a program that prides itself on being DBU. But, at least for one night, it was the LSU offense that played the hero in a statement win that should resonate through a national stage.
That in itself is pretty amazing, too.