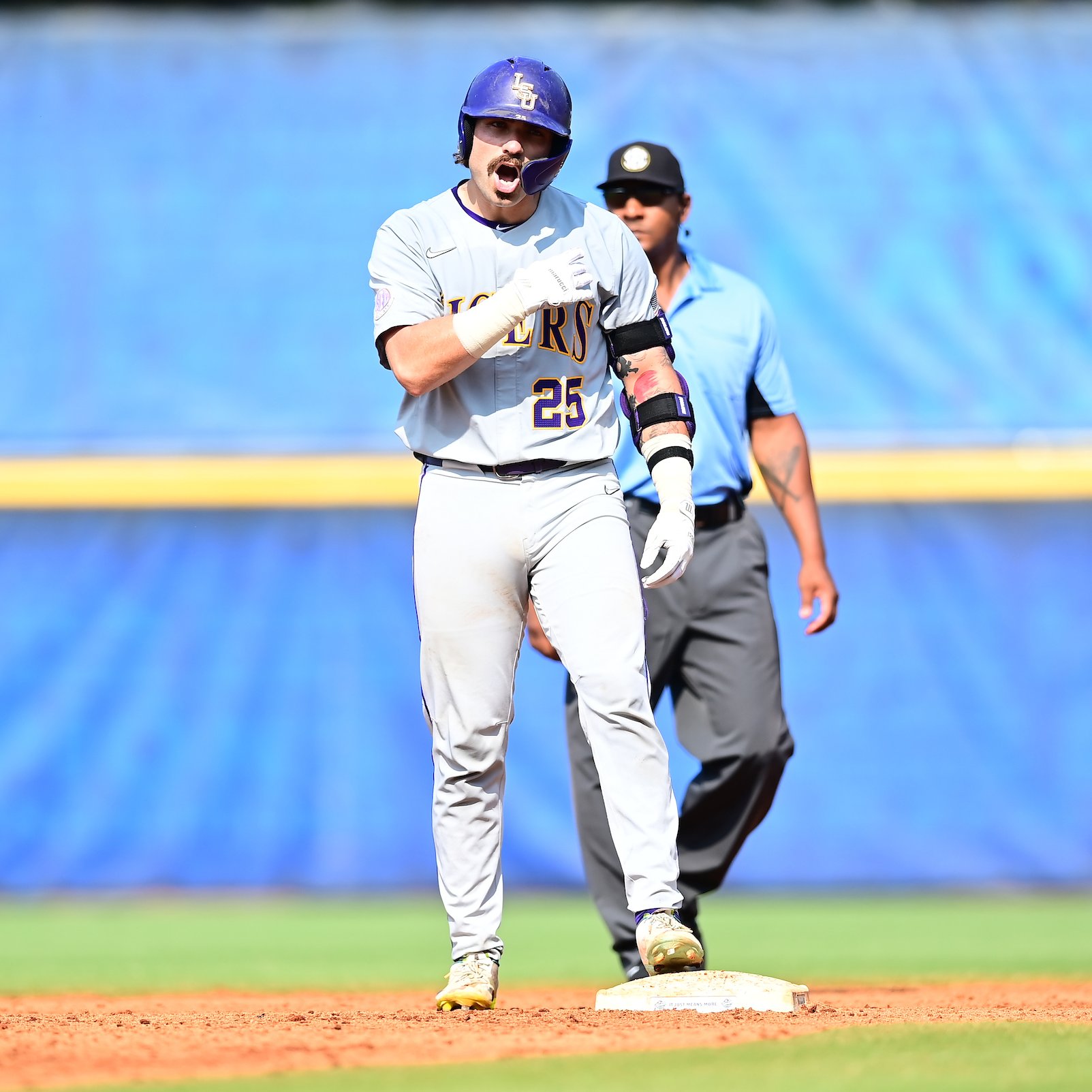 The preseason favorite to win the College World Series, No. 5 LSU, found out on Sunday night where that route to Omaha begins for it – in Baton Rouge, as expected. On Monday, the Tigers found out who they will be hosting.
LSU (43-15) has thought for a while it would be hosting postseason baseball in Alex Box Stadium and on Monday the Tigers found out they'd be the No. 5 seed in the NCAA tournament.
In the Baton Rouge regional, which gets started on Friday at 2 p.m., LSU will face No. 4 seed Tulane in the first game, while No. 2 seed Oregon State and No. 3 seed Sam Houston will also square off at 7 p.m.
The LSU-Tulane game will be televised on ESPNU and broadcast on the LSU Sports Radio Network (98.1-FM).
Earning a top eight national seed ensures that the road to Omaha must go through Baton Rouge should the purple and gold win their regional.
On the LSU side of the bracket is No. 12 seed Kentucky, the other regional hosting site that also consists of Indiana, West Virginia and Ball State. One of those four teams will be playing in the super regional round against the winner of the Baton Rouge regional.
LSU's coming off a 1-2 week in at the SEC Baseball Tournament in Hoover, Alabama where they found out a little bit more about the pitching they can rely on in postseason play. It was the performance at the plate that was surprising as the lineup really struggled to bring runners on base home for much of the final two games.
That will no doubt be an area of emphasis in preparing for the opening game. How LSU also plans to treat its pitching rotation figures to be a topic of conversation all week. For example, does LSU save ace Paul Skenes for a Game 2 matchup against a No. 2 or No. 3 seed or does Johnson do as he's done all year and play to win the game right in front of the team.
Thatcher Hurd pitched well in the opening game of the SEC Tournament and makes a lot of sense in a starting role should LSU decide to save Skenes and Ty Floyd for later in the weekend.
Jay Johnson said following the conclusion of the SEC Tournament that it was needed for LSU to get back and rest for a few days to get their minds and bodies right for this postseason run. Now that the Tigers know their opponents, the preparation can truly begin.
"We've got to get our health right, and then get the players' minds right because playoff baseball is one pitch at a time," Johnson said. "It's not the team with the best players, it's the team that plays the best, which we've done a lot of this year. I trust the guys that we have on the field. I trust them a lot, and I trust their care level and their character. I'm excited to get back to work with them after we get them a day or two off."