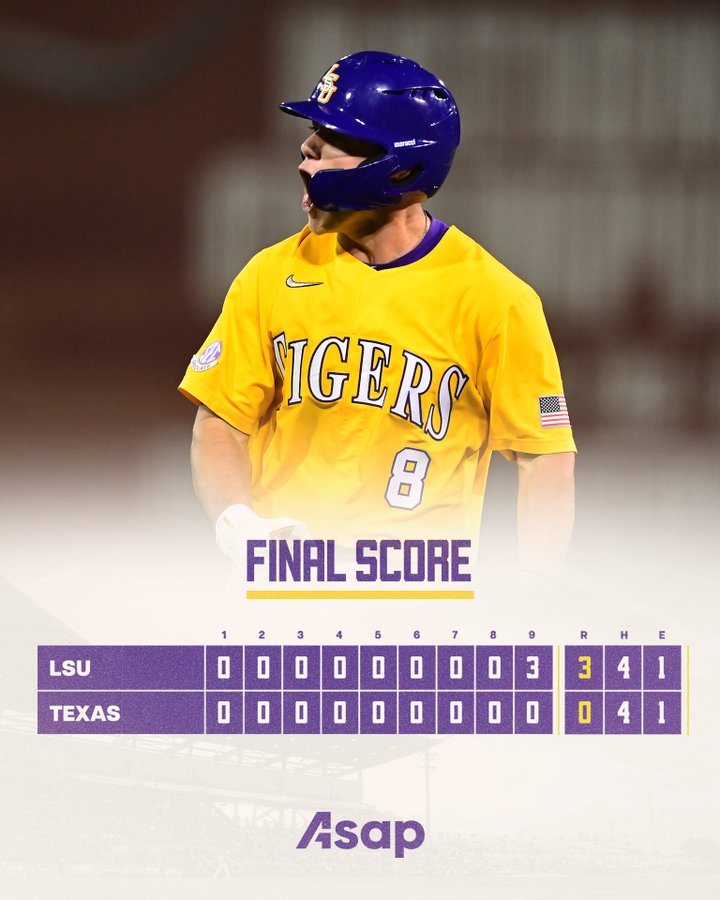 Gavin Dugas' three-run home run in the top of the ninth lifted No. 1 LSU to a 3-0 win over Texas in Austin on Tuesday night.
Dugas, with one out in the ninth, turned on a 2-1 pitch from Texas reliever Andre Duplantier and drove the ball over the left-center field wall, driving in Jordan Thompson and Brady Neal.
Dugas was the first batter Duplantier faced after he relieved Chris Stuart who began the ninth by walking Thompson and Neal before managing to strike out Ben Nippolt.
It was Dugas' first hit of the game, and only the fourth of the game for LSU (7-1).
Texas (3-5) also only had four hits for the game.
Nate Ackenhausen (1-0), who pitched 3.1 innings in relief of LSU starter Thatcher Hurd, got the win, while Christian Little picked up the save after shutting down Texas in the bottom of the ninth.
"That was awesome, a great at-bat by Gavin," LSU baseball coach Jay Johnson said. "To win games like this against a good team in an environment like this, your dudes have to be dudes, and he was in that moment. Gavin is tough-minded; he's had some setbacks last year and going into this year, but he got himself ready to play, and he's playing better now than he ever has. All credit to him for his determination."
Ackenhausen went into the game in the fifth inning and worked 3.1 scoreless innings, limiting Texas to one hit with one walk and four strikeouts.
Hurd, who started his second game for LSU, blanked Texas over the first 4.2 innings, allowing three hits with three walks and four strikeouts.
Stuart (1-1) suffered the loss as he was charged with two runs in 0.1 inning with two walks and one strikeout.
Texas starter Lebarron Johnson delivered a strong outing, firing five shutout innings with three hits, two walks and nine strikeouts.
"This was a great experience for our team," Johnson said. "Going into SEC play in a couple of weeks, we're going to see the same environments we saw tonight. It won't be new to us the next time we play on the road in front of a big crowd in a great atmosphere. The players were energized throughout the game, and it was a blast."
LSU returns to action at 6:30 p.m. Friday when it plays host to Butler in Alex Box Stadium, Skip Bertman Field. The game will be broadcast on affiliates of the LSU Sports Radio Network (98.1-FM) and streamed on SEC Network +.