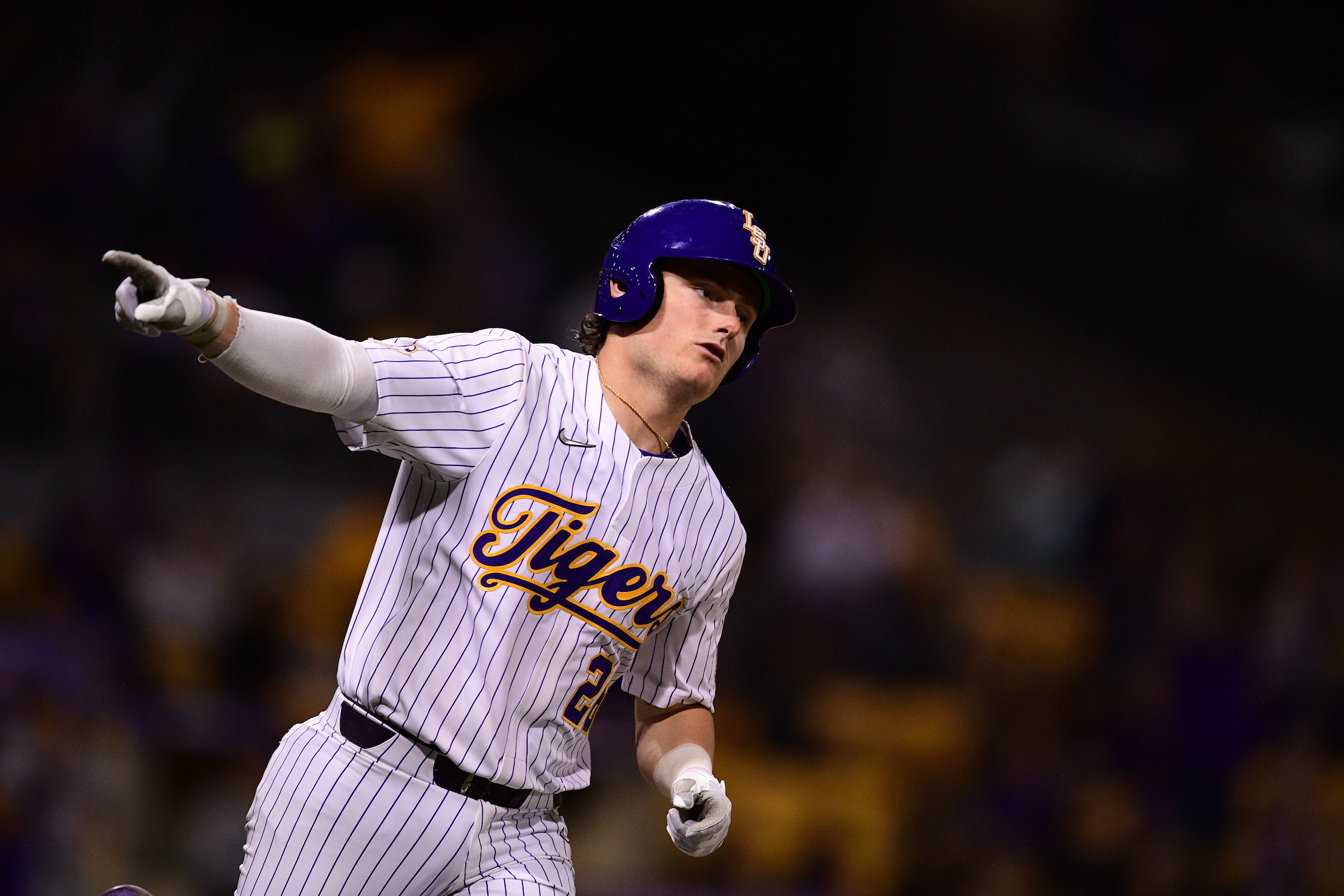 Texas A&M second baseman Austin Bost drove in the go-ahead run in the top of the ninth, lifting the Aggies to a 6-4 victory Friday over LSU at Alex Box Stadium, Skip Bertman Field.
LSU (14-4, 0-1 in SEC) and A&M (11-6, 1-0 in SEC) resume their series at 6:00 p.m. Saturday. The matchup can be heard on 98.1-FM =and streamed on SEC Network+.
A&M starter Nathan Dettmer tossed 4.2 innings and gave up three runs on five hits, but reliever Chris Cortez (3-1) picked up the win after throwing 1.2 innings, giving up no runs on no hits and three strikeouts.
LSU reliever Eric Reyzelman (1-1) suffered the loss after giving up two runs on two hits.
"I thought for six innings we played outstanding defense," LSU baseball coach Jay Johnson said, "but in the seventh, we had two misplays that led to two runs for Texas A&M. Then, in the eighth, we had a big opportunity with the bases loaded and nobody out, but we only came away with one run. To me, those two innings really stand out and were the difference in the ball game."
LSU's second baseman Cade Doughty got the scoring started in the bottom of the first with an RBI-single into right field that scored centerfielder Dylan Crews from second. Crews reached on a single up the middle and advanced on a groundout.
A&M responded with two solo home runs in the top half of the second that traveled into the whipping wind blowing from left to right.
LSU took the lead with back-to-back one-run innings, anchored by a homer from sophomore shortstop Jordan Thompson in the bottom of the fourth and a home run from catcher Tyler McManus in the bottom of the fifth.
A pair of errors from LSU allowed two more Aggies to cross the plate in the seventh, giving them a 4-3 lead. In the bottom of the eighth, the Tigers loaded the bases following Crews single, Jacob Berry walk and a Doughty hit-by-pitch. Designated hitter Brayden Jobert came to the plate and delivered an RBI on a fielder's choice.
After taking the lead in the ninth, A&M extended it to 6-4 with two walks and an infield single.