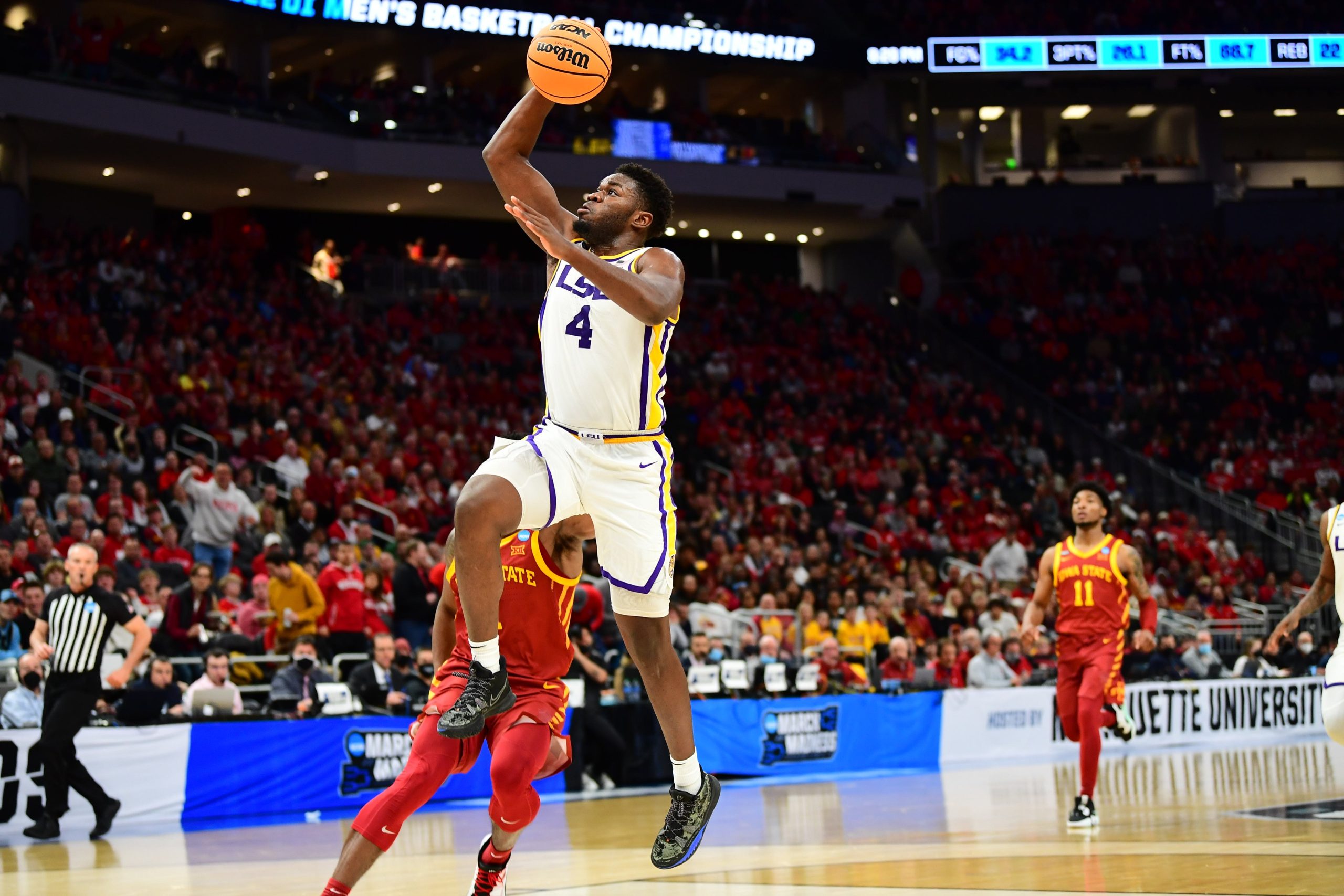 The first time LSU's Darius Days gave him a slap on the behind for making such a shot.
The second time Days wasn't able to get a hand on Iowa State freshman guard Tyrese Hunter whose second deep 3-pointer late in the shot clock helped the No. 11 Cyclones clinch a 59-54 victory Friday over No. 6 LSU in the first round of the NCAA Tournament at Milwaukee's Fiserv Forum.
"I don't know. I just didn't want him to go around me," said Days, LSU's closest defender to Hunter in both instances. "My guys had my help. It was probably right at the logo, kind of past the logo, half court almost. He hit big shots. It is what it is at this point. Like Coach (Kevin Nickelberry) said, big players make big plays and down the stretch he made big plays. He put his team in a position to win and they put the ball in his hand, and he came through for them."
Despite a porous first half LSU (22-12) stormed back during a five-minute stretch of the second half to give itself an opportunity to advance to Sunday's second round.
The Tigers reeled off eight unanswered points, cutting the Cyclones' lead to 50-47 with 3:27 remaining on Tari Eason's free throws. They got as close as 51-50 on a free throw from Days with 2:13 showing when Hunter dropped in a long 3-pointer with 1:43 that drew a glad-hand from Days afterward.
It was also Iowa State's first field goal in more than five minutes when the Cyclones, after the two teams traded free throws, put the game away with 19.3 seconds to play when Hunter, the Big 12 Conference Freshman of the Year, dialed up another deep 3, his seventh overall for a game-high 23 points or 13 points over his season's average.
"Iowa State, we talked about the Jimmys and Joes, they're two guys had a great game," LSU interim coach Kevin Nickelberry said of Hunter and Izaiah Brockington, who combined for 42 of ISU's points. "Hunter had a big second half, hit some big shots down the stretch and that's what good players do. They did a good job of putting them in a position to win. Like I said, two possession game. We had a chance to win and unfortunately, the ball didn't bounce our way tonight."
LSU was less than a week removed after the school fired both head coach Will Wade and Bill Armstrong for alleged Level I recruiting violations.
Nickelberry, a three-year staff member with Division I head coaching experience, was thrust into the interim position where LSU trailed for all about a minute-plus early in the first half, forcing three ties along the way.
Eason led the Tigers with 18 points and four rebounds, while Days added 14 points.
"Very hectic, for sure," Days said of adjustment to a new coach during the week. "You know, losing a coach, the guys — you know, some of the guys not being here before. Even having Coach Nickelberry coming out here to coach, a lot of things happened this week and we just fought through it and stuck together with each other."
LSU shot 26 percent (7 of 27) in the first half but went on a 7-0 run over the last 6:23 of the half to trail, 24-19, at halftime. Days started the spurt with a 3-pointer, Mwani Wilkinson added a tip-ion and Days completed the half with a pair of free throws.
Despite playing without Eason after the 17:26 mark because of foul difficulty early in the second half, LSU pulled even at 31-31 at the 14:54 mark on Eason's two free throws.
Iowa State, which was seventh in the Big 12 Conference, took the lead for good at the 14:03 mark on the third of Hunter's seven 3-pointers in the second half.
Iowa State, which made just 35.7 percent (20 of 56) of its shots from two-point range, feasted from behind the 3-point line by making 12 of a season-high 37 attempts.
"I'm really proud of our guys," Iowa State coach T.J. Otzelberger said "Competitive spirit from the start was there, our defensive effort was terrific. We turned them over (22 points off 19 turnovers), we scored off turnovers. We knew that was going to be important for us to be successful, so I'm proud of our guys for putting that in play. Playing against the press is really tough, but the ball toughness and our ability to disrupt them defensively was huge. And then man, these guys made some big shots, especially Tyrese there late. So, all the credit to our players."
ISU opened its second-biggest lead of 50-39 during a stretch where four its five baskets were 3-pointers with Brockington's trifecta making it 50-39 at the 7:10 mark. Eason countered, though, and scored nine points in a three-minute stretch to keep LSU within striking distance until Hunter to put the game out of reach.
"First of all, I would like to obviously thank these players for dealing with a tough week and coming out and fighting an entire game," Nickelberry said. "I said all week it's just basketball, but the distractions were a lot and these guys still fought through those distractions, went out and gave LSU a chance to win tonight."