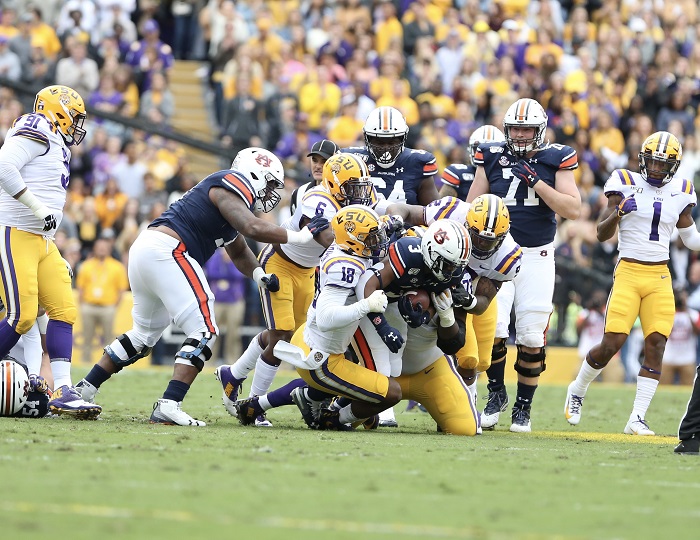 With LSU's offense getting a majority of the credit for the program's first seven wins of the season, Saturday's showdown with Auburn provided the LSU defense with an opportunity to prove it played just as vital a role in a potential championship season.
LSU (8-0, 4-0 Southeastern Conference) struggled against a stout Auburn (6-2, 3-2) defense for a majority of the contest, scoring a season-low for points and getting shut out in the first quarter for the first time this season, but the defense stood tall for nearly the entirety of the game and led LSU to a 23-20 victory.
The defensive performance serves as the latest data point of a trend of dominant performances from LSU, and safety JaCoby Stevens said opposing teams are beginning to take notice.
"We didn't give people a reason to respect us on defense in the first four weeks," Stevens said. "Now, these last four games, we have. We stopped a Mississippi State team, we stopped a top-5 offense in Utah State. We just played a really physical game against Auburn. We keep doing that, and we're going to be where we want to be at the end of the year."
Auburn quarterback Bo Nix completed 15 of 35 passes for 157 yards and a touchdown late in addition to a touchdown. LSU's defense limited Auburn to 287 yards of total offense, 70 of which came on a single play early in the third quarter.
Nix struggled to find open receivers, and the few times he did he had LSU pass rushers breathing down his neck trying to force him into making a bad throw.
"I think we did pretty good for the situations we were put in," said LSU defensive end Rashard Lawrence. "We were put in tough situations, we had to take over a short field. I think we played well overall."
While LSU eventually established itself as the superior team, nothing came easy, and a shaky start nearly doomed the home team from the jump.
The first quarter couldn't have gone much worse for LSU, but all-in-all it limited damage and trailed just 3-0 despite the momentum being heavily in Auburn's favor.
Auburn converted three third-downs in a 14-play, 42-yard drive that ate 4:07 off the clock and resulted in a 30-yard field goal by Anders Carlson.
LSU responded with a lumbering drive of its own, but failed to turn it into any points, punting 34 yards away from the end zone — a punt that resulted in a touchback after bouncing over LSU players' heads into the end zone.
Auburn didn't score on the ensuing drive, but the penultimate play of the quarter was a 9-yard sack that put LSU quarterback Joe Burrow and the offense on their own 2-yard line.
Orgeron credited the slow start to his team being too amped up for the contest, a sentiment that defensive end Glen Logan corroborated.
"In the first quarter, your blood is pumping, you just want to make a play, you want to do everything," Logan said. "Throughout the game, the game just starts slowing down, and we get back to doing what we do."
Momentum shifted early in the second quarter, however, as Burrow converted on 3rd and 12 by scrambling out of the pocket and picking up 13 yards before taking a huge hit that angered many fans in the stadium who felt the tackle was dirty.
Orgeron thought the hit might be late, saying he had to to look at the film, while Burrow said after the game that he thought it was a clean play.
In fact, he used it as an opportunity to light a fire under his team.
"If your quarterback shows toughness like that, it can kind of get the team going," Burrow said. "That's what I try to do every day. In the weight room, on the field, taking hits and getting right back up.
"If you lay down after a hit and don't get right back up, it kind of shows your team that you're not really into it."
Burrow popped back up and gave a first-down signal immediately and proceeded to complete 5 of his next 6 passes for 78 yards, the final being a 20-yard strike to Terrace Marshall for the first touchdown of the day.
After LSU's defense forced a three-and-out, the offense had a chance to extend its lead after driving 43 yards on 9 plays to the Auburn 29.
But Burrow's attempt at a fourth-down conversion with a QB sneak failed, handing the ball back to Auburn.
LSU's defense stood strong once again, but disaster quickly struck as freshman punt returner Derek Stingley muffed the ensuing punt, allowing Auburn to regain possession at the LSU 22.
Auburn capitalized with a one-yard touchdown run by quarterback Bo Nix on fourth down that gave the visiting team a 10-7 lead.
The LSU offense drove down the field once again, this time to the Auburn 2, but settled for a 20-yard field goal by Cade York that tied the game 33 seconds before the halftime break.
D.J. William broke off a 41-yard run to put Auburn in striking distance, but Nix promptly threw a 50-50 ball that Stingley picked off to effectively end the half.
Things didn't get any easier for LSU early in the third quarter. The offense went three-and-out to start the half and Williams opened Auburn's first drive with a 70-yard rush to the LSU 9.
It would have been a touchdown had safety Grant Delpit not made a last-ditch and successful effort to get Williams out of bounds at the LSU 9 yard line.
Auburn ultimately settled for a field goal to take a 13-10 lead, but the defensive stand kept LSU within striking distance and ultimately ended up being the difference in the game.
Still Auburn kept momentum after a 45-yard pass to receiver Ja'Marr Chase on LSU's next drive turned out to be all for not.
LSU's offense failed to get in the end zone despite having a first down three yards away from the end zone, and Auburn maintained its lead.
After gong three-and-out, Auburn started its next drive from the same exact spot as Burrow's pass to Chase was intercepted by Roger McCreary.
LSU's defense forced yet another three-and-out and decided to let running back Clyde Edwards-Helaire put the team on his back.
Edwards-Helaire carried for gains of 22, 12, 5 and 6 yards on his way to the end zone to put LSU up 16-13 late in the third quarter.
"I felt that we wore them down a little bit," Orgeron said. "Our offensive line said they were tired. We feel like we're in great condition because of the way we practice. That can make the difference."
LSU quickly got the ball back after the defense forced its third straight three-and-out, and it went 67 yards on 11 plays capped off by a 7-yard rushing touchdown by Burrow to earn its first two-possession lead of the game, 23-13.
Auburn scored late to put pressure on LSU, but failed to execute an onside kick, allowing LSU to run the clock out and secure the victory.
Burrow finished the game with 32 completions on 42 pass attempts for 321 yards, a touchdown and an interception.
Chase served as his top target with 123 yards on eight reception, while Edwards-Helaire led the rushing attack with 136 yards and a touchdown on 26 carries.
With a third Top-10 victory under LSU's belt, Orgeron's squad is as battle-tested and successful as he could have hoped heading into a bye week before an all-important showdown with No. 1 Alabama.
To him, the final battle before the game that will likely define LSU's season — whether that's fair or not — couldn't have been more appropriate or necessary.
"You have to (win games like this to be a championship team," Orgeron said. "No question. I think a lesser team would not have won that game. They came to play. … They gotup ahead but our guys kept on fighting.
"You should have seen this locker room. They were calm in this locker room. There was a confidence, and we felt like we were going to win the game."
Photo Credit: Jonathan Mailhes