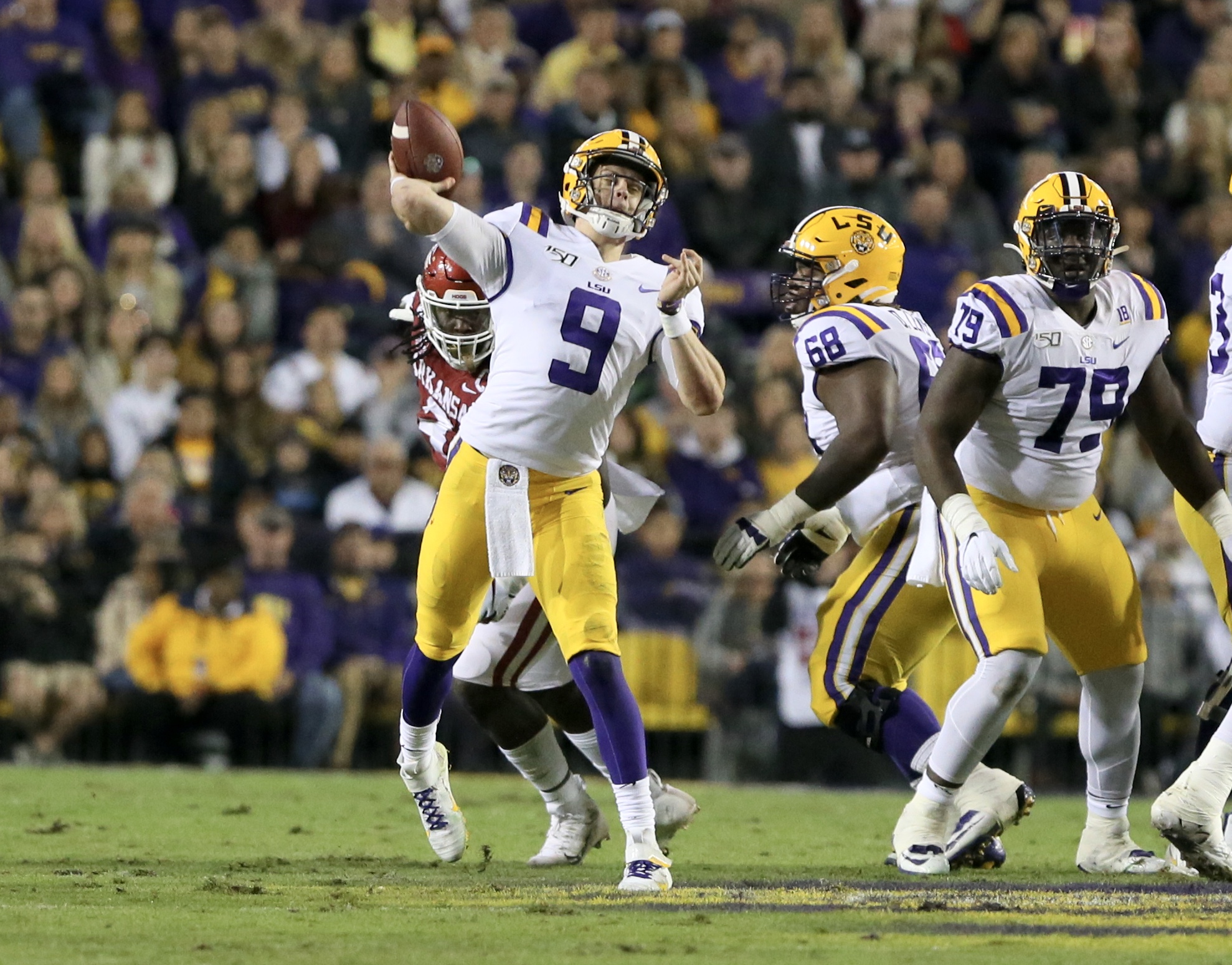 The LSU football team is headed to Atlanta for the first time since 2011 as the Tigers outmatched Arkansas in a dominant performance Saturday night in Tiger Stadium.
LSU (11-0, 7-0 Southeastern Conference) had a slow start, scoring just 7 points in the first quarter and a half, but once the offense started rolling, it never stopped on its way to a 55-20 victory against a lowly Razorbacks (2-9, 0-7) squad.
For the second straight game, LSU left the rivalry trophy on the field, symbolic of the fact the Tigers have yet to accomplish their ultimate goal.
"That's the mindset of this football team," said LSU head coach Ed Orgeron. "We have a goal. The goal next week is to beat Texas A&M. That's one of those things. We know where we want to go and we don't talk about it. There will be time to celebrate."
Quarterback Joe Burrow and running back Clyde Edwards-Helaire once again led the charge, with the junior rusher tallying an astounding 188 yards and three touchdowns on just six carries.
For those who don't want to break out their calculators, that's 31.3 yards per carry, and he accomplished the feat before the start of the fourth quarter.
The bulk of Edwards-Helaire's rushing yards came on an 89-yard touchdown rush that capped off his performance late in the third quarter.
Orgeron thought it was time to pull the Edwards-Helaire, but he was at 99 yards on the game and the coaching staff wanted to get him to 100 yards for the game.
Instead, he finished with nearly 200 after the scamper.
"I was pretty much done at that moment, and they were like 'man, you need a yard to get to 100,'" Edwards-Helaire said. "Man, it parted like the Red Sea, and I was like, 'I'm about to take this one yard. We're gonna roll and see if we can make it happen.'"
Prior to that, he helped make LSU and SEC history by eclipsing 1,000 rushing yards on the season. As a result, the Tigers are the first team in SEC history to have a quarterback (Burrow) throw for 4,000 yards, two receivers (Ja'Marr Chase and Justin Jefferson) receive for 1,000 yards and a running back (Edwards-Helaire) rush for 1,000 yards in a single season.
Burrow also sat out in the fourth quarter as he continued his dominant Heisman Trophy campaign by completed 23 of 28 passes for 327 yards and three touchdowns with no interceptions.
"We still have four games left, too, so I don't know if the ones we're breaking this year will ever be broken again," Burrow said. "This is a really special team."
Chase added to his record number of receiving touchdowns as he nabbed six catches for 144 yards and two scores.
It looked as though LSU might have a rough go of it early, as the Tigers were forced to punt on two of their first three drives, allowing Arkansas to hang around trailing 7-6 midway through the second quarter.
But the Tigers rattled off three consecutive touchdowns drives before the end of the half, beginning with a 6-play, 75-yard drive capped by a two-yard rush by Tyrion Davis-Price.
The three straight scores gave LSU a 28-6 advantage at the halftime break, and things only got better for LSU's offense moving forward.
Edwards-Helaire scored on back-to-back rushes, the first for 26 yards and the second for 89 yards to give LSU a 49-6 lead and put the game well out of reach for the Razorbacks, who only got into the end zone with 8:24 left in the game with a garbage-time TD pass from third string quarterback Jack Lindsey to Mike Woods. Arkansas then recovered an onside kick and the red zone and scored two plays later with a 2-yard rush by Devwah Whaley.
With the victory, the SEC Championship game has officially been set, as the Tigers will face Georgia in Mercedes-Benz Stadium on December 7.
But the Tigers have some business to take care of before that, as they host Texas A&M in a game that will no-doubt be personal after the 7-overtime debacle that was last year's contest between the two schools.
"It's going to be on," Orgeron said. "I'll never forget that game last year. We'll be ready."