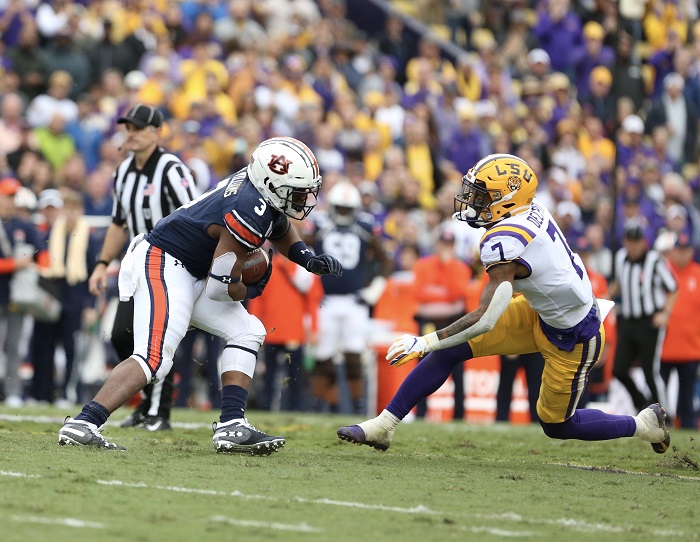 LSU will be down a couple starters this weekend when it hosts Arkansas in a bid to clinch the SEC West.
LSU head coach Ed Orgeron announced All-American junior safety Grant Delpit and offensive lineman Austin Deculus will likely sit out of the Tigers' upcoming bout with the Razorbacks.
Delpit has been dealing with an ankle injury for several weeks and played through it against Alabama and Ole Miss, though he didn't look like his normal self as the Rebels racked up more than 600 yards of total offense against the Tigers last week.
Orgeron said Maurice "Mo" Hampton will likely get the start at safety in Delpit's absence.
"At this point we're going to have Mo Hampton start," Orgeron said. "He's been doing very well, and we're very pleased with his progress, so we're going to let him go."
Hampton — a two-sport athlete that also fills a spot on the LSU baseball team's roster — has not yet seen the field this season after entering Fall Camp with a broken arm.
Since then, he has slowly moved his way up the depth chart thanks in large part to some key injuries the Tigers have suffered in their secondary.
"He's a great athlete, and we knew he was going to be a great player," Orgeron said. "I think it was a matter of his time and learning the system."
If he does in fact play this weekend, the Tigers could still potentially play him in three more games without burning a red shirt.
As for replacing Deculus, Orgeron said the Tigers will do what they did last with with Adrian Magee and Badara Traore on the edges of the offensive front.
Magee — standing 6-foot-4, 343 pounds — played his first game at left tackle of his career against Ole Miss, which allowed LSU to start Ed Ingram inside. This allowed the Tigers to maintain a lot of experience and depth on the offensive line despite dealing with injuries.
"I'm proud of him," Orgeron said. "I remember Adrian on the scout team. He's come along, he's matured on and off the field.
"He's been the key to the offensive line this year. He's played left guard and left tackle, not giving up many sacks. He's playing very physical. I'm very proud of him."