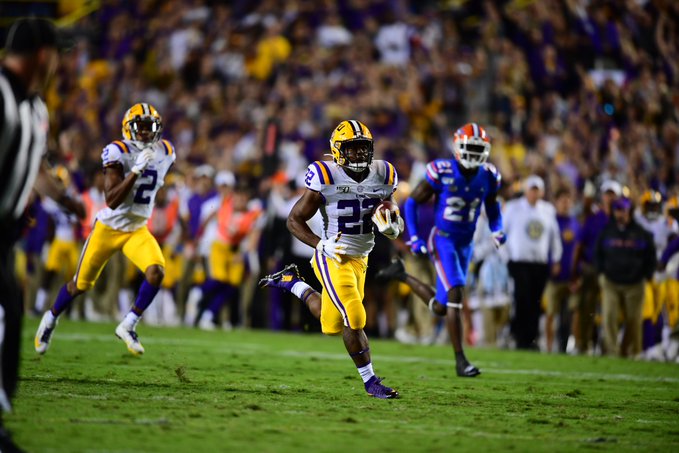 Memo to all the bars in the metro Atlanta area: You've got two weeks to stockpile supplies.
Ti-gah Nation is comin' to the SEC championship game Dec. 7 in Mercedes-Benz Stadium against Georgia.
Or as LSU coach Ed Orgeron likes to say with the look of an angry Cajun you don't want to mess with on a Louisiana Saturday night . . .
"We comin'."
Yep, Joey Football, Clyde the Glide, the Tigers' end zone TD dance team of.. .well, pick a receiver, have been comin' ever since one day last winter. That's when new passing game coordinator Joe Brady walked into the LSU football complex and formed a partnership with offensive coordinator Steve Ensminger.
Together, they've designed an Armageddon offense that has destroyed defenses and detonated scoreboards from Austin to Tuscaloosa.
The unbeaten and No. 1 ranked Tigers punched their ticket to the SEC championship game for the sixth time when they clinched the Western Division title by blasting league cellar dweller Arkansas 56-20 in chilly Tiger Stadium Saturday night.
Yet, there wasn't a hint of jubilation, no postgame celebration.
In fact, the mammoth Golden Boot Trophy, which goes to the winner of annual Tigers-Razorbacks border war battle, sat all by its lonesome self afterward.
Just like a week ago when LSU (11-0, 7-0 SEC West) exited Vaught-Hemingway Stadium without collecting the Magnolia Bowl hardware for steamrolling Ole Miss 58-37, the Tigers sang the alma mater after win over the Hogs and ignored the Golden Boot like it was a participation trophy.
"That just shows you how focused we are to reach our goal," said LSU safety JaCoby Stevens, who had all three of the Tigers' sacks against the Razorbacks. "Our goal wasn't to bring the Magnolia Bowl trophy home. Our goal is not to keep the Golden Boot. Our goal is to bring the crystal ball home."
Technically, the crystal ball was the trophy awarded to the national champion under the old Bowl Championship Series system.
The College Football Playoff committee designed a new national title trophy.
Either way, you get the gist of what Stevens said. The Tigers only have eyes on the biggest prize, but they know they aren't there yet.
Although they don't have to be reminded, Orgeron is going to do it anyway. He won't even discuss the Tigers' first trip to the SEC title game since 2011.
"We're 11-0, proud of this football team but we're not done yet," Orgeron said. "There will be no celebrating tonight. It's on to Texas A&M (next Saturday in Tiger Stadium) and we'll be ready to play that football game."
How ready?
"It's gonna be on," promised Orgeron, recalling the pain of last year's 74-72 seven-overtime loss at Texas A&M in a game shrouded with questionable officiating decisions. "I'll never forget that game last year. We're going to be ready."
The difference between last season and this year is LSU's current offense has the capability of not needing overtime to legitimately score 70 or more points.
Even not scoring on their second and third possessions against the overwhelmed Hogs and with Heisman Trophy leader Joe Burrow sitting out the fourth quarter, the Tigers scored eight offensive touchdowns (five rushing, three passing) and totaled 612 yards offense in just 48 plays.
That's 12.8 yards per snap. Once Burrow lit the fuse on the offense after Arkansas (2-9, 0-7 SEC West) cut LSU's lead to 7-6 with 9:43 in the second quarter, the Tigers put up some of the most bizarre numbers imaginable.
Because Arkansas, like every other SEC defense this year, discovered it didn't have bodies to cover LSU's array of sideline-to -sideline threats.
"They were doubling (wide receiver) Justin (Jefferson) all night, so that let (tight end) Thad (Moss) and (running back) Clyde (Edwards-Helaire) go off," explained Burrow, who completed 23-of-28 for 327 yards and three TDs in just 2½ quarters of handiwork. "They were doubling (wide receiver) Ja'Marr (Chase) in the first half.
"We have five guys on the field all the time that can beat you. Who are you going to cover 1-on-1?"
Burrow doesn't have a favorite receiver because he has several open options almost every play.
For instance, on LSU's three consecutive TD drives to close the first half, Burrow completed 12-of-15 passes to six different receivers for 155 yards and two TDs.
LSU scored 49 straight points before Arkansas even came up for air, which leads to something not seen before in Tiger Stadium and maybe not seen again.
The Tigers had consecutive scoring possessions of two plays, one play and one play.
The two one-play TD drives were Edwards-Helaire scoring runs of 26 and 89 yards. It gave him the unique stat line of having more receptions (seven) than rushing attempts (six), yet finishing with 188 rushing yards and three TDs.
It seems like every time Edwards-Helaire has touched the ball the last three or four games, something magical has happened.
Against the Hogs, he was sent back in the game with 3:12 left in the third quarter for one play because he was one yard short of 100 yards.
"It was like go in, get the yard, get out of bounds and sit the rest the game," Edwards-Helaire said. "But it parted like the red sea. I saw an amazing hole. Nine times out of 10, there's usually one guy to beat when a hole opens up like that."
And 89 yards later in the end zone, Edwards-Helaire was done for the night as the Tigers became the first team in SEC history to have a 4,000-yard passer, a 1,000-yard rusher and two 1,000-yard receivers.
That would be Burrow (4,014 passing yards), Edwards-Helaire (1,146 rushing yards) and Ja'Marr Chase and Justin Jefferson (1,260 and 1,037 receiving yards respectively).
"We still have games left, so I don't know if the ones we're breaking this year will be ever broken again," Burrow said.
Even if the Tigers weren't undefeated, they wouldn't lack any motivation to face Texas A&M.
"The gear is already switched, it's already redemption time," Edwards-Helaire said. "We owe those guys a lot from last year. The pain we felt sitting in that stadium (after the loss), it doesn't get any worse than that."