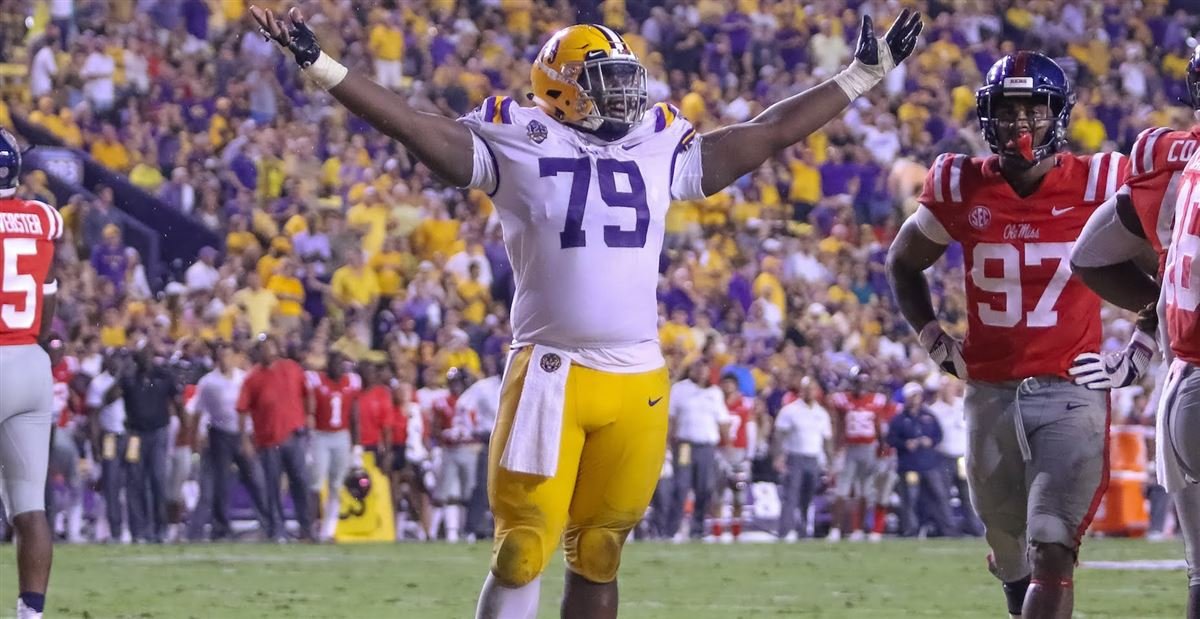 In LSU's 29-0 loss to Alabama in Tiger Stadium last year, Ed Orgeron minced no words about what went wrong on offense that led to an embarrassing shutout.
The offensive line simply couldn't hang with an Alabama defensive front led by nose tackle Quinnen Williams.
"Our offensive line was beat on one-on-ones," Orgeron said after the game. "We had max protections. We were sliding. Those guys were beating us. They were stunting us. We tried everything we possibly could. Go four-wide. Max protection. Just got beat. … You've got to look at personnel."
Alabama tallied five sacks on LSU quarterback Joe Burrow, 2.5 of which Williams earned credit for, in addition to another tackle for loss in a dominant performance. On top of that, LSU garnered just 12 total rushing yards on 25 attempts, and Burrow completed just above 50 percent of his passes.
The man going toe-to-toe with Williams in that matchup was center Lloyd Cushenberry, who just a few weeks ago made headlines when he put stats from last year's loss to Florida on the lockers of every lineman as motivation for the rematch.
He said he'll probably have something up his sleeve for the upcoming Alabama game, though he probably won't need it.
"I'll be thinking this weekend about something," Cushenberry said. "Obviously we didn't play good, and that should be motivation enough. I feel like we have a great group of motivated guys. We don't have to do too much talking about this matchup. We know what he have to go out and do, and it starts with us. We have to do our job."
The stakes for the game couldn't be much higher. The Tigers will likely enter the contest as the No. 1 team in the country for the first time since 2011, which happens to be the last time LSU toppled Alabama.
In an 8-year stretch of losses, including the first being in a BCS National Championship game in New Orleans, the Tigers have come close a few times, but for whatever reason Alabama always came out on top.
Cushenberry was 13 years old when LSU defeated the Crimson Tide in Bryant-Denny Stadium on Nov. 3, 2011 in a game dubbed "The Game of the Century."
Now, he has a chance to repeat history, travelling to Tuscaloosa as the No. 1 team in the country, playing against a No. 2 Alabama with an inside track to the College Football Playoff on the line.
Those eight losses have given the Tigers a tremendous chip on their shoulders, and this year they feel more prepared than ever to get the job done.
"Any time you lose, it's going to be frustrating," Cushenberry said. "We were very frustrated we didn't play up to our standards (last year). We know we can't do that this year. There's definitely going to be a chip on our shoulder, but at the end of the day, we just need to go out there and play the game. We're going to approach the game like we have every game so far and play to the LSU standard of performance, which is pretty high."
LSU's new, high-powered offense was built specifically for games like this. Alabama won't be able to commit as many defenders to the run as it has in previous years due to the number of receivers the Tigers will throw at it.
But Cushenberry isn't relying on an offensive scheme to bail the line out and win this game. He knows he has work to do.
"I know I didn't play good (last year)," Williams said. "I know people were probably saying negative things. I understood that. We all didn't play well. I know that, and I learned from it for this year."
Photo Credit: Terrill Weil